Someone once defined mankind as the story-telling beast and seeing how birds and pigs and others make use of tools, maybe it is the defining characteristic of our species. Maybe we need stories in the same way we need food and air; maybe without our organizing narratives, we backslide into grunting solipsism, awake to only our low appetites and urges.
Storytellers are torch-bearers, setting our candles alight with their touch.
If you have lived in Arkansas for any length of time, it is likely you have heard of Harry Thomason, if you don't know him.
He played high school football in Hampton in the 1950s under coach Boyd Arnold -- who Bear Bryant allegedly called the toughest guy he'd ever known -- and attended Southern State College (now Southern Arkansas University) on a football scholarship. After graduation, Thomason came to Little Rock, where he taught art and drama and coached football at McClellan High School.
In 1966, he took a leap and began producing campaign commercials for Arkansas politicians. In the early 1970s, he began writing and producing movies. His early television credits include Lee Majors' stuntman series The Fall Guy and Civil War miniseries The Blue and the Gray.
In 1983, he founded Mozark Productions with his writer-producer-director wife Linda Bloodworth-Thomason. Together they made the series Designing Women, Evening Shade and Hearts Afire. (They also made, for HBO, 12 Miles of Bad Road, a brilliant, if politically incorrect, show about a dysfunctional nouveau-riche Texas family that never aired.)
A friend of Bill and Hillary Clinton since their graduate school days, Thomason has produced and directed several documentaries about them and served as co-chair of the Presidential Inauguration Committee following Clinton's election in 1992.
Thomason is also a story-telling beast.
If you have spent any time around him, you have likely heard one or more of Thomason's stories. Occasionally, some of them stretch credulity, but mostly they turn out to be true. I'm sure he did wade around in ankle-high cash after collecting box office proceeds for The Legend of Boggy Creek for his childhood friend Charles B. Pierce. I'm sure that -- 20 years later -- he did scramble around Denver trying to collect enough cash to satisfy Chuck Berry.
Thomason is a successful businessman, television and film producer, but he may have missed his calling. In a more perfect world, he would have been a professional raconteur or a metro columnist, a sort of Mike Royko/Jimmy Breslin/Pete Hamill figure, only for a more rural constituency. Maybe Will Rogers is a better reference point. Or, especially considering Thomason's political nature, perhaps Molly Ivins?
It's too late for Thomason to try the newspapers, and in this post-disruption era, he'd be too expensive anyway. But Brother Dog (Parkhurst Brothers, $22.95), Thomason's first book, gives us an idea of what kind of columnist he'd make as he selectively recounts anecdotes from his colorful life and times.
While the stories come in roughly chronological order, Brother Dog isn't a full-blown autobiography -- you can find more particulars in his Wikipedia entry -- but a series of telling vignettes that chart the progress of a small-town Arkansas boy from a piney place where Camden could be considered the big town.
In Thomason's stories, guns are fired, planes are crashed, beat-up Pintos procured and foreign prisons avoided, but mostly old friends are fondly remembered. This is a gentle book, and maybe not what you would imagine this irascible Friend of Bill producing. Most of the names dropped are not famous and are brought forth from authorial generosity.
Thomason remembers the folks he went to school with, the girls he played tricks on, that giant snowball rolled out on the campus of Southern State, and even "the guy in Nelson Hall who ... exhibited arsonist tendencies in the past."
Thomason was born Harry Zell Thomason on Thanksgiving Day, 1940. "Harry Zell" was a nod to Harry von Zell, a singer and staff announcer for CBS Radio who was dating the newborn's first cousin. (Von Zell was a somewhat portly character actor with a sonorous voice who would become George Burns' straight man on the Burns and Allen television show. Today, he is probably best remembered for the time in 1931 when, as a young announcer reading a long list of presidential achievements, he mispronounced the honoree's name as "Hoobert Heever." Even though the original tape of that broadcast appears to be lost, it went the mid-20th-century version of viral when it was re-created for a comedy blooper album.)
Despite the nod to the other Harry, there was little in Thomason's background that suggested he was bound for Hollywood or Washington or anyplace larger than Little Rock. His father, Travis Thomas Thomason, was a grocer and deacon in a Southern Baptist church that Harry always takes pains to describe as "moderate" in order to distinguish it from more hard-shell varieties.
His mother, Pauline, taught Sunday School and helped out in the store, and later went on to work for the U.S. Department of Agriculture.
She was a Means from Woodberry, a tiny spot in the road between Hampton and Camden, and her father was a farmer who also taught at a college prep school and subscribed to dozens of magazines, including National Geographic, in which young Harry took especial interest. The extended family was large and filled with boisterous voices. Harry particularly liked to attend to the stories told by his grandfathers.
"I would sleep in -- on, like, a pallet or a mattress in front of the fireplace," Thomason told Scott Lunsford for the University of Arkansas' David and Barbara Pryor Center for Arkansas Oral and Visual History in 2014. "And they would tell me stories ... they instilled that storyteller into me because they told some wild tales and -- and some great stories ... I was a child, I would lay there in the dark with the fire reflecting off my face and listen to their stories."
Thomason begins Brother Dog in the winter of 1946 with the first attacks by what would become known as the Phantom, who committed a string of violent crimes -- including five murders -- in and around Texarkana over a 10-week period. In Hampton, 95 miles away, first-grader Harry is unnerved by the news, especially when his older friend, third-grader Charlie, explains to him that half of Texarkana is in Arkansas. There's nothing to keep the killer away.
"My dad hopes the killer comes here," Charlie blusters. "Dad says he'd give that bad guy both barrels of his 12-gauge shotgun."
Harry, though, would be happy if the killer didn't bother with Arkansas. He worries when he sees his father take his deer rifle into his bedroom at night. Harry sleeps with his Roy Rogers six-shooter under his pillow.
Months pass; there are no more killings. There are no arrests. The Texas Ranger who has come to Texarkana to hunt the killer goes home. Everything goes back to more or less normal. But now Americans have a new concept, that of the serial killer.
In 1974, Charlie calls the grown-up Harry at the advertising firm the latter has established in Little Rock to tell him of his latest project, a film called The Town That Dreaded Sundown.
"Charlie the storyteller," Thomason calls him.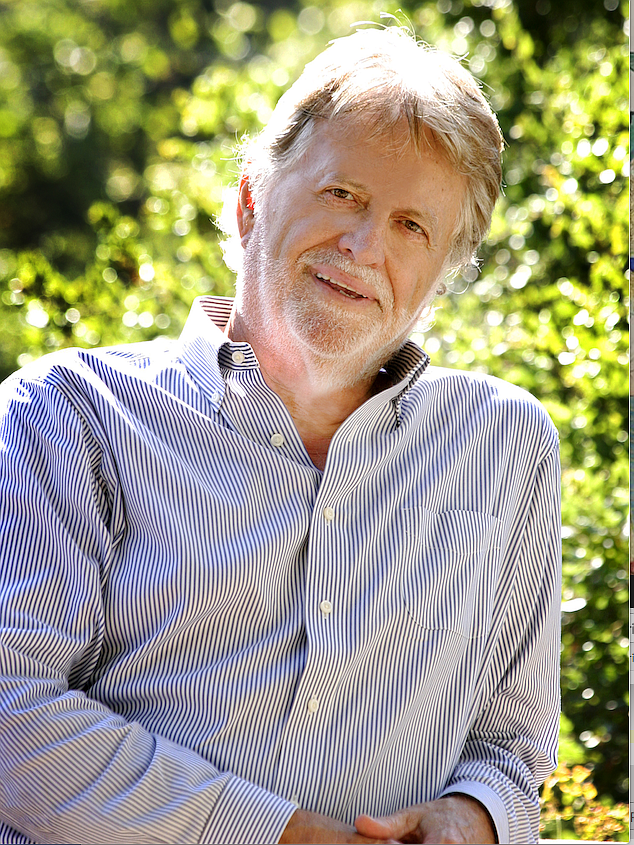 Harry Thomason, Arkansas native and Hollywood storyteller, spins some tales in his first book, "Brother Dog." (Special to the Democrat-Gazette/S.N.BLOODWORTH)
Charlie recurs several times throughout the book, as does Thomason's younger brother Danny, who became a Little Rock optometrist who sometimes acted in projects his brother produced.
Thomason remembers a picture that hung on the wall of his mother's kitchen -- two young boys and a dog. Danny thinks the picture is of him and his brother, and their dog Ted, "a mixed breed -- mostly bulldog -- black with a white slash across his face" who also figures in several stories, like the one where an act of kindness might have altered the trajectory of the town drunk, who is so moved by an unexpected gift he spends his "whiskey money" to reciprocate.
You might think the story fabricated, or at least wishful, but there are details and names; just enough journalism to establish the credibility of the witness and a certain economy in the telling.
In the Author Statement near the end of the book, Thomason protests that he doesn't have the necessary discipline to be a real writer, and he may be telling the truth. A few of the stories might have benefited from another pass or two; he doesn't attempt anything with a high degree of rhetorical difficulty. He's not interested in exhibiting any stylistic chops. He just tells the story.
This actually results in economic, unfussy prose that, like a good pocketknife, shaves away most of what's extraneous. There's not much fat in this slim yet generous and decent book, and there are plenty of more complicated (and probably less satisfying stories) that Thomason chooses not to tell.
"Most of my stories about Washington and Hollywood won't be found here," he writes. "I'm saving my adventures in politics and entertainment for a future edition. Or maybe just to bore my grandchildren with. We'll see how this one goes."
Brother Dog seems likely to touch some folks. And maybe to ignite imaginations.
Email:
pmartin@arkansasonline.com
blooddirtangels.com
Style on 10/13/2019