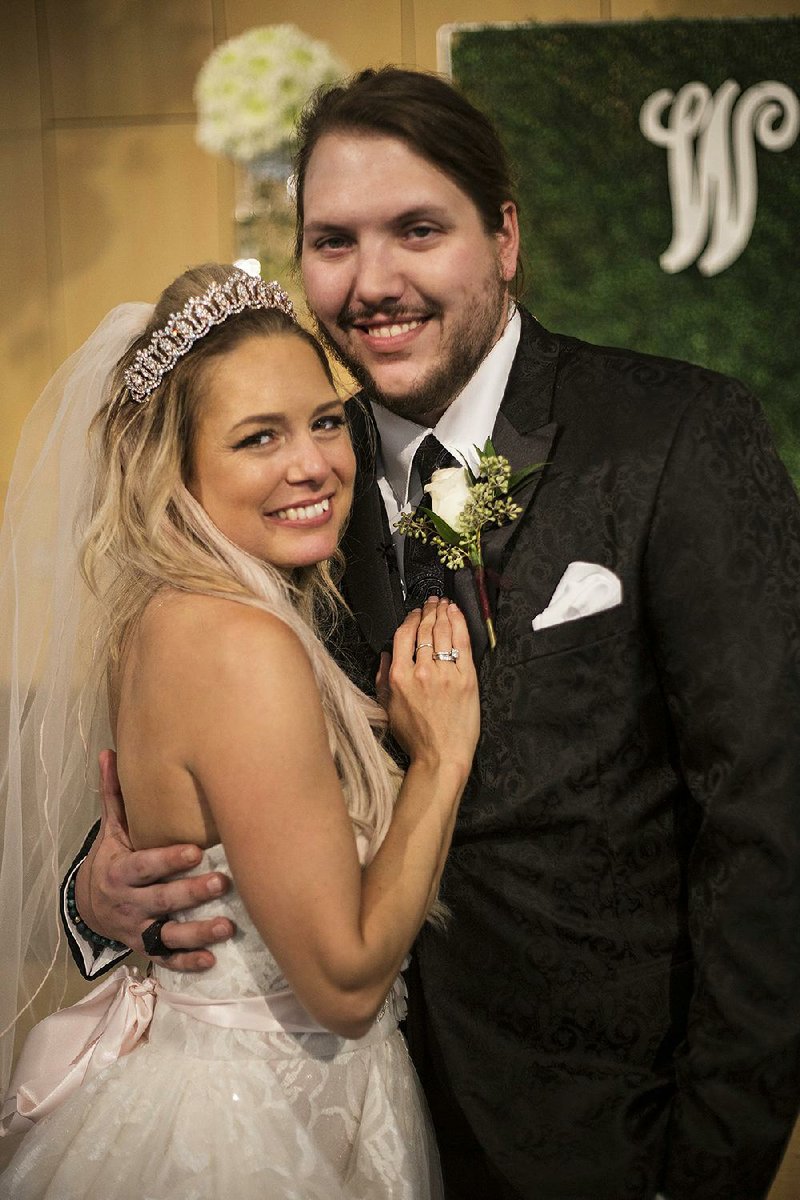 Starla and Cade Williams
Starla LaDawn Benson and Cade Terrence Williams were united in marriage at 6:30 p.m. Saturday, Oct. 19, in Sylvan Hills Church of Christ, Sherwood. Doug Childress officiated.
Parents of the bride are Sherry and Guy Qualls of Jonesboro. Her grandparents are Donna Elkins Buchanan of Jonesboro, the late Paul Elkins, the late Inez Qualls and the late Chester Qualls, all of Bono.
The groom is the son of Janis and Terry Williams of North Little Rock. He is the grandson of Emma Sue and the late W.T. Williams of Clinton and Maxine and the late Jack Bongen of North Little Rock.
Vows were exchanged under a floral canopy of hydrangeas, roses, chrysanthemums, Italian ruscus and seeded eucalyptus in shades of white, orange and claret. The chancel was backed with a wall of boxwood centered with a large cursive W. On each side were white columns holding cylinder vases topped with balls of white chrysanthemums. Music was by Jordan and Melanie Simpson.
The bride, given in marriage by her father, wore an ivory-sequined Vera Wang ballgown with a rose floral sash at her waist. She carried a bouquet of wine-colored miniature calla lilies.
Bela Benson of Little Rock served as her mother's maid of honor. Bridesmaids were Hillary Henderson of Little Rock, Paula Neville of Lufkin, Texas, cousin of the bride; and Emma Coward of Clinton, cousin of the groom.
They wore gowns of claret-colored taffeta and tulle and carried nosegays of roses in shades of orange, white and claret.
Ferrari Scroggins of Little Rock was best man. Groomsmen were Collier Brown of Dallas; Trey Krillenberger and Michael Joshua, both of Little Rock; Michael Carr of Cabot and Josh Korte of Oklahoma City.
After the ceremony, there was a reception at The Greens of North Hills. Guest tables covered in white cloths were centered with cylinder vases in various sizes filled with hydrangeas, roses and chrysanthemums; mercury glass votive candle holders; and white porcelain pumpkins with silver stems. The wedding party's table was decorated with a garland of wedding flowers and votive candles in rhinestone encrusted holders.
The bride attended Arkansas State University and is a manager and buyer for Culture Clothing Co.
The groom attended the University of Central Arkansas and graduated from the University of Arkansas, Fayetteville, with a bachelor's degree in fashion merchandising and marketing. He is owner of Culture Clothing Co.
The couple will make their home in Little Rock and plan a Caribbean cruise after the holidays.
High Profile on 10/27/2019
Print Headline: Starla LaDawn Benson - Cade Terrence Williams
Sponsor Content