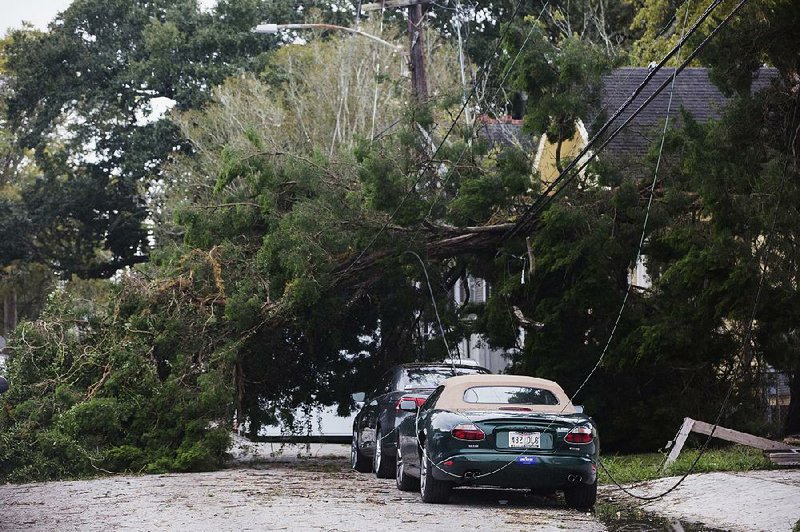 A fallen tree is seen Saturday in New Orleans after Tropical Storm Olga passed through the area.
Storm's dregs create misery in 2 states
JACKSON, Miss. -- What was left of Tropical Storm Olga was causing soggy conditions in Mississippi and Alabama on Saturday and dozens of flights were canceled or delayed at New Orleans' main airport after two power failures.
There were no reports of major flooding, but several trees were downed. A wind advisory remained in force for eastern Mississippi. Meteorologist John Moore of the National Weather Service in Jackson said the wind could topple more trees weakened by recent drought conditions and knock out power.
The mayor of Tupelo, Miss., was trapped in his home for about 1½ hours Saturday by a downed tree and was taken out on a stretcher. The Northeast Mississippi Daily Journal reported that the fallen tree caused significant damage to Mayor Jason Shelton's home.
City spokeswoman Lucia Randle confirmed that Shelton was transported to North Mississippi Medical Center and is "under observation." She did not say what injuries Shelton may have suffered.
The storm spawned tornado warnings, and at least one twister touched down in Mobile. The weather service in Mobile planned to survey the area to determine the tornado's path and intensity.
Meteorologist Gary Goggins of the weather service in Birmingham, Ala., said the primary hazard was gusty winds, possibly up to 40 mph around Tuscaloosa.
"Olga has dissipated but remnants are pushing north into Tennessee," Moore said. "It should be out of state [Mississippi] by later Saturday."
Meanwhile, electricity was restored to Louis Armstrong New Orleans International Airport after two power losses occurred as the storm moved through Louisiana.
Airport officials reported on Twitter shortly before noon Saturday that there was a second loss of power at the airport, the result of powerful winds from Olga that ripped through the area overnight. Power had been out for hours earlier, canceling and delaying dozens of flights before it was restored about 10 a.m.
Entergy utility crews returned to the airport and restored power around 1:15 p.m.
At its peak, Entergy Louisiana's power outage map showed close to 70,000 buildings without power across Louisiana, including 26,000 in Jefferson Parish and close to 19,000 in Orleans Parish as Olga rushed onshore with higher-than-anticipated winds. There also were more than 10,000 power failures reported in Tangipahoa Parish.
Year's last Ohio execution now in doubt
COLUMBUS, Ohio -- Ohio's governor says it's "highly unlikely" the state's last execution scheduled for this year will be carried out because of problems finding lethal-injection drugs.
Republican Gov. Mike DeWine on Friday reiterated his concern that drugmakers might cut off supplies of medications to state agencies if they learn any of their drugs were used for capital punishment.
DeWine's comments mean a probable delay for the Dec. 11 execution of James Hanna. He is sentenced to die for killing cellmate Peter Copas at the Lebanon Correctional Institution in 1997.
DeWine initially delayed executions because of concerns about the constitutionality of the first drug used in Ohio's three-drug method.
That drug is the sedative midazolam. Critics say it doesn't render adequate unconsciousness.
Harvard grad students vote to walk out
CAMBRIDGE, Mass. -- Graduate students at Harvard University have voted to authorize a strike, but no date has been set for any walkout.
The union represents close to 5,000 teaching and research assistants. It says it is at an impasse with the school on matters including pay, benefits and protections from discrimination.
Members voted 2,425-254 over the past week to give the bargaining committee the power to call a strike.
The school says that it has been negotiating in good faith and that calls for a strike are unwarranted.
The vote comes after a ruling last month by the National Labor Relations Board overturning a 2016 decision that gave graduate students at private schools the status of employees and the right to form a union.
Vape devices collected along with drugs
More than medication was being collected during Saturday's National Prescription Drug Take Back Day. For the first time, vaping devices and cartridges also were accepted for disposal.
The federal Drug Enforcement Administration says the change stemmed from concerns across about illnesses and death associated with vaping and the high rate of vaping among young people.
More than 1,600 people, many of them teens and young adults, have been sickened in a national vaping illness outbreak that appears to have started in March. At least 34 have died.
Now in its 10th year with twice-yearly collections, the administration's Drug Take Back day has collected more than 11 million pounds of expired, unused and unwanted prescription medications.
President Donald Trump tweeted about the program Saturday, urging people to take advantage of it at more than 4,000 locations.
-- Compiled by Democrat-Gazette staff from wire reports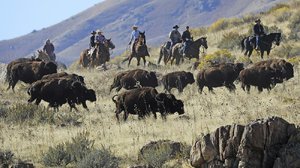 Photo by AP/RICK BOWMER
Riders herd bison Saturday on Antelope Island in Utah. Hundreds of people are conducting the annual roundup of bison on the island in the Great Salt Lake.
A Section on 10/27/2019
Print Headline: Storm's dregs create misery in 2 states Year's last Ohio execution now in doubt Harvard grad students vote to walk out Vape devices collected along with drugs
Sponsor Content