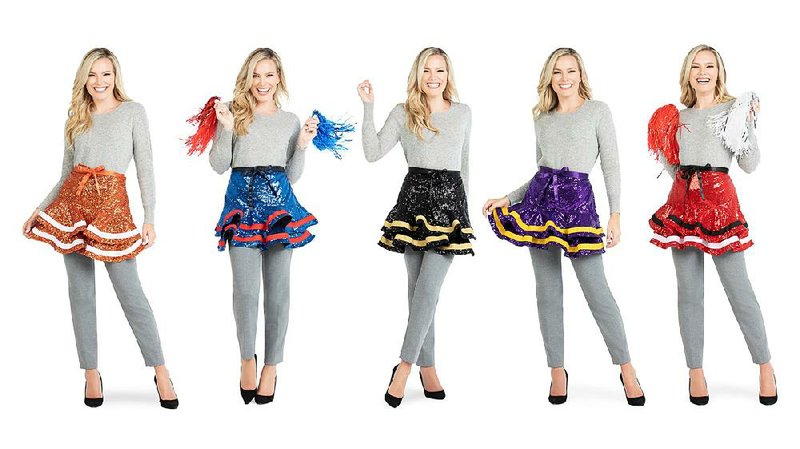 Fashionista college students — or alumnae with school spirit — can property entertain the tailgate crowds, thanks to Haute Hostess Aprons' revamped Collegiate Collection. The collection features aprons whose color schemes match those of a variety of schools.
I hadn't thought much about bath bombs. That is, until the Vancouver, British Columbia-based Lush Cosmetics brought its signature bath bombs to Little Rock.
These aren't just the usual round, bland, fizzy bath bombs. Lush -- whose founder, Mo Constantine, came up with the product three decades ago while tinkering in her garden shed -- maintains its spot atop the bath-bomb pile with products in fun, quirky shapes (sumo wrestler, piece of sushi, turtle, ninja head, pirates' treasure chest, mini-rocket, robot, yellow submarine) and names (Honey I Washed the Kids, Bom Perignon, Tea and Sympathy) for $4.50-$14.95. And these are fresh, handmade ingredients that haven't been tested on animals. Bombs may include flower petals, dried fruit, seaweed. There are also bombshells, from which the user can get two or three baths.
Lush's 250 North America storefronts do not include an Arkansas locale. The weekend of Aug. 2-4, however, company representatives came to Little Rock to set up a pop-up shop in two white, repurposed shipping containers featuring the bath bombs. The shop held court in the South Main District, in the parking lot across from South on Main, Midtown Billiards and their neighboring establishments. This was the third stop on a Lush bath-bomb tour across the country. I stopped by to find people swarmin', party music pumpin', and bath bombs stylin' and profilin'.
"We've got 89 bath bombs in here," said Lush brand public relations specialist Eva Cook. Fifty-four were created to celebrate the 30 years since Lush invented the bath bomb, she added.
The shop had people waiting before it officially opened, said Erica Vega, a West Memphis native working as a brand and product expert for the company. The line extended down the street. "For a while it was a par-tay," she said.
"We knew that people ordered things online and they would drive to the nearest Lush store," Cook said, noting that the closest stores to Arkansas were in Dallas, Nashville, Tenn., and St. Louis.
The most popular bath bomb in the pop-up shop was Groovy Kind of Love, a multicolored sphere which "kind of reminds you that love is everywhere, and happiness everywhere," Vega said.
And, she added, Lush offers different bath bombs according to "what you want out of your bath; if you want to feel invigorated and stimulated, something like this will do it for you," she said, showing off the Intergalactic -- a mood-enhancing mix of peppermint and neon colors. Want to feel a little more mellow? There's the lavender bomb called Deep Sleep, with lavender flowers, lavender oil and lavender absolute and wrapped in biodegradable muslin.
Other best-selling bath bombs include The Olive Branch, a coral and white bomb with lemon and Sicilian mandarin oils, orange flower and bergamot. Yellow Submarine is also popular. Its back end is loaded with a fast-fizzing bath bomb mixture; when it's released, it propels the submarine through the waters, releasing streams of pink, orange and yellow.
Lush also offers other products for the hair, face and body, but it's not all about self-pampering products with this company. Lush employs a team of ethical buyers who travel the world and source all ingredients from small communities of farmers. As part of their Regenerative Farming program, Lush officials have bought badly damaged patches of land in such countries as Uganda and Guatemala and are starting fair-business partnerships with the people there to revitalize the land. "We are a guaranteed buyer and pay a guaranteed price," Cook said. "If they want to sell products to another buyer; that's fine."
Oh, and the pop-up shop? It sold out before closing time on Sunday.
"We had to get more bath bombs shipped in from Texas as the pop-up was so popular," Cook said via email. "And even then, we ran out before finish time. It was insane!"
The bath bombs can be ordered at Lushusa.com. Next column: My Lush bath-bomb reviews, along with reviews of a few of the company's other products.
HAUTE COLLEGE HOSTESSES
Just in time for football season, Blytheville native Elizabeth Scokin -- model, celebrity party planner and founder of Haute Hostess Aprons -- announces her revamped Collegiate Collection aprons. Each handcrafted apron ($200-$300) ties around the waist with a satin tie and boasts sequins with coordinating trim on the double flounce. Each style bears a woman's name and comes in colors that tie in with those of many schools. Yes, there's a "Razorback" red and white and yes, there's a maroon, black and white apron that would make good University of Arkansas at Little Rock Trojan fare.
The new Collegiate Collection Aprons can be ordered at HauteHostessHome.com. To anyone who may be traveling to Nashville or Dallas: Scokin and her aprons will kick off a Tailgate Bootcamp Tour at Williams-Sonoma locations beginning with The Mall at Green Hills in Nashville from 6-8 p.m. Wednesday, and at Northpark Center in Dallas from 6-8 on Sept. 17. Scokin's friend D'Andra Simmons of The Real Housewives of Dallas, will do a cooking demonstration with Scokin at the Dallas event. (Simmons' name is also the name of a navy/silver/white, star-accented apron fit for a Dallas Cowboys tailgate event.) Ten percent of the proceeds from these events will benefit No Kid Hungry's Share Our Strength campaign.
FASHION WEEK
Northwest Arkansas Fashion Week is back for its third annual Fall Runway Shows, scheduled for Oct. 3-5 at Jett Aircraft, Drake Field in Fayetteville. To be shown: designers' strongest fall silhouettes including avant-garde, couture and evening wear, along with fashion offerings from high-end boutiques. Doors open at 6 p.m. each day, with shows starting at 6:30.
The event schedule:
Oct. 3: The Future of Fashion featuring Gabrielle Korn
A one-of-a-kind event featuring eight designers' collections that were developed during the first NWAFW Designer Cohort Program. Guest speaker and collection judge Gabrielle Korn, former editor-in-chief of Nylon magazines, will speak along with other special guests during an event presented by The Arkansas Arts & Fashion Forum. Designers: A. Brook's Designs & Apparel, Basana Chhetri, Big Sister, Ethwes, Herron Hats, Hope & Faith, Richie Clark Clothing, Robbie's Era.
Oct. 4: Runway Show, Friday Features
The Friday shows will spotlight designers and boutiques in the area -- 4ME Jayla Lee, 59th and 9th, Crystal La'Shay, Felix Bui, Framed in Fashion, Hubbard Clothing Co., Lola x Vandervilt, Rosie Rose Designer, RubyRu Designs, Samantha's Garden, Suite One.
Oct. 5: Runway Show, Saturday Features
Among the couture and "avant garde" designers showing their wares will be visiting apparel creators from Kansas City, Little Rock and Tulsa. On tap: 2 Boudoir Chicks, Ashton Hall -- The Collection, Bizarre Couture, christianMICHEAL, Ellen Elaine Educational Collaboration, Elizabeth, HOUSE OF COLBY, Off the Record, Onemanband, The R Gene.
Ticket prices range from $30-$150 each night. Buy tickets on nwafw.com/tickets. All proceeds will support the nonprofit Arkansas Arts and Fashion Forum.
SPEAKING OF POP-UP SHOPS ...
Some silvery platform stilettos I wore until my feet couldn't take them anymore. An evening bag with a delightful vintage look. A Strong Suit blazer that my husband loves so much, he's still kicking himself for not buying a second one he saw ...
These are the treasures we have found at past incarnations of the Pop Up Shop, the big to-do of an annual sale of gently-used and new designer merchandise to benefit Women and Children First: The Center Against Family Violence. Women's and men's clothing, accessories, home goods and furnishings will be featured, with all proceeds going to shelter and aid survivors of domestic violence.
The sixth annual Pop Up Shop will return to the Tanglewood Shopping Center, 7509 Cantrell Road in the old Hancock's Fabrics location. It will kick off with a Shop & Sip Preview Party, 5-8 p.m. Sept. 20. Regular shop hours will be 9 a.m. to 4 p.m. Sept. 21 and 10 a.m. to 1 p.m. Sept. 22. Tickets are $35 for the preview party; admission to the sale each day is $5. Visit wcfarkansas.org and stay tuned to the organization's Facebook page.
Dressing Room appears monthly. Send fashion- and beauty-related news releases to:
hwilliams@arkansasonline.com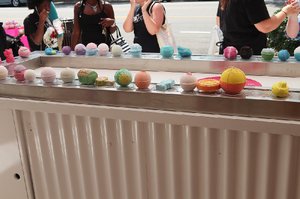 Photo by Helaine Williams
Lush Cosmetics' bath bombs come in fun, quirky shapes, which is only fitting as the bath bomb was invented 30 years ago by the company's founder. The bath bombs did everything but bomb during the pop-up shop set up by the company in Little Rock in August — even with an infusion of extra merchandise shipped in, the shop sold out before its scheduled closing time.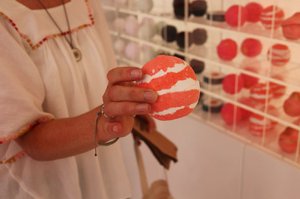 Photo by Helaine Williams
Among the most popular of Lush Cosmetics' iconic bath bombs: The Olive Branch, bearing lemon and Sicilian mandarin oils, orange flower and bergamot. The Olive Branch was sold along with the company's other bath bombs at its recent pop-up shop in Little Rock.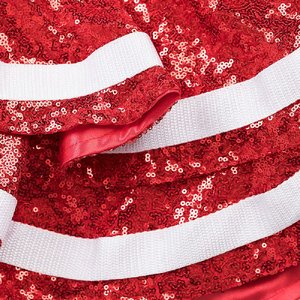 Call the Hogs and entertain your game-day guests while wearing the Lynn, a red-and-white member of Haute Hostess Aprons' Collegiate Collection.
High Profile on 09/01/2019
Print Headline: Lush bath bomb shop sells out before closing
Sponsor Content