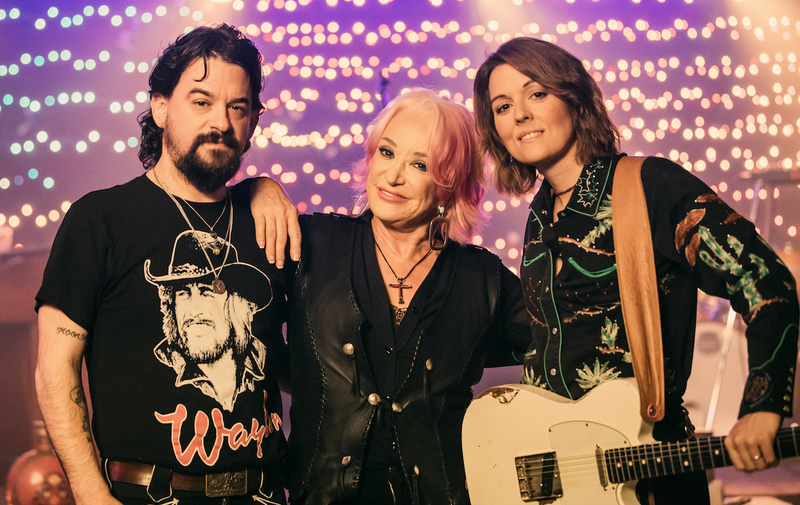 The country music artist Tanya Tucker (center) stands with Shooter Jennings and Brandi Carlile. Jennings and Carlile produced Tucker's new album. (The New York Times/ERIC RYAN ANDERSON)
NASHVILLE, Tenn. -- In her hometown hair salon on a July afternoon, most things appeared to be going Tanya Tucker's way. Her longtime hairdresser, whom she had persuaded to give her a hot-pink dye job last year, was touching up her roots. An attentive assistant kept her stocked with American Spirit cigarettes, took her English bulldog outside for bathroom breaks and prepared tequila shots containing ruby red grapefruit sliced to the boss' specifications.
But Tucker, who rose to country stardom in the early 1970s, needed one more thing: a drag queen available on short notice to dress up as her and deliver a singing telegram.
"I get so mad because nobody does me," she said from the styling chair, mock-miffed that Reba McEntire and Dolly Parton inspire so many impersonations.
For all of her thick-skinned swagger, Tucker, 60, has legitimate claim to renown. She's closing in on half a century as one of the gutsiest performers in country music and has faithfully paid homage to her forebears, among them Hank Williams, George Jones, Merle Haggard, Johnny Cash, Waylon Jennings and Willie Nelson. But while the genre romanticizes those performers as exemplars of hard-living, heroic grit, Tucker's exploits have given her a reputation for being difficult, and there's little acknowledgment of how she fleshed out the country archetype of uninhibited feminine toughness that paved a path for artists like Gretchen Wilson and Miranda Lambert.
In recent years, she shopped in vain for a label home for a self-produced album. "I couldn't get nobody interested in it," she said.
That's likely to change now that a pair of music-makers a generation her junior -- Brandi Carlile, a singer-songwriter enjoying broad acclaim, and Shooter Jennings, the genre-bending son of Waylon Jennings and Jessi Colter -- have made her career rejuvenation their mission. The album they produced for her, While I'm Livin', an earthy, charismatic mythologizing of her life, is newly released by Fantasy Records, once home to jazz greats and Creedence Clearwater Revival. The only other album she released in the past 17 years was a country standards set.
In a phone interview, Carlile was ablaze with conviction. "Can we uphold this person's art and legacy in the same way that we do to the men that we love so much?" she implored, adding that Tucker "helped us learn how to tell our stories."
"We can't let another decade go by where Tanya Tucker doesn't put out an album," she said.
Tucker found her first, fiercest and most lasting advocate in her father, Beau, a manual laborer who moved his family from one bedraggled rental to the next across Texas, Arizona and Utah in pursuit of oil drilling and construction work. In elementary school, Tucker convinced him she was dead-set on a country career, and he put his meager means and fierce resourcefulness behind her. But there was no coddling. He warned her that she faced two problems.
"One is you're a girl," Tucker remembered him saying, "and the other one is you're a 9-year-old girl. You're going to have to sing with more feeling, or they're not going to believe it."
By 13, she'd managed to sell Billy Sherrill, one of Nashville's most sophisticated musical minds, on her interpretive abilities. "Delta Dawn" was the first in a string of tragic story songs that landed Tucker on the country charts. She already possessed a husky rasp and applied a shrewd sense of rhythm to her phrasing. She stood out, too, for the way she incorporated her body into performing, which was far more indebted to the hot hip-thrusting of her idol Elvis Presley than the Appalachian flat-footing of country women before her.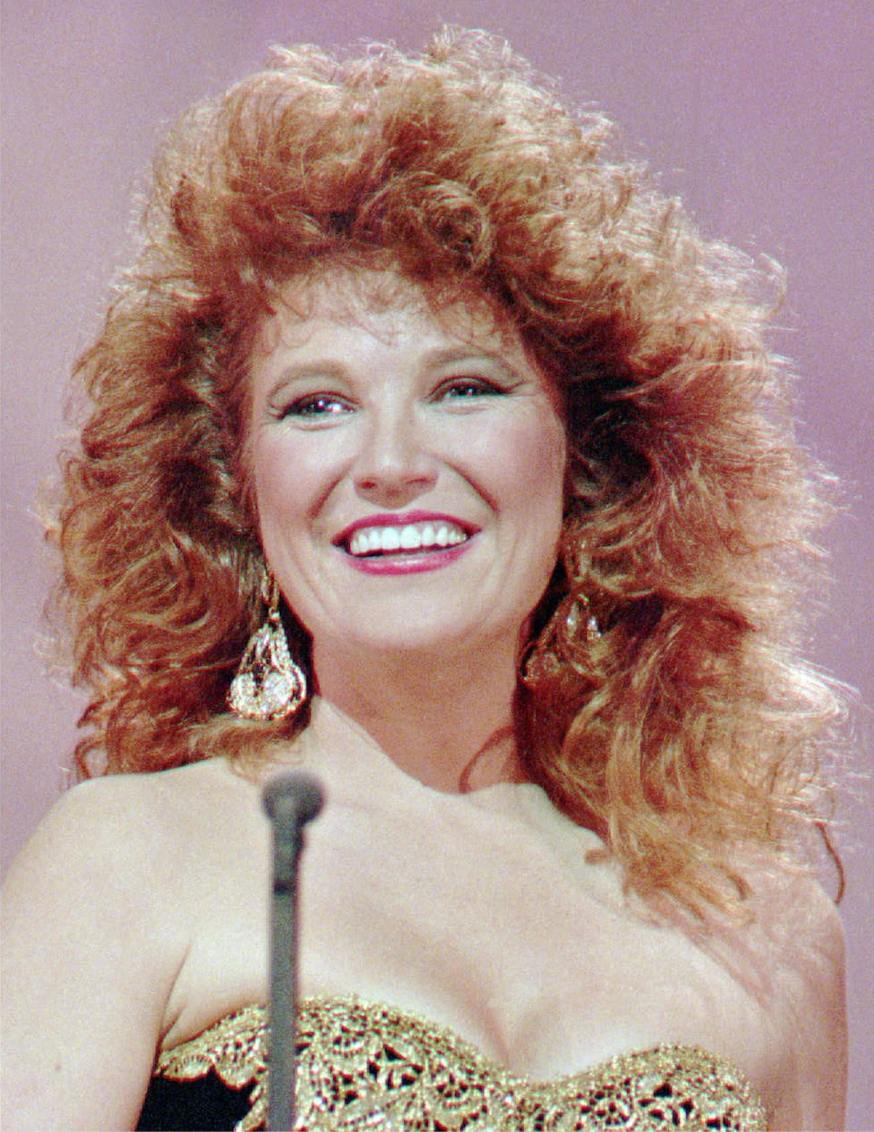 Tanya Tucker, in a 1989 photo. (AP)
LIFE IN CALIFORNIA
In the late '70s, she chased her ambition to incorporate rock spectacle into her music to Los Angeles and released an album, TNT, that was mistaken as a cold shoulder to the country world. Her 20s in California were marked by Hollywood partying, drug use and a volatile dalliance with Glen Campbell, a musician more than two decades her senior. Tabloid scrutiny threatened to overshadow her music.
Tucker insisted that she "got a good laugh out of" the celebrity coverage, but she took note that attitudes toward male stars were more permissive. "They were discussing what I was doing when Johnny Cash was sitting the next table over, and they didn't say a damn thing about him," she said, in a teasing tone.
She mounted one of country's great comebacks with producer Jerry Crutchfield in the mid-'80s. Her albums were thoroughly modern, collecting polished country-pop pining and rocking roadhouse boogies, and so was her unfettered version of womanhood. She rode motorcycles, competed in rodeos and rejected country's code of feminine virtue by becoming a never-married mother.
"My kids were born in love and made in love," she said. "So that's my truth."
Tucker was in the hospital giving birth to her son on the 1991 night when she won her first female vocalist of the year award from the Country Music Association.
"When her name was announced -- I've never seen this happen -- the entire press corps stood up and applauded," said veteran country journalist Robert Oermann. He described the sentiment as, "She's a bad girl, but she's our bad girl. And we love her."
Tucker's hits trailed off in the mid-'90s, and she receded from the spotlight through the following decade, contending with health problems and mourning the loss of both parents. "I really didn't want to do it anymore," she said. "I just got my horse trailer and took my youngest daughter and we lived and hung out and did our little Gypsy thing."
Her partial retirement was interrupted by calls from Merle Haggard and Charley Pride, urging her to keep performing, and Jennings, who initially pitched her low-key appearances, then a full-blown project. Carlile, who'd recorded with Jennings and considers Tucker a foundational influence, wanted in. Carlile enlisted her bandmates Phil and Tim Hanseroth to help write songs amplifying Tucker's back story. "She doesn't know how interesting she is," Carlile said.
Tucker was skeptical. She wasn't acquainted with Carlile and didn't typically sing from an autobiographical posture.
"Everything in my bones said, 'Do not do this record,'" Tucker said. "God dang, I've never been so glad about being wrong in my whole life."
The night before they hit the studio, Jennings invited her over to listen to records. She played him a ballad about a hard-bitten cowboy she'd long admired, "High Ridin' Heroes," and he eased her into the recording process by making it the first song they tackled the next day.
Throughout the sessions, Carlile camped out with Tucker in the vocal booth, pouring tequila, encouraging expressiveness and soothing insecurities. "It was just something that I could see in her eyes," Carlile said: "'What if I'm not as good as these kids think I am?'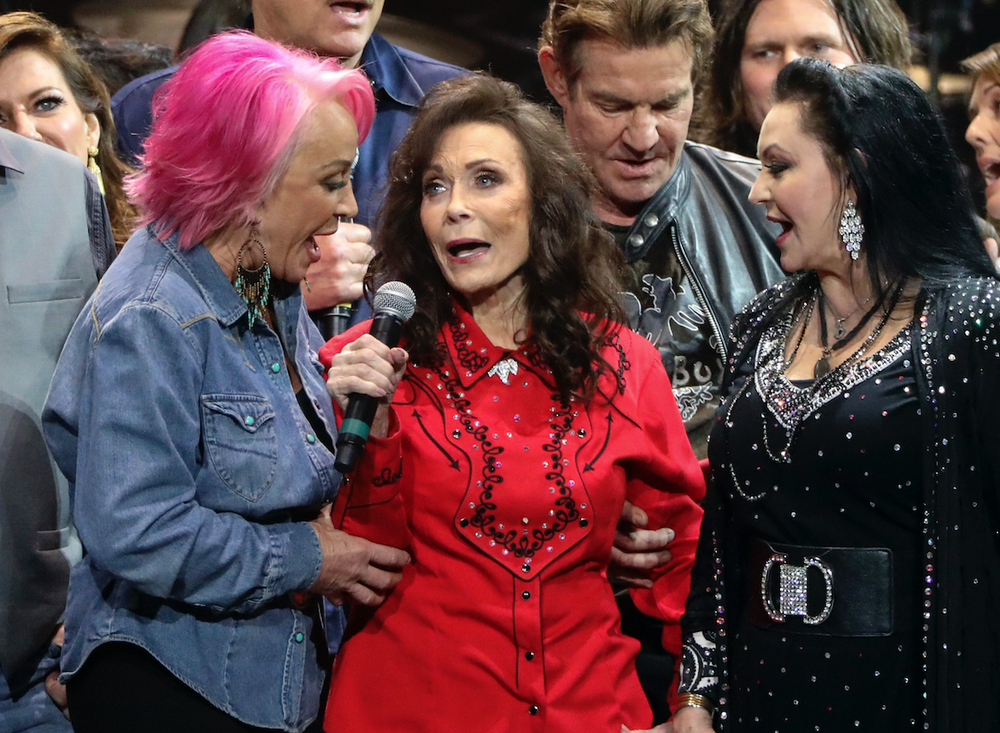 Tanya Tucker (left), Loretta Lynn (center) and Crystal Gayle perform at Loretta Lynn's 87th Birthday Tribute on April 1 in Nashville. (AP)
A COUNTRY HEROINE
The resulting album positions Tucker as the multifaceted heroine at the center of her own larger-than-life story. She summons salty, been-there swagger for "Mustang Ridge," "The Wheels of Laredo" and "Hard Luck," and expresses unguarded affection for her working-class father and upbringing on "The Day My Heart Goes Still" and "Rich."
During a stadium set at the Country Music Association Festival this summer, Tucker high-fived Carlile while introducing a song they'd finished in the studio together that captured something she'd "wanted to say for a long time." Tucker opened the piano ballad, her album's title track, with a poignant entreaty: "Bring my flowers now while I'm living/I won't need your love when I'm gone."
Jennings, who'd seen his father and other country heroes belatedly exalted, made a prediction: "The moon and stars have aligned in a way where it's the perfect time for Tanya Tucker to take what she deserves." Carlile believes the album could trigger a reappraisal of Tucker's career akin to the one Johnny Cash received after his somber recordings with Rick Rubin.
Tucker, who has long been eligible for her genre's ultimate institutional recognition -- a spot in the Country Music Hall of Fame -- has heard from several respected peers who feel she's deserving of the honor.
That bumped it up a bit on her list of priorities. "It would be nice if I did it before I kick the bucket," she said. "That would be cool."
Style on 09/01/2019
Print Headline: Tanya Tucker's latest reminds us she's a legend
Sponsor Content