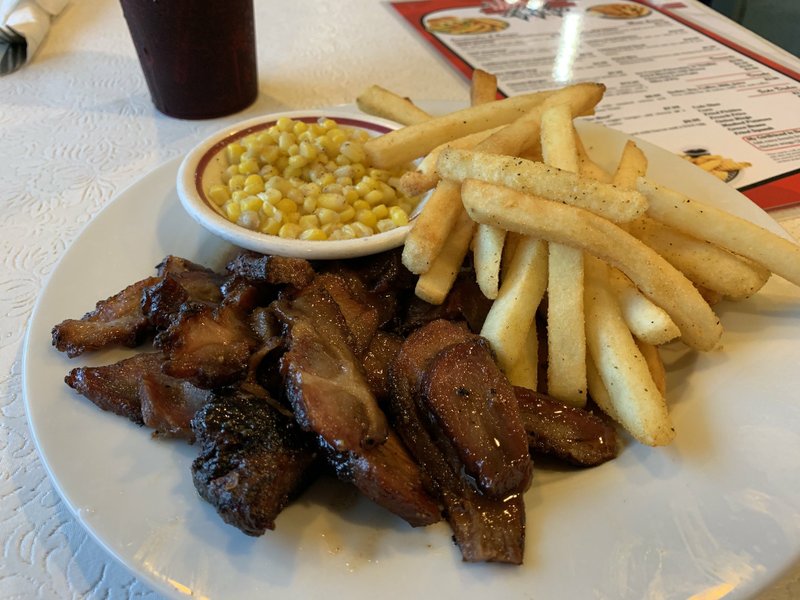 Mama D's Special Recipe Pork Platter is one of the Asian surprises at Mama D's in North Little Rock. Arkansas Democrat-Gazette/Eric E. Harrison
The family-owned Mama D's Diner, which opened in May at MacArthur Drive and Military Road in North Little Rock's Amboy neighborhood, recently got a lot of attention when one of its menu items went viral via print, broadcast and social media.
The buzz was about the $4.25 "My Girlfriend Is Not Hungry" add-on, which consists of extra fries plus two fried chicken wings or three fried cheese sticks on top of whatever entree you've ordered. It's supposedly tongue-in-cheek and geared toward people whose dining partner or date says, "Gee, I'm just not hungry," then eats the lion's share of what's on your plate.
It happens.
Mama D's Diner
Address: 250 E. Military Road at MacArthur Drive, North Little Rock
Hours: 6 a.m.-7:30 p.m. Monday-Saturday, 8 a.m.-4:30 p.m. Sunday
Cuisine: Standard short-order with some Asian surprises
Credit cards: V, MC, AE, D
Alcoholic beverages: No
Take-out: Yes
Wheelchair access: Up a steep ramp
(501) 747-1991
Anyway, whatever bump in business it may have provided Mama D's, it didn't last. Though we didn't indulge in the feed-the-date option (Intrepid Companion had other commitments), we were one of only a handful (like three) occupied tables on pretty much all of our visits at various mealtimes.
Mama D's is the latest of many short-order occupants of one of the area's few surviving actual diners, of which Starlite Diner was the best and longest-lasting. Turnover has been so frequent and the places that have come and gone have been so short-lived that we've been unable to keep track, and that's supposed to be part of our job. (The semi-fugitive, "is it open, is it closed, is it ever open, is it ever going to be open" pie shop was probably the operation that soured us on the location for good.)
As diners go, though, Mama D's does pretty well. The place has had a good sprucing up — it's cleaner and less shabby, in part via a new coat of paint. Seating is at booths in the front dining room (some of the benches are a bit rump-sprung in spots), tables in the back room and stools at the "bar." Little tin period signs (or replicas thereof) between booths on the front walls suggest you enjoy cold drinks or 5-cent burgers. The soundtrack ranged from oldies ("Young Girl") to standards ("Moon River" and Dean Martin singing "C'est ci bon").
The menu, which otherwise is pretty pedestrian Southern-fried fare (burgers, BLTs, catfish, chicken fried steak, chicken fried chicken, bacon and eggs, etc.), has some surprises because the family that owns and operates the diner is Asian.
Co-owner Andrew Putra works the floor and also cooks. His mother, Daisy, is the "D" in Mama D's; she's mostly in the postage-stamp-size kitchen. So, deep in the main-course section of the menu you'll find "Mama D's famous fried rice" ($7.95), and on the separate "special menu" is Mama D's Special Noodle ($7.99), Mama D's Special BBQ Pork Sandwich ($7.99) and Mama D's Special Recipe BBQ Pork Platter ($9.99).
Gallery: Mama D's Diner
We chose to focus on those Asian specialties, and with three successes. The noodles, flat, sort of pad-Thai-style, come in a slightly sweet sauce with vegetables (mostly carrots), and the portion was huge enough to provide two meals. Same with the rice, in a similar sauce. To either you can add chicken (which we had in the rice) for $2.95 or shrimp (a worthwhile add to the noodles, though it was tail-on — always messy when part of something with sauce) for $3.95. Both came garnished with a slice of fresh tomato and two slices of fresh cucumber.
Our server raved about the pulled pork sandwich, but he didn't explain until our platter arrived (with two sides — we ordered corn and fries) that the pork in this case is sliced. Once we got it to our mouths, however, we no longer cared — it was comparatively lean, surprisingly tender, and the thin-ish, sweet-ish Asian-style barbecue sauce was delicious.
We felt a little funny about not trying any of the traditional fare, so we ordered the Patty Melt ($8.95), a large hamburger patty topped with sauteed onions and cheese — choice of American or pepper jack — on two slices of Texas toast. We asked for the pepper jack, thinking it would perk the sandwich up, but the patty was so heavily seasoned that it overwhelmed the cheese.
There's no mention of the seasoning in the main menu description on this or the $7.95 Classic Burger, but the "signature seasoning" is part of the one for the Big Sexy Burger — "double burger ... topped with bacon, cheese, lettuce, tomato and fried onion ring, served with a side of BBQ sauce," $13.25 — and the special-menu quarter-pound Special Burger, $4.95 with fries or chips.
There was a goodly amount of the "special seasoning" on our somewhat over seasoned fries both times we got some, and just a hint on the cubed breakfast potatoes we got with our $5 off-menu breakfast special — one fried egg (over-medium as we ordered, and delightfully un-salted) with potatoes, two slices of sausage or pieces of bacon (the sausage worked well), two slices of wheat toast and a beverage.
Service was universally good and friendly, even when the servers did have other tables to cope with.
Weekend on 09/05/2019
Print Headline: Mama D's gives diner menu little bit of Asia
Sponsor Content