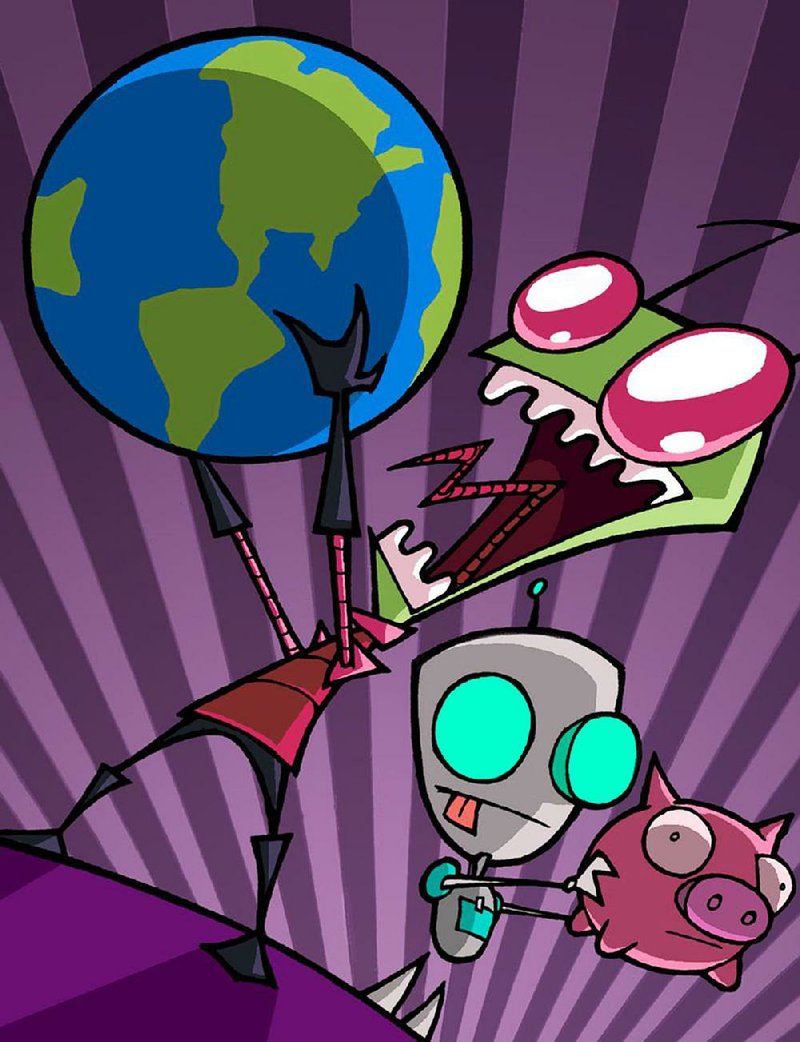 The adventures of alien Invader Zim and his insane robot sidekick GIR continue in the Netflix movie Invader Zim: Enter the Florpus.
Invader Zim has never been one of my favorite cartoons. It was introduced to Nickelodeon in 2001, a little after most of the iconic cartoons I grew up with had already been on the air for a bit. Rugrats ran from 1991-2004. My favorite cartoon of all time, Hey Arnold!, came out in 1996. Even Rocket Power started in 1999.
But Invader Zim got its start later, in 2001. Nickelodeon was changing and moving into different shows of lesser quality from its legendary '90s hits. In 2000 you got As Told By Ginger. In the same year as Invader Zim, Nickelodeon spat out Jimmy Neutron and Fairly Oddparents. These shows were OK, but they weren't as enjoyable as the '90s hits that came before them, at least not to me.
Even still, Invader Zim managed to gain a cult following as a show. My high school friend Morgan absolutely loved it and quoted it all the time. He liked Invader Zim even more than classic SpongeBob, which is unconscionable in my mind.
I'd put Invader Zim a little above Rocko's Modern Life in terms of childhood cartoon rankings. It just wasn't a series I was crazy about. Maybe it was a little too gross, or some of the humor was just a little above my head. But the show just didn't do it for me.
So when Netflix resurrected the series (which saw its end in 2006), I had to check it out. It was only fair since I reviewed Rocko's Modern Life: Static Cling. Netflix brought us Invader Zim: Enter the Florpus. And let me tell you, it's like the show never went off the air.
Zim is a weird cartoon about a doofus alien invader and his half-baked robot sidekick. They both infiltrate earth and attempt to take it over. The only one stopping him? A young paranormal investigator who happens to be in Zim's class at school. He's kind of a dweeb, and his name is Dib (who named these guys?).
This special is longer than the one Rocko got, and it feels a little long for the story we're given. It runs about 70 minutes, but I would have trimmed the story to an hour if I could. With that said, the special was fantastic. And maybe it's because I'm older now, but I enjoyed the show way more than I did at age 11 during its original run.
There's just a special brand of wacky humor to Invader Zim that's unique to the show. Most of it becomes from his half-baked robot named GIR who is constantly malfunctioning and saying the most random stuff. Even in this movie, we get a fantastic line about his master plan, to buy 1 million pizzas and then roll around in them.
I'll say this: the animation is fantastic. The show has clearly received an upgrade in the quality department in the 13 years since it has been off the air. Nickelodeon Animation Studio did the series and this new movie. Thanks to keeping the same studio, it's like the art didn't skip a beat between the two entries.
The voice actors for Invader Zim: Enter the Florpus did most of the heavy lifting for making me laugh. From the ridiculousness of GIR and the ongoing feud between Dib and Zim to the powerful and cool Gaz, the voice actors had me laughing for most of the film, whether from the crazy lines they were saying or what they happened to be doing in the story.
Fun side note speaking of voice actors, Little Rock's own Roger Bumpass (the voice of Squidward on SpongeBob SquarePants) plays a character in this movie called Professor Membrane. He was also in the original television series.
Like I said earlier, Zim is best in smaller doses, and if you stretch out the randomness that makes this series iconic, it loses a bit of impact.
Since they came out at basically the same time, I guess I have to compare the new Zim to the new Rocko. And, bottom line, they're both excellent examples of how to resurrect a previously popular property with a cult following, update the art and story just a smidge and really bring back something special. Netflix and Nickelodeon did great with both.
As for which resurrection is superior, I really can't say. Neither of these were my favorite cartoons growing up. I still enjoyed these reboots, though. And while these are both great comebacks, I hesitate to say studios should be increasingly trying to resurrect cartoons from the '90s. Please, for the love of Pete, let Rugrats stay dead. It died a peaceful and happy death. And we're all the better for leaving it buried.
Now that I've seen Netflix resurrect these two properties with some success, I'm crossing my fingers Hulu will do justice to Animaniacs in 2020.
MovieStyle on 09/06/2019
Print Headline: It's like the show never left
Sponsor Content