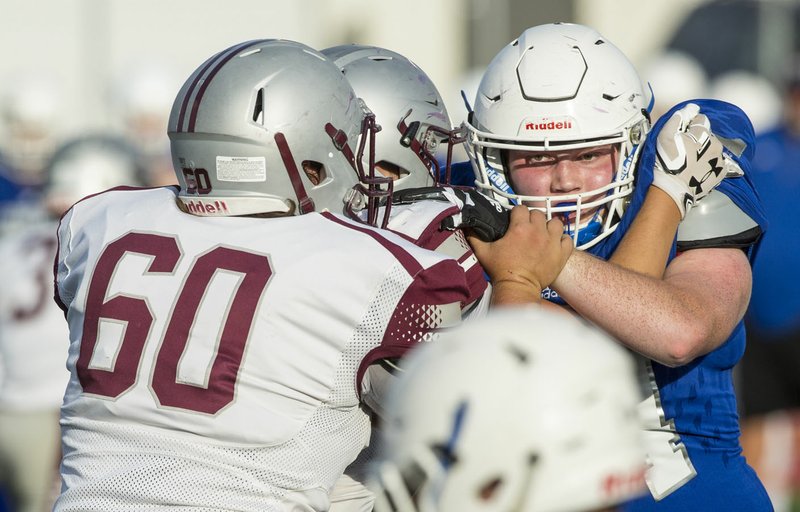 NWA Democrat-Gazette/BEN GOFF @NWABENGOFF Aaron Lockhart, Rogers defensive end, looks to shake an offensive lineman during a preseason scrimmage against Siloam Springs at Blackhawk Stadium in Pea Ridge. Lockhart has gained significant weight in the offseason and will be a starter for the Mounties despite battling Diabetes.
ROGERS -- Aaron Lockhart admitted he considered quitting football several times after being diagnosed with diabetes more than three years ago.
He was an undersized 180-pound offensive lineman, struggling to add weight and strength as a sophomore. Lockhart was flipped to the defensive line last year and finally saw some varsity snaps near the end of the season, but he still had some of the same issues weighing only a shade over 200 pounds.
Finally, he added some weight and strength during the offseason prior to his senior year and a visit with Rogers High coach Mike Loyd helped him to decide to finish what he started.
"After my sophomore and junior year, I thought I was just gonna ride the bench," Lockhart said. "I thought if I'm just gonna ride the bench and deal with this stuff it maybe wasn't worth it.
"But I went from like 205 to 230; it just kinda happened really. I stayed away from bad calories. I talked to coach Loyd, and I've been here three years and decided to stick it out."
That decision and his offseason work are set to pay off for Lockhart and the Mounties. He's listed as a starter at defensive end as Rogers gets set to open the season at 7 p.m. tonight against Pulaski Robinson in Whitey Smith Stadium.
Lockhart also has a new attitude to go along with his new numbers on the weight scale, Loyd said.
"He's learning how to practice and how to take care of his diabetes which is a great thing," Loyd said. "I talked to him about being a senior and this is his last rodeo, and I think he realizes that.
"He goes 100 percent. He's had to overcome a lot of adversity that a young guy shouldn't have to. He's really come around. He's a starter, and we didn't give that away. He's earned that."
The 5-foot-11, 230-pound senior said it's been difficult at times learning to handle his diabetes, especially when factoring in football.
"When you're in ninth grade it's hard to know what's what, you know?" Lockhart said. "I've learned to adjust over the years. It's something I know I've got to do for the rest of my life."
He's learned to understand what his body is telling him even before checking his blood sugar levels. Lockhart has Type 1, which is also known as juvenile diabetes.
"At first I couldn't tell if I was just tired or whatever or if my blood sugar was low," Lockhart said. "Now I know, and I get some quick sugar and get my levels up."
He's been forced to be more mindful of his diet, something that's not always easy for adults, much less a teenager. Not to mention he takes insulin shots about five times a day.
Coaches ask him every day if he needs juice or anything else prior to practice. Lockhart usually opts for a sports drink for the shot of sugar and electrolytes after a full day of classes.
Lockhart also has a device called a Dexcom, which allows him to monitor his blood sugar levels through his smartphone. The applicator is located just under the skin, usually on his stomach. The device measures his levels and sends a message to his phone if the levels get too high or too low.
Jesse Herrington, an athletic trainer for Mercy Health, works with the Rogers football team and said it's much easier to monitor thanks to those devices. The only issue he's had is maybe having to bring the phones out to the field so the players would be close enough to get the signal if there's a problem.
"It helps give them immediate feedback so they always know where they're at," Herrington said. "They can check it before or after school without having to prick their fingers which is nice."
Herrington deals with a handful of athletes each year similar to Lockhart, but all are a little different. Football presents its own challenge with the equipment and contact, Herrington said.
"You've got to worry about protecting the actual monitor itself because it will come off," Herrington said. "With football, I'm with him all the time. Some of our other sports if they're off -- we've had golfers or tennis players in the past, and maybe I'm not with them all the time."
Lockhart recalled one incident at a summer lineman camp that Rogers assistant coach Rob Bray, who is also his uncle, still talks about.
He was participating in a lineman camp in Arkadelphia and was wiped out from the workout. Lockhart turned the ringer off on his phone and went straight to bed. But at some point during the night his blood sugar slipped low and the device went off. However, he didn't hear it.
That led to his mother calling Bray in the middle of the night.
"Yeah, he came knocking on my door, and we had to run down to the vending machine to get me something to eat," Lockhart said.
Lockhart's excited for his senior season with the opening game on the horizon.
"I just like to come out here every day," Lockhart said. "I really just pushed through it, and I'm having a really good time with it and hoping for big things."
Profile
AARON LOCKHART
SCHOOL Rogers High
HEIGHT 5-11
WEIGHT 230
CLASS Senior
NOTABLE Saw some varsity action over the latter portion of the season last year on the defensive line. … Diagnosed with Type 1 Diabetes late in his eighth-grade year but has continued to play football despite struggling to gain weight until the last offseason. … Nephew of Rogers High offensive line coach Rob Bray.
Difference in Type 1 and Type 2 Diabetes
• Type 1 diabetes is the result of the human immune system mistaking the body's beta cells, which produce insulin, for foreign cells and causing their destruction. Insulin is a protein that allows the transport of sugar into cells to provide energy. When sugar can't get from the blood into the cells, the cells have no access to the glucose they need and cannot function correctly. The composition of our blood also gets off balance, with high blood sugar levels leading to detrimental effects on other organs of the body.
Injecting synthetic insulin solves this problem because it keeps blood glucose levels in the right range and helps glucose reach our cells.
• Although type 2 diabetes is much more common than type 1, the causes for it aren't fully understood. What doctors and scientists do know is that excess weight, inactivity, age and genetic makeup contribute to development of the disease.
Patients with type 2 diabetes make insulin, but the cells in the body cannot respond to it adequately, so they cannot take up glucose.
Source: Diabetes research connection
Sports on 09/06/2019
Print Headline: Focused on the Finish
Sponsor Content