BENTON -- Coming off a 2017 state title, Arkadelphia was wondering what was wrong after dropping its first two games of 2018 en route to an 0-5 start.
A year later and coming off a second consecutive Class 4A title, the Badgers (2-0) are in a better state of mind. On Friday night, they disposed of their second consecutive Class 6A team after rallying past Benton 33-20 at Panther Stadium.
"We wanted to be committed to having a better start,'' Arkadelphia Coach J.R. Eldridge said, "but a football season is a whole body of work."
[HIGH SCHOOL FOOTBALL: Scores, photos, stories, rankings + more » arkansasonline.com/arpreps/]
That body of work that started last season has produced a 10-game winning streak for the Badgers, who trailed 14-7 until a drive late in the first half closed their gap to 14-13 at the break.
"That was huge," Eldridge said of the touchdown. "We came out on fire in the first quarter and got away from that. Then I feel like we kind of got back to that."
The Badgers scored easily on their first drive with Kyren Harrison scoring on a 31-yard run at the 9:45 mark.
It stayed that way until an Austin Drewry interception set Benton up at the Badgers' 39. The score came on a 5-yard pass from Garrett Brown to Braden Murdock with 25 second left in the quarter.
After Cannon Turner's 68-yard punt pinned the Panthers at the 2, Benton (0-2) embarked on a 13-play, 98-yard drive to take the lead. Gavin Wells hit a wide-open Jaden Nash on a halfback pass for a 20-yard score on fourth down. Bryan Araujo's kick made it 14-7.
Harrison got his second score on a 2-yard run with 1:02 left in the half. The PAT was missed.
Benton's last big moment came when Wells grabbed a tunnel screen from Brown and went 82 yards for the score two plays into the second half. The PAT was blocked by Jason Campbell as Benton held a 20-13 edge.
"We challenged each other in the locker room, and what we talked about was putting on more steam and coming out in the second half and really wanting it and being the team that plays the hardest and executes the best,'' Eldridge said. "I think our players really did a good job of coming out and having that burning desire to make plays. And that is what they did."
Braeden Thomas, who also had a 14-yard reception on the drive, scored on a 15-yard run. The Badgers failed on the two-point conversion and still trailed 20-19 with 8:11 left in the third quarter.
A blindside hit on Brown not only knocked the Benton quarterback out of the game but also forced a fumble that Rickey Rogers recovered and returned to the Benton 35. Turner scored on a 13-yard run six plays later to put the Badgers up 25-20.
Thomas added his second score on a 41-yard run with 13 seconds left in the third quarter.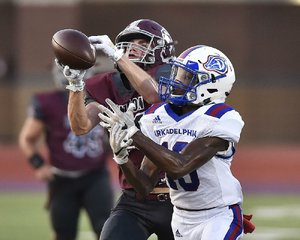 Photo by Special to the Democrat-Gazette/JIMMY JONES
Benton defensive back Jackson Drewry (left) intercepts a pass intended for Arkadelphia receiver Kyle Phifer during Friday's game in Benton.
Sports on 09/07/2019