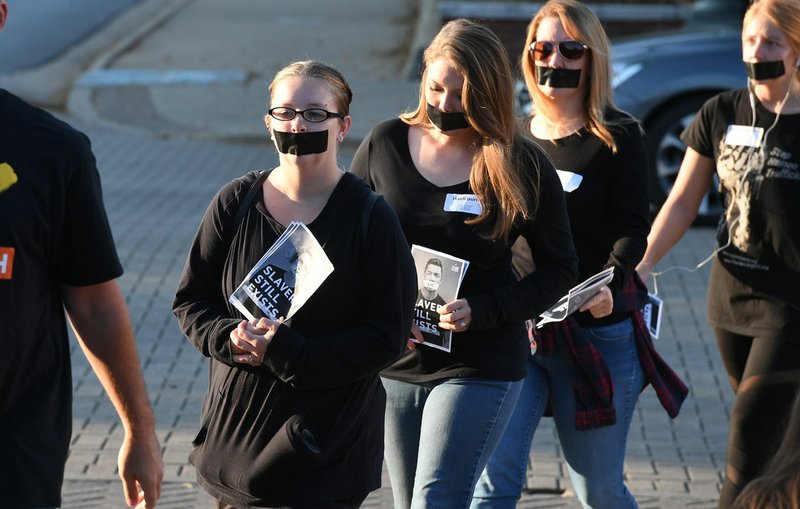 File Photo / J.T. Wampler The Walk for Freedom, organized in 2017 in Fayetteville by a national nonprofit, was intended to raise awareness to end human trafficking. Now a local organization, Hub of HOPE, is working to share the facts and aid the survivors, and the First United Presbyterian Church is hosting a seminar to help. "God's love for justice is a call for the church to take a stand and be a voice for the those who have had their voices taken from them," says Hub of HOPE founder Jenny Sorey.
"As parents and grandparents, we are the eyes and ears for our children to keep them safe," says Barbara Verdery. "But if we don't have the education on what to look for, then we can't help our young people."
That, in essence, is what prompted Verdery to plan "Illuminate Change in the Human Trafficking World," a seminar set for Sept. 22 at First United Presbyterian Church in Fayetteville.
Illuminate Change
in the Human Trafficking World
When: Sessions 3-5 p.m. & 5:45-7:30 p.m. Sept. 22
Where: First United Presbyterian Church in Fayetteville, 695 E. Calvin St.
Cost: Free; the church and community will have the opportunity to donate to the newly opened Hub of HOPE Transition Center
Information: 442-4411, fupcfay.org, hubofhope.org
"I just could not believe there was an issue with human trafficking here in Northwest Arkansas," she explains. "Maybe in larger metropolitan cities, but not here in this part of the state. Then I would hear on the news more and more teenage girls missing and later found with a male in another state that was trafficking her. For the past several years, the church has focused on homelessness and food insecurity locally, and I felt it was time to offer a program to the church and community to educate them on the issues of human trafficking."
Keynote speaker will be Jenny Sorey, who founded a local nonprofit organization called Hub of HOPE in 2016.
"I was first introduced to the issue of human trafficking and modern-day slavery in 2011 and began focusing on an international scale, volunteering with various organizations," Sorey says. "Recognizing that the United States was not immune to this enormous injustice and that human trafficking is exploitation of vulnerability, I began bringing together individuals and agencies who already have influence and do work with those vulnerable populations. This would provide a better picture of the issue here in our community."
Those conversations, Sorey says, let her know that not only was the public unaware, "agencies already working with individuals who had been or currently are being trafficked did not know how to recognize or respond to it." What she wanted to create was "a direct focus to address the rescue and restoration of the survivors of human trafficking here in Northwest Arkansas," along with leading efforts at education and prevention across the community.
"We believe that awareness fuels rescue," Sorey says. "When community members are able to recognize markers and identifiers of human trafficking, survivors are more likely to get the assistance they need to move from a life of exploitation into restoration and healing. We hope to also provide information that will assist parents in helping to prevent this from happening to their children, who sit in high vulnerability just because of their age."
"As Christians, we are called to educate ourselves, help the less fortunate, work for justice and peace, and build an inclusive, caring community for all," adds Verdery. "Through this forum, we hope people will gain the knowledge to recognize the signs of human trafficking, work to change the laws in our state and nation, and understand this issue is larger than we ever dreamed of."
"We hope that participants in this event will feel called to action to work with the church, local community organizations, and law enforcement," agrees Linda Cudley, one of the members of the event committee. "The church is called to bring hope and restoration to victims of abuse. We will continue to strive to identify ways to meet the health and safety needs of victims of human trafficking in Northwest Arkansas."
"The church and community will also have the opportunity to donate to the newly opened Hub of HOPE Transition Center," says Verdery. "One of the biggest needs in this area is a 'safe' place for the Hub of HOPE recovery team to work with a victim in a positive setting as the victim figures out what are her next steps."
The forum will offer two sessions Sept. 22, one from 3 to 5 p.m. and one from 5:45 to 7:30 p.m., with the church providing a simple supper in between. In addition to Sorey, there will be speakers discussing topics ranging from defining human trafficking, risk factors, stage of entry, porn culture in the media driven world and recognizing and responding to human trafficking in Northwest Arkansas.
"After the supper break, we are offering an independent youth session for seventh graders and up," says Verdery. "They will explore types of trafficking, how individuals become victims, warning signs and red flags in social media, how to stay safe, and how youth can aid in the fight against human trafficking."
The forum is free to church members and the community, but registration is requested by Sept. 16 through the church's web page, fupcfay.org, by emailing hubofhopnwa@gmail.com or by calling the church office at 442-4411. Child care will be available by reservation.
NAN Religion on 09/07/2019
Print Headline: Grim reality
Sponsor Content