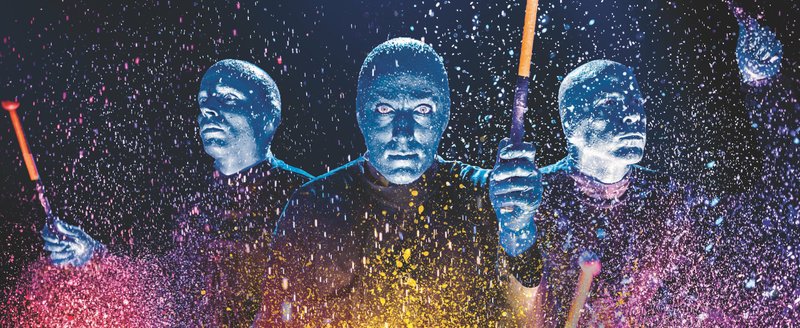 Blue Man Group kicks off another national tour this week at Fayetteville's Walton Arts Center. Special to the Democrat-Gazette/Justin Barbin Photography
Blue Man Group debuts its newest production, Speechless, and kicks off its national tour this week at Fayetteville's Walton Arts Center, 495 W. Dickson St., with performances at 7 p.m. Tuesday-Thursday and Sept. 17-18, 8 p.m. Friday, 2 and 8 p.m. Saturday, 7:30 p.m. Sept. 15 and 1 p.m. Sept. 19.
It's Blue Man Group's second national tour to "tech" and originated from Walton Arts Center. The first one was in September 2010.
Tickets are $40-$81 plus fees. Call (479) 443-5600 or visit waltonartscenter.org.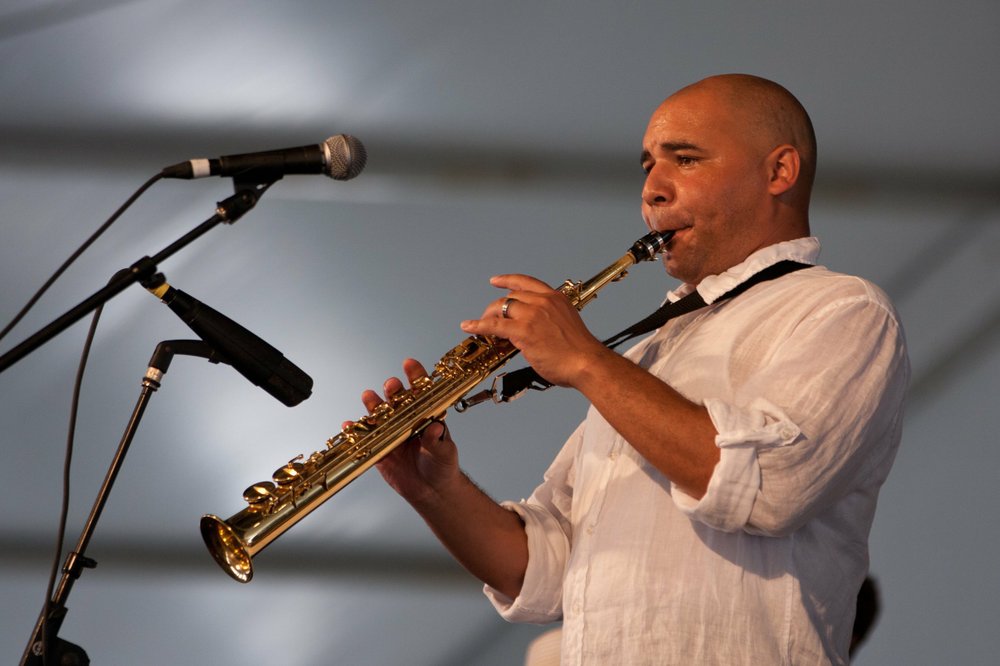 Saxophonist Derek Douget performs for Jazz at the Joint Monday in North Little Rock's Argenta Arts District. Special to the Democrat-Gazette
Jazz at the Joint
Jazz saxophonist Derek Douget joins the Ted Ludwig Trio for Jazz at the Joint, 7:30 p.m. Monday at The Joint Theater, 301 Main St., in North Little Rock's Argenta Arts District. Tickets are $30. Call (501) 425-1528, email steve@stevedavison.com or visit jazzatthejoint.org.
Jazz in the Park
On Call Band performs for Jazz in the Park, 6 p.m. Wednesday at the History Pavilion in Little Rock's Riverfront Park, just west of the First Security Amphitheater (closest entry point is Ottenheimer Drive off President Clinton Avenue). Sponsors are Little Rock Convention and Visitors Bureau and Art Porter Music Education Inc. Admission is free. In case of rain, the performance will move to the West Pavilion behind the Ottenheimer Market Hall.
Lawn chairs and blankets are welcome, and there is some seating in the natural stone amphitheater at the History Pavilion. Beer, wine, soft drinks and water will be for sale (no coolers are allowed.); a portion of the proceeds from the sale of Jazz in the Park koozies benefit APME. Calk (501) 375-2552 or visit rivermarket.info.
Rogers Rocky Horror
Arkansas Public Theatre stages The Rocky Horror Show by Richard O'Brien, 8 p.m. Thursday-Saturday and 2 p.m. Sunday through Sept. 29 at the Victory Theater, 116 S. Second St., Rogers. The show contains adult language and content and is recommended for mature audiences.
Doors and concessions open one hour prior to curtain. Cabaret-seating tickets are $42 per person, $7 per two-seat table; balcony tickets are $30. Call (479) 631-8988 or visit arkansaspublictheatre.org.
ASU Theatre season
Arkansas State University Theatre opens its 2019-20 season with Into the Woods (music and lyrics by Stephen Sondheim, book by James Lapine), Oct. 11-13, 18 and 20 in ASU's Fowler Center, 201 Olympic Ave., Jonesboro. Tickets are $17, $12 for students. Visit AState.edu/tickets.
The rest of the lineup (all shows at the Fowler Center; except as noted, tickets are $15, $10 students):
• Nov. 14-19: "Fringe Festival," an evening of short plays, dance and song featuring ASU student actors, dancers, designers, directors, singers and choreographers. $6, $12 for a festival pass.
• Feb. 21-23, 28-29: God of Carnage by Yasmina Reza
• April 17-19, 23-24: The Tempest by William Shakespeare
Visit AState.edu/theatre.
Springdale season
The Arts Center of the Ozarks, 214 S. Main St., Springdale, opens its 2019-20 theater season Oct. 11-20 with Crimes of the Heart by Beth Henley.
The rest of the lineup:
• Dec. 13-15: The Best Christmas Pageant Ever by Barbara Robinson
• Feb. 7-16: Into the Woods
• March 6-15: See How They Run by Phillip King
Call (479) 751-5441 or visit acozarks.org.
And Barrett Baber and the Barrett Baber Trio, with opening act Chelsey James, performs for the center's first Main St. Music Night of the season, 7:30 p.m. Sept. 20. Tickets are $35, $30 for members, plus $25 to attend a 7 p.m. VIP meet-and-greet. Visit tinyurl.com/y6sdtu2p.
Mini-grants available
The Arkansas Arts Council is accepting applications for Arts in Education mini-grants and Arts for Lifelong Learning mini-grants until Aug. 31 or the money is spent. Grants of up to $1,000 are available. Both types of grants provide funding for residency programs between Oct. 1 and Aug. 31. Find applications at arkansasarts.org/Grants/Available-Grants/home. Call (501) 324-9769.
The Arts in Education mini-grant program provides funding for pre-K to grade 12 schools and community organizations to take artists and performers on the Arts Council's Arts in Education Artist Roster into classrooms or after-school or summer programs that offer hands-on, curriculum-based or character-centered artist residency programs. Residencies may last up to 10 days.
The Arts in Education mini-grant program lets schools and organizations present professional development workshops for educators in curriculum-based arts activities in conjunction with, or instead of, artist residencies. Applicants must show a 1:1 ratio match of cash.
Style on 09/08/2019
Print Headline: Blue Man Group in Fayetteville; Jazz at The Joint
Sponsor Content