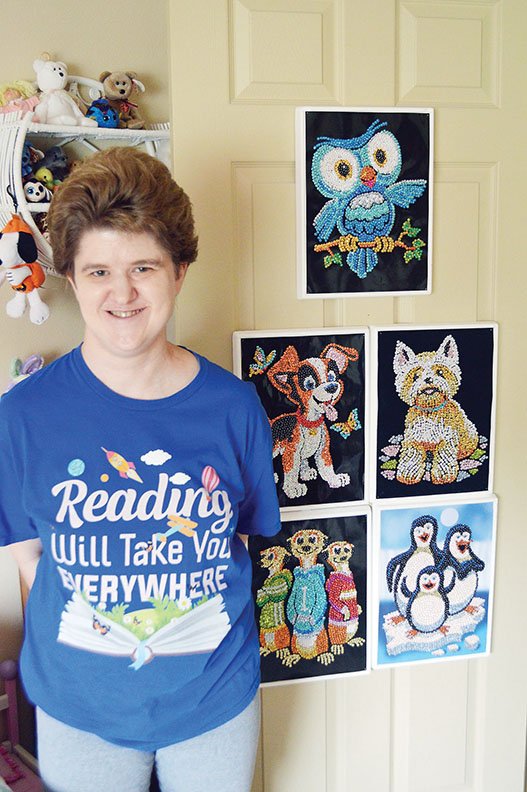 Emily Aldridge, who turns 37 today, stands in her bedroom with some of the sequined crafts she makes. Emily also creates latch-hook pieces. Her work will be on display at Grace United Methodist Church today through Sept. 15. The church is at 1075 Hogan Lane.
CONWAY — Emily Aldridge will smile if you compliment her craftwork, but she avoids eye contact and doesn't say much.
Emily, who will turn 37 today, wasn't officially diagnosed with high-functioning autism until 2001, said her mother, Sylvia Aldridge of Conway.
The Aldridges are members of Grace United Methodist Church in Conway, where Emily's latch-hook and sequin art will be on display today through Sept. 15. The church is at 1075 Hogan Lane.
The Rev. Herschel Richardson, pastor of the church, said he and his wife, Letha, were invited to the Aldridges' home to have dinner. He saw Emily's work, and "I was blown away," he said.
Richardson, who plans to start a Sunday School class for special-needs adults, said he wanted to put Emily's artwork on exhibit to share with others.
"When Pastor Herschel asked to display my work, it made me feel happy and excited," Emily wrote in an email. She prefers to express herself in writing rather than verbally. "I hope that people who see my crafts will enjoy them and appreciate the hard work it took to make them.
"My latch-hooks and sequin arts are all animals. Some are pillows, some are wall hangings, and some are in shadow-box frames," she said.
Emily said she enjoys giving her latch-hook creations as gifts to people with illnesses or disabilities.
"I have given latch-hook pictures to older friends with Parkinson's disease, severe arthritis, and some that I am not sure what the disease was, but it limited their physical activity," Emily said. "The latch-hook pictures were something that they could enjoy, no matter what their limitations."
She said she got started with the crafts when her sister, Stacy, gave her the kits for her birthday a few years ago. Between the two, latch-hook art is her favorite, Emily said, "because I can gradually see the picture come to life."
Sylvia said her daughter excels in tasks that others might find tedious, and she's fast. She has worked in the past for nonprofit organizations that serve special-needs adults, performing contract work with various companies.
Emily lives with her mother and father, Frank. The Aldridges raised their two daughters in Memphis, Tennessee, where they lived until 2001, when they moved to Arkansas. Their older daughter, Stacy Glass, 46, lives in California with her husband and two children. She is a medical physicist.
"I've had both ends of the spectrum, so to speak, with my two girls," Sylvia said. "Emily came along, and everything is a struggle for her."
Sylvia also struggled for years to get a diagnosis for Emily.
"Over 35 years ago, autism wasn't something many doctors recognized," Sylvia said.
She said Emily had problems from birth.
"Even after she was born, her Apgar scores were low, usually a telling sign," Sylvia said. Newborn babies are rated on appearance, pulse, grimace/reflexes, activity and respiration.
"The first two years of her life, you could tell something was not right," Sylvia said. "She did a lot of crying; she would not sleep at night."
Sylvia said Emily might wake up after three hours of sleep, for example. Sylvia would play with her and try to keep her quiet for the rest of the night so Frank and Stacy could sleep.
"I knew something was wrong, especially when she hit 1 1/2 and 2 years old, and she was basically saying nothing. I took her to the pediatrician. I will be the first to say, I'm a talker, but that did nothing to impede my older daughter. [The pediatrician's] answer was, 'Well, you and your daughter are probably doing all the talking for her. She needs to be around other kids.'
"I had her in every mother's day out that was available (in Memphis) from the time she was 2 until she was almost 5. The problem is, with autism, you're not going to pick up the social clues."
Trying to get Emily diagnosed and finding the right services "was like running face first into a brick wall all the time," Sylvia said.
"We finally, praise God, got her into a preschool special-ed program. These two teachers working with her were absolutely astounding. They worked with not just autism; it was a small class of special-needs children. By then, she was 4 1/2. In less than a year, she was talking, and she was singing. The difference was night and day," Sylvia said.
Emily went to regular kindergarten in Germantown, Tennessee, and the teachers were outstanding, Sylvia said.
Still, Emily didn't have an official diagnosis until the family moved to Arkansas when Frank got a job at Acxiom in Conway. They first lived in Vilonia and moved in 2002 to Conway. A psychologist in Conway diagnosed Emily with autism, and she is high-functioning, Sylvia said.
"She was a teenager. I knew what it was; my husband knew what it was; our family knew what it was. It was, to me, absolutely the hand of God that brought us to Arkansas," Sylvia said. Frank is now retired; Sylvia is a former French teacher.
She said the services for Emily were better in Arkansas than in Tennessee, but she home-schooled Emily from grades four through 12 and gave her as many opportunities as possible.
"I never put a cap on what I thought she could or couldn't do. I've tried to expose her to as many possibilities as we were able to: 'Will she take to this, will she take to that?'"
Sylvia said Emily excels in dance, particularly clogging. Although Emily isn't a member of a dance group now, she previously performed with a clogging group, and she and her father used to square-dance together.
Dance instructors have told Sylvia that Emily "has almost a photographic memory for the routines. She can watch it one time, and she's got it."
She said raising a daughter with autism has taught her not to make assumptions about people with special needs.
"They all have some sort of gift, I think — some may have to dig a little deeper for it than others," Sylvia said. "I think God makes no mistakes. He's put all of us here for a reason, and Emily, I know, has been a blessing to many people. I know that for a fact, which of course, we would all aspire to be a blessing. Don't ever put a cap or a limit on what you think any of these young people can achieve."
And about limitations — Emily has a message for people: "I want people to know that I am an adult with special needs but that I also have a few God-given talents."
Senior writer Tammy Keith can be reached at (501) 327-5671 or tkeith@arkansasonline.com.
Sponsor Content