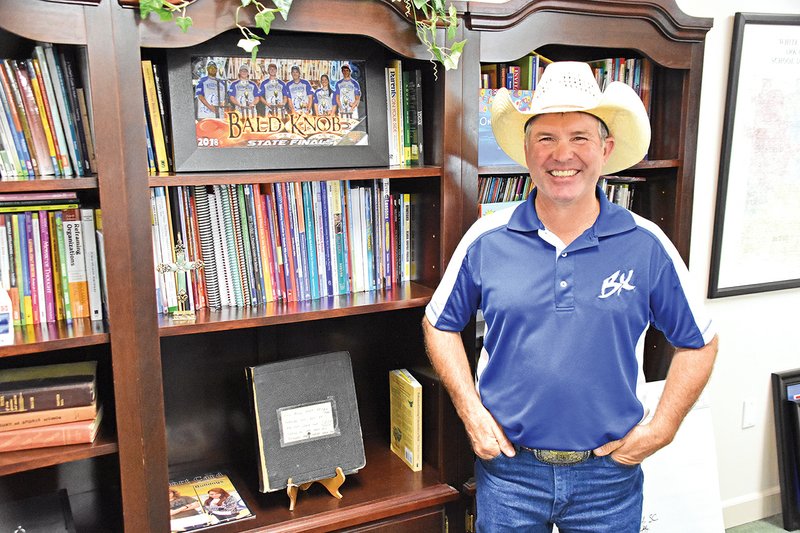 New Bald Knob School Board member Bruce Mason, shown in Superintendent Melissa Gipson's office, was appointed to fill the term of Michael Wammack, who died July 16. Mason said he intends to run for the position in May. ( Staci Vandagriff)
BALD KNOB — New Bald Knob School Board member Bruce Mason said he puts his faith in the Lord.
"God is No. 1 in my life and in my family's life," Mason said. "I'm a very humble person. I don't want anybody to think I'm in this for me."
Mason was appointed to the school board to fill out the remainder of the term for board president Michael Wammack, who died of cancer
July 16. Mason was appointed to the board July 26.
"I just got a phone call from the board," he said. "They knew I had considered running for the board last year when a seat came up. I was involved with things at the church and some things at that point in time, and I didn't want to take the time to [run]."
Mason said he told board members he would consider replacing Wammack but had to think and pray about it.
"I thought about it and decided it would be a good thing to try to do that," he said.
Wammack's position is open for election in May 2020.
"I will definitely be running," Mason said.
Bald Knob Superintendent Melissa Gipson said losing Wammack was difficult.
"Working beside him as a colleague and friend was an honor that cannot be replaced," Gipson said in a story on the Bald Knob School District website. "Mr. Wammack, thank you for your untiring years of service, for supporting our schools and for pouring your love into every project and decision. While you left us too soon, your impact will continue to resonate throughout the buildings and people of the Bald Knob School District for years to come.
"Michael was a great leader and a friend with a heart for our youth, school and community," she said.
Gipson said she believes the board will enjoy working with Mason.
"He and his wife are active community members," she said. "His work ethic and integrity are strengths. We look forward to working with Mr. Mason in providing the best education and safest environment for the students of the Bald Knob School District."
Mason is a 1987 graduate of Bald Knob High School.
"I'm originally from Bald Knob, born and raised here," he said. "After I got out of high school, I did a lot of traveling."
Mason was a diesel mechanic for about 15 years. After that, he worked for a pipeline right-of-way
clearing company based in Carthage, Texas. He and his family lived in Louisiana for close to four years before moving back to Bald Knob following the death of his father about five years ago.
"Ever since then, I've been in the family farm that my dad, Jimmie, started," he said, referring to Faith and Feathers Farm. Mason raises chicken and cattle.
Mason and his wife, Tonja, have been married for 31 years. They have two sons, Hunter, 25, and Reid, 17. Reid is a senior at Bald Knob High School.
"That's one of the reasons," Bruce Mason said of his youngest son and of wanting to work with the school board. "The biggest reason is that this is my alma mater. I know I just want to see the best for the kids. I realize I'm only one vote, but if I can stand up for what's right, on my one vote, and keep things flowing in a good atmosphere and get test scores up and things like that, then that's my main goal."
Mason said Bald Knob has not changed much in the 32 years since he graduated from high school.
"There are not a whole lot of huge changes," he said. "More businesses have come in, but it's still our small, quaint little town that when you pass someone out there on the street, you know their name. You're going to wave to them and stop and visit with them.
"Huge changes? There's not a lot of them. It's still home."
Staff writer Mark Buffalo can be reached at (501) 399-3676 or mbuffalo@arkansasonline.com.
Sponsor Content