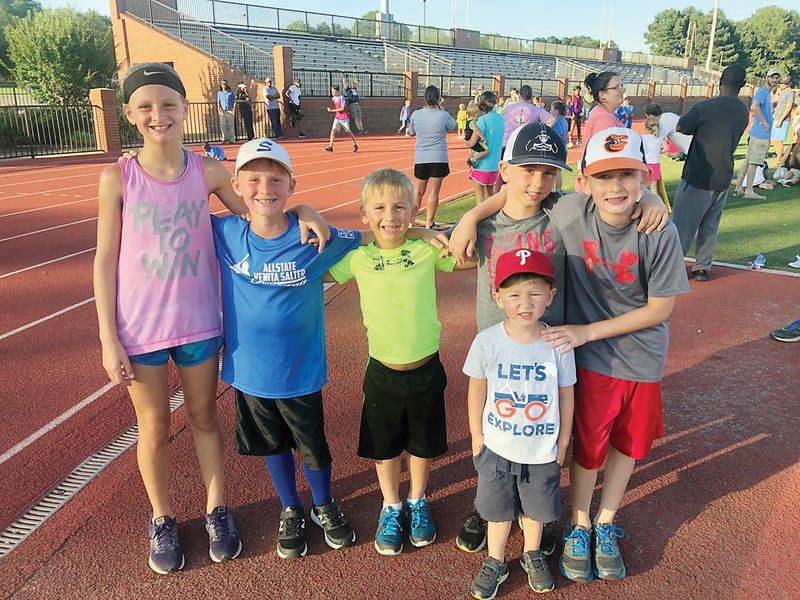 Children who participated in a recent Searcy Kids Track Night are Titus Fulmer, front; and back, from left, Riley Farris, Jack Farris, Nathan Farris, Levi Fulmer and Ben Fulmer. The next Kids Track Night will take place from 6-7 p.m. Monday at First Security Stadium on the Harding University campus.
SEARCY — Searcy Kids Track Night has two events remaining for the 2019 season.
The running night, sponsored by the Searcy Rush Running Club, will have its next-to-last event Monday at First Security Stadium at Harding University. The final event is set for Oct. 14.
Searcy Kids Track Night was the brainchild of Tia Stone, a former Harding Lady Bisons runner, as well as a Harding professor.
"Our family and another family — we wanted to do something for our kids and their friends to get together and have the kids run and compete," Stone said. "It just kind of evolved into something bigger, inviting more people.
"It's grown over the years into a pretty big event."
Stone said the track night became more organized around 2014.
"I had a Harding student who helped me," Stone said. "She needed an internship, so we decided to pick up Kids Track Night."
In 2014, T-shirts were provided, as well as goody bags, Stone said.
"We got sponsors to help with the food," she said. "Before that, I was bringing some food on my own. As we got more kids coming, it was becoming more expensive."
Stone said sponsors became necessary to keep everything free.
"We had to find local businesses who could donate a little bit of money," she said. "The Tropical Smoothie Cafe agreed to donate oranges and bananas. … It really is a community outreach."
The event is for children ages 1 to 13 and will take place from 6-7 p.m. Monday.
"Everyone who works is a volunteer," Stone said. "We have grown to about 150 to 200 kids."
Running events include the 50-, 100-, 200- and 400-meter dashes and the mile run. After participants complete those races, a 4x100-meter relay will take place.
"We have batons, and kids put on different jerseys," Stone said. "We want to give the runners a little bit of track experience. It teaches them about running in certain lanes, cheering and encouraging other runners."
Stone said the only race that is timed is the mile run. The races are broken into age groups and sometimes into boys' and girls' heats, Stone said.
"One- and 2-year-olds run together," she said. "For that age group, so young, honestly, this is their first organized sport. We encourage parents to run with their kids, hold their hands. They can even just hold them. They can go out with siblings.
"It's a very low-key, more fun environment. We do try to model this after a track meet so that when they are older, they've had a little bit of a background in running and track meets."
Amanda Farris, a mother whose children participate in the Kids Track Night, said it's a great occasion for the community.
"It allows families and siblings to participate in running at the same time on the same night," she said. "The siblings can cheer each other on. It's great. It's something that all four of my kids look forward to each month. They have been participating for several years, and they love to see how far they've come and how much faster they have gotten."
Mitch Walton is a grandfather of two participants in Kids Track Night.
"It is a great program for the Searcy area youth and, hopefully, will generate more interest in the future for the track-and-field programs in area schools," Walton said.
Running is a sport that people can do their entire lives, Stone said.
"I ran in high school and ran cross country and track at Harding," she said. "As an adult, I compete around the state on different teams. I'm still a competitive runner. This is just something I'm passionate about, and the next generation of runners and encouraging kids to have fun and run.
"It's a lifelong sport. A lot of sports are seasonal for times in your life. Running is something you can do throughout your life."
For more information or to register for Monday's event, go to www.searcyrush.com.
Staff writer Mark Buffalo can be reached at (501) 399-3676 or mbuffalo@arkansasonline.com.
Sponsor Content