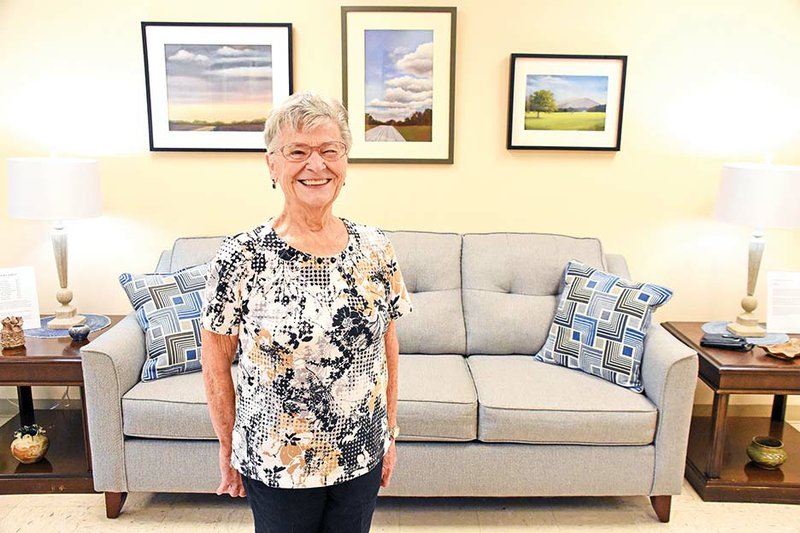 Maumelle artist Mary Ann Stafford has 10 pieces of her work on exhibit in the lobby of Saint Peter's Episcopal Church in Conway. Paintings shown in the background are, from left, In the Distance, Heading Home and Rural Fields. ( Staci Vandagriff)
At age 86, Maumelle artist Mary Ann Stafford shows little sign of slowing down.
"I am still working, for sure," she said, smiling, as she showed visitors her latest exhibit. She has 10 pastel landscapes on display in the lobby of Saint Peter's Episcopal Church,
925 Mitchell St. in Conway. Visitors are welcome to view the exhibit during the church's normal business hours, 9 a.m. to 4 p.m. Monday through Thursday, through October. Access to the exhibit is also available from 8 a.m. to 1 p.m. Sunday during services.
"We are so honored and happy to have the pastel paintings by Mary Ann Stafford hanging on the lobby walls of Saint Peter's Episcopal Church," said Marilyn Rishkofski, coordinator of the Saint Peter's Artists Collective. "Art in the Lobby has been an important part of our newly formed Saint Peter's Artists Collective. This space welcomes our parishioners to Saint Peter's, as well as our guests and visitors. It is a place to meet family and friends, renew friendships, learn about programs and enjoy all the hospitality we have to offer. The addition of beautiful artwork adds to this enjoyable experience.
"As you look at this collection of Mary Ann's paintings, you sense a common theme of pathways and roadways," Rishkofski said. "You might ask, 'What is down that road leading into the forest?' Or you might wonder what is around the curve in the pathway. I have heard several people remark that they 'know that place.' For some, this is the first time they have seen pastel paintings that prompt many questions about the medium Mary Ann uses and the expertise required to create those beautiful colors and atmospheric feelings created by the soft muted shades and tints."
Rishkofski said that in 2020, the collective plans to host a larger show with Stafford, which will be held in the Gallery at Saint Peter's in the Parish Hall.
"There will be a lot more than pathways and roadways to view and admire. Mary Ann worked in many different mediums and is constantly learning about new techniques," Rishkofski said. "This will be a great time to meet this amazing artist and ask all those questions that you always wanted to ask about the creative process."
Stafford did not begin her art career until she retired in 1993. Her education credentials include Bachelor of Science in Education and Master of Arts degrees in English, art hours from the Kansas City Art Institute and the University of Arkansas at Fayetteville, and a doctorate in education with an emphasis in art. She taught high school English, humanities and art for 16 years and was assistant principal for five years and staff-development coordinator for the Arkansas Department of Education until her retirement.
Since then, she has been painting and drawing full time and studying art under nationally recognized artists. She has been juried into many regional and national shows and featured in solo shows in Fort Smith, El Dorado, Little Rock, Pine Bluff, Stuttgart and Hot Springs.
Stafford is a member of the Arkansas Pastel Society and holds signature memberships in the Pastel Society of the Southwest in Texas, the Mid-Southern Watercolorists and the Arkansas League of Artists.
"I have finally stopped teaching," Stafford said, emphasizing every word. She added that she has taught since 1969. "However, I am joining three other artists from the Arkansas Pastel Society in offering classes through LifeQuest of Arkansas this month and in October [in Little Rock]. I will be doing a session on skies. …
I love skies and clouds."
Stafford will show her work elsewhere in Arkansas during the coming weeks.
She has a pen-and-ink drawing in the Artists of Northwest Arkansas Celebration of Art National Exhibition at the Fayetteville Town Center through Sept. 29. She also has five acrylic paintings at the North Central Arkansas Art Gallery in Fairfield Bay, sponsored by the North Central Arkansas Foundation for the Arts, until Oct. 31.
"I regularly exhibit at the Galleries at Library Square in downtown Little Rock," she said. "I have eight of my pastel sky series there at present, plus some limited-edition prints and scratchboard animal portraits."
Stafford will also participate in the Central Arkansas Celebration of the Arts from 10 a.m. to 3 p.m. Sept. 28 at the Windsong Church of Christ Fellowship Center, 3 Windsong Drive, in North Little Rock. She will have a table with smaller works and a few larger works on easels at that show.
More information may be found online at staffordart.com or on Facebook: Stafford Artworks.
Sponsor Content