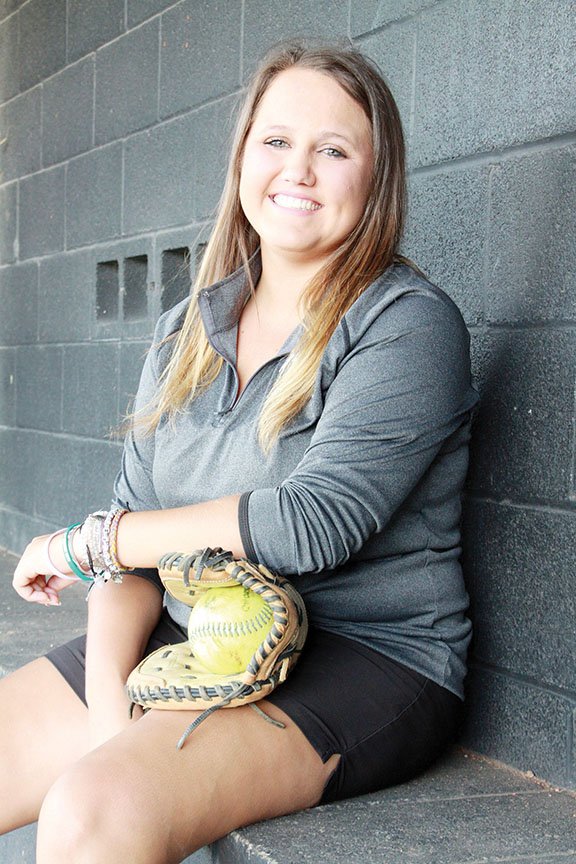 Madeleine Rhodes is the new head softball coach for the Bauxite Lady Miners. Rhodes has spent the past two years in the Benton School District, serving as the head volleyball coach for seventh-graders and as an assistant in basketball and track. ( Sam Pierce)
BAUXITE ­­— Madeleine Rhodes was a competitive dancer until she was about 11 years old.
"And I'm talking, Dance Moms, TV-style competitive," Rhodes said. "We danced all over the country and were out of state every other weekend.
"My mom and dad are very competitive people, so when we started dance, there was no recreation dance classes. It was a competition team; that's for us."
But when Rhodes was 11, her dance teacher moved, so there was no longer a studio for Rhodes to go to because she lived in Rison, a small town in south Arkansas. Her dad, Marty, said she had to pick a new activity, and she chose softball.
Rhodes was recently named the new head softball coach for Bauxite High School. This is her first head-coaching position at the high school level.
That's despite the initial reluctance of her dad to let her play.
"I wanted to play softball because my friends played softball, and he said, 'No, pick something else,'" Rhodes said. "He said I was too far behind, and it was too late for me to start. In fact, the first time I ever picked up a bat, my family still laughs about it because it was so bad."
After her dad finally agreed to let Rhodes play softball, he told her, "I'll have you starting by your freshman year of high school," she said.
"I don't remember much after that, except going to the cage every night, and we hit," she said. 'When people say we work really hard, I look at them and say, 'Well, do you?' I know how intense it can get and that it is a lot of work.
"My dad was an all-in type of guy, and I was raised that way, and I want to be that way, too. I spent the first year at the cages all the time. I would wake up before school and go hit, and I wanted to do it."
Rhodes said she wanted to be at the same level her friends were because she didn't want to be behind.
"I spent so many years really good at dance; I wanted to be really good at this, too," she said. "By the time my freshman year came around, I started every game."
Rhodes, who also started pitching at 13 years old, helped lead Rison softball to its first state tournament.
"We never won one, but we made it all four years I was there," she said.
Rhodes said that when she got her new coaching job, her dad said, "You are back where you belong."
"He knew softball was still in my heart," she said. "Softball has really been my passion since I was 12 years old. People know that my love is softball. … When this job came open, I knew this is what I needed to do, and I knew I needed to apply."
Rhodes replaces former head softball coach Sara Tew, who left Bauxite to take the same position at Carlisle. Rhodes has spent the past two years as head volleyball coach for the seventh grade at Benton.
She also assisted with basketball and track.
"I was really nervous [about whether] I would be a good applicant [for Bauxite]," Rhodes said, "because you may not be certified for what they need as a teacher, but it ended up being a perfect fit.
"This year, I am teaching a multitude of things, including a business course, a PE class, and I am also teaching Minor Academy, which is our online classes."
Rhodes graduated in 2012 from Rison High School, where she played softball and participated in track and cross country. She said even though Rison had a small-town vibe, she left with a lot of experience and leadership roles that prepared her well. She earned her bachelor's degree in 2016 from Central Baptist College in Conway. During her junior year of college, she started coaching travel softball.
Rhodes has two sisters, Kassie and Dakota. Kassie Rhodes plays softball for Quitman
High School and led the Lady Bulldogs to back-to-back state championships. Dakota, 12, plays tournament softball. Marty is a volunteer coach for the team and owns a hitting facility in Heber Springs.
"[My sister and I] are really competitive; she's pretty good," Madeleine Rhodes said of Kassie. "So any nerves are just from wanting to be successful, but I feel completely comfortable when it comes to the game of softball."
When she first arrived at Bauxite, Rhodes introduced herself to members of the softball team, got their numbers and held a meeting the second week of school.
"I basically shared my expectations for them and how things were going to look," Rhodes said. "Coach [Sara] Tew had a great program in place already, so it is not like I am going to change a lot. I'm just adding in the things that fit my coaching style and my personality.
"I'm really excited about the group that we have and the years to come."
Michelle Shoppach has known Rhodes for two years, with the two coaching together for the Benton School District. Shoppach is the former eighth- and ninth-grade volleyball and track coach. She is now the head volleyball and head bowling coach for Benton High School.
"Maddie is dedicated to athletics," Shoppach said. "She seems to understand how to deal with the young ladies in a firm manner and get them to respond to her.
"She is a worker, somebody who will find ways to get the job done and put in the time to get it done."
Shoppach said Rhodes will do well as the new softball coach at Bauxite, mostly as a result of her experience as a player and a coach.
"She has experience coaching club softball for different ages, and she has worked with other coaches and fed off them," Shoppach said. "She has developed her philosophy from other people who are successful, and she is able to add to it and coach with some experience there."
Rhodes said that this season, she has built what she considers a challenging schedule.
"Our nonconference games will prepare us for our conference games because we have some really good teams in our conference," Rhodes said. "I also want the team to be prepared for the end game, including the regionals and state tournament, if we can get there.
"So I have built our conference to prepare them for good pitchers and good hitters. My expectations are that whatever happens in our nonconference games, to grow from those. … I want to see growth around the season. I told them my big thing is purpose. I want anything we do in practice, games and warm-ups to have a purpose."
She said she wants her team members to stick to that and know their goals and purposely
do things toward accomplishing those goals.
"I feel like there is pressure [on me] somewhere, and I'm sure I will feel it more, the closer we get to the season," Rhodes said. "But right now, I am just focused on getting them going and what we are going to do and on the ways we are going to grow together.
"Deep down, people expect this team to have success, and I expect this team to have success, one way or another."
Staff writer Sam Pierce can be reached at (501) 244-4314 or spierce@arkansasonline.com.
Sponsor Content