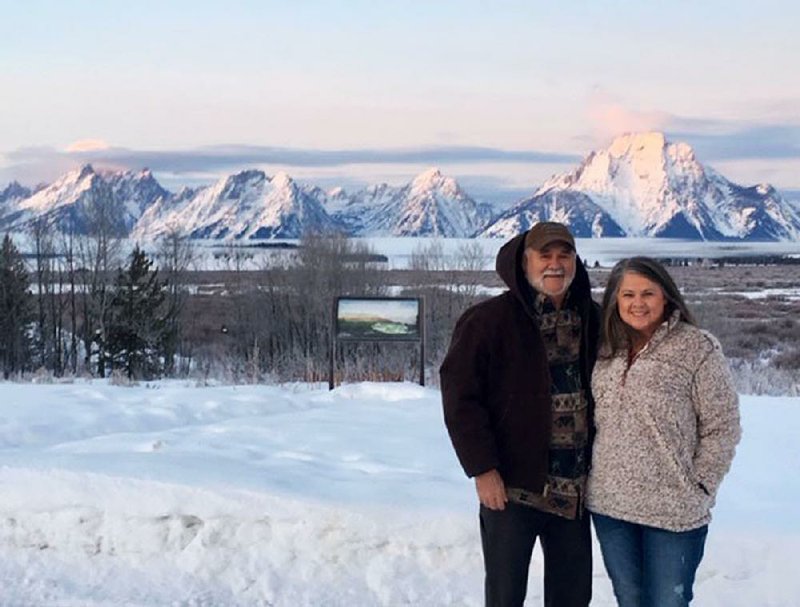 Seab Staton Jr., was eager for his wife, Brenda, to retire so they could travel. They went to Hawaii and then, to celebrate their 50th anniversary, they went to Jackson Hole, Wyo. After 50 years of marriage, she still loves being with the brown-eyed boy she first saw at the drag races when she was just 15. "I just immediately was attracted," Brenda says.
Brenda Jackson's heart raced when she first saw Seab Staton Jr. For him, romance came at a slower pace.
Brenda was 15 when she first saw Seab -- whom she calls JR -- at the drag races in Stuttgart in 1964. She was there with her older brother, who was getting ready to race his '55 Chevy.
The first time I saw my future spouse:
She says: "I just thought he was the cutest brown-eyed boy. He just stood out, he had beautiful brown hair."
He says: "She was very attractive and pretty. That brought my brown eyes to her."
On our wedding day:
She says: "My sisters were around me and I walked down the hall with my dad and saw JR at the other end."
He says: "I remember her smile when they took a picture of her in the car. She was so happy, she had just gotten married."
My advice for a long happy marriage:
She says: "You don't get your way all the time. It's not always about you. … And never make any big decisions without asking your partner."
He says: "Everybody says it's 50/50, but sometimes it's gotta be 60/40 or 70/30. You've got to give and take."
"I remember seeing these four boys coming toward us," Brenda says. "This one guy just caught my eye. He was really, really, really cute."
The boys talked to her brother and as soon as they were gone she asked him who they were. Her brother told her to stay away from them. They worked at the Esso station that sponsored his race car, he said, and that they always charged him too much for the parts he needed.
But the cute boy came to their house fairly often after that to help her brother work on his car or just to shoot the breeze, and when he did, she always made a point of taking a glass of tea outside to her brother, just so she could get closer to that boy.
Brenda jumped at the chance to go with a friend to the Little Rock Central High School graduation in 1965.
"JR Staton was in that class," Brenda says. "I wanted to go see him."
She even opted to go to Central the next year because that's where he had gone, although he had graduated before she started.
When another boy asked her for a date, she agreed to go, but she felt bad because she went mostly because she knew he was a friend of JR's and she hoped to get a glimpse of him while they were together.
"I guess that's what you call stalking," she quips. "Never in my lifetime had I done anything like that."
Throughout all of this, over at least a year and a half, JR was oblivious to Brenda's interest in him.
In early 1966, however, he started paying attention to her. And on Feb. 20 of that year, he made his move. She was at the drag races in Stuttgart, sitting in the car to escape the cold, and he came over and asked if they had any chicken left to share.
"I know her mother cooked chicken and packed them a big lunch," JR says, "so I knew I could get something to eat."
JR admits that while he was hungry, he was also looking for an excuse to talk with Brenda. She had matured since he first met her, after all. And, he says, "Anytime I had talked to her or had been around her she had a really good personality. I showed up at her house that night."
JR, with a couple of his friends in tow, knocked on the door and made it clear that he was there to see Brenda rather than her brother.
Brenda hadn't expected company and she darted off to put on some makeup as soon as they arrived. When she came back, they all sat around the kitchen table talking.
"I would have to say from that day on, we have been best friends," Brenda says.
After that night, Brenda and JR went together to the Minute Man or to Snappy's for hamburgers and Dr Peppers, and sometimes he took her lunch at Central.
"His mother always cooked lunch," Brenda says. "He would bring me a hamburger and she would have made fries and wrapped them up in foil so they would stay warm and crisp."
Brenda was a senior in high school when JR was drafted to fight in the Vietnam War, and that's when they got engaged.
"We wanted to seal the deal. You know, it was 'you're coming back home to me. And I'm waiting on you,'" Brenda says.
She wrote letters to him in typing class almost every day and was ecstatic when she got a call late one night in December 1968 letting her know he was home.
They exchanged their vows on Dec. 20, 1968, and left that evening for their honeymoon in Hot Springs.
"He stopped in Benton to wash the car off, and I was afraid he was going to stop there," Brenda says. "We were just a couple of kids, you know."
In January 1969, they moved to Fort Hood, Texas, where JR was stationed.
"The five months we were in Texas, I was so homesick but I kept thinking of how JR had survived Vietnam and how grateful I was," Brenda says.
They have one son, Greg Staton, who lives in North Little Rock with his wife, Amanda, and their son, Cole.
Brenda and JR are both retired now, he from the railroad and she from a dental office. They recently went to Alaska to celebrate 50 years of marriage.
Over the years they have taken numerous trips together.
"We didn't have that much money, but we would always make sure that we took our son somewhere for spring break," she says. "It might just be camping but we always went somewhere as a family. Family is really important to us."
If you have an interesting how-we-met story or if you know someone who does, please call (501) 425-7228 or email:
kimdishongh@gmail.com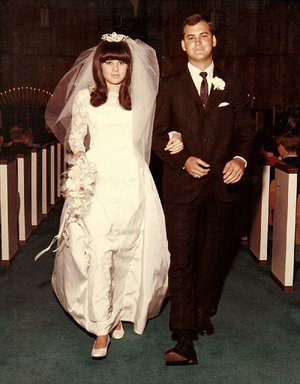 Photo by Special to the Democrat-Gazette
Brenda Jackson and Seab Staton Jr., were married on Dec. 20, 1968. Brenda fell for Seab, whom she calls JR, when she first saw him at the drag races in Stuttgart in 1966, but it wasn't until a year and a half later that he noticed her. "She had grown up a little then," he says. "But it was more that every time I saw her she had a great personality."
High Profile on 09/08/2019
Print Headline: She had to mature a bit before he noticed her
Sponsor Content