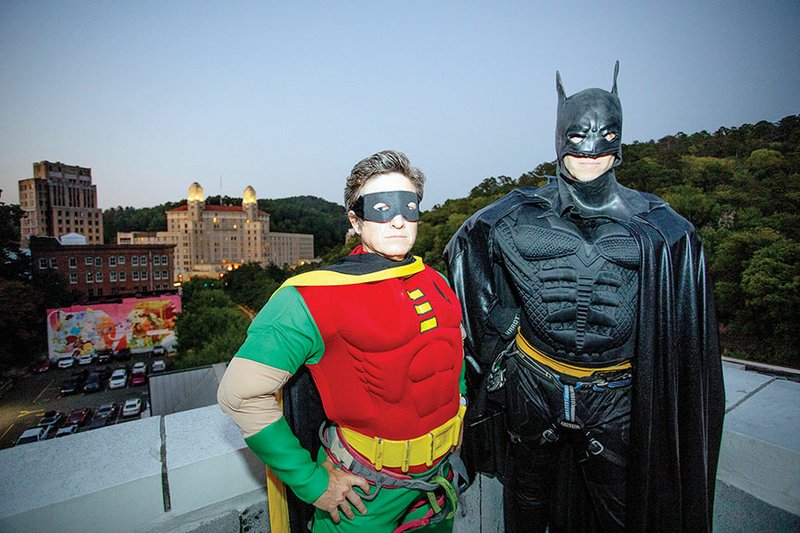 Traci Berry as Robin and Logan Wilcoxson as Batman prepare to repel down the Waters Hotel to kick off the annual Spa-Con in 2018. Wilcoxson will repel down the Arlington Hotel at 7 p.m. Sept. 19 to kick off this year's annual event.
Before Thomas DePetrillo became a full-time professional cosplayer, he used to own a liquor store and sold cigarettes, lottery tickets and alcohol — all of which can be addictive.
"Now I make people smile for a living," DePetrillo said. "There are many different ways to pay rent, mortgage, but in my field of business, to receive respect and attention for something I love, it feels good.
"I make people happy for a living."
DePetrillo and his costumes will make a return appearance at the fourth annual Spa-Con in Hot Springs beginning Sept. 20.
According to the website www.spa-con.org, "DePetrillo began Extreme Costumes 22 years ago and joined the cosplay community in 2009."
"I felt the staff really enjoyed what they were doing, and I have a high level of interaction with a lot of the guests," DePetrillo said. "Some of the larger conventions, I only have a couple of seconds to spend with each guest, but at Spa-Con, I can spend more time with each person and have much different interactions."
Bill Solleder, director of marketing for Visit Hot Springs, said the convention had about 5,000 guests during the three-day event last year, and he hopes to have 3,000 to 5,000 guests again this year.
"That's a good number for us," he said.
"We have a reputation to uphold," Solleder said. "We aren't necessarily the biggest convention, but we are probably the most well-rounded and well-presented convention in Arkansas.
"Numbers are important, of course, but it is the presentation of the event that we look at closely. We want more for everyone to do, and that includes attractions, panels and video-game tournaments."
Actor Barry Bostwick, one of the stars of The Rocky Horror Picture Show, will help celebrate the 44th year of the movie's release by introducing a screening of the film at the convention. There will be two screenings of the movie on Sept. 21, at noon and at 9:30 p.m.
"It will be a full interactive screening, as we want to encourage guests to come dressed up as their favorite character, and at certain times during the picture, there will be audience participation," Solleder said. "The first 500 people will receive a Rocky Horror prop bag, including rice, toast, a newspaper and so on.
"I'm really excited about having the movie."
Solleder said the screening is included with a weekend pass or a Saturday day pass, or it is $10 a ticket if guests just want to come for the screening. A weekend pass for the convention costs $35, and a day pass is $25. There are VIP passes for $125, but only 100 of those are available. Solleder said VIP passes include access to the Expo Hall; early access to panels, workshops and photo sessions; special events; and a Spa-Con swag bag.
Michelle Harrison from the television show The Flash is scheduled to appear at this year's convention, and the annual CASA Spa-Con
Superhero Run will begin at 9:30 a.m. Sept. 21. "Batman" and "Robin" will kick off Spa-Con at 7 p.m. Sept. 19 by rappelling down the historic
Arlington Resort Hotel & Spa in downtown Hot Springs, and once Batman reaches the bottom, he will hold a press conference to begin Spa-Con.
Solleder said the Canadian band Cybertronic Spree, whose members dress as giant Transformers, will perform at 7 p.m. Sept. 20 for the opening ceremony. Solleder
said he is very excited to have them because this is their first time in Arkansas.
"They are really making a splash around the con scene," Solleder said. "It is a real treat for us."
Pat Moriarity, a cartoon illustrator, has been to Spa-Con almost every year since it began, minus last year. He said he met Solleder when he was organizing Valley of the Vapors, the music festival in Hot Springs. Moriarity did the poster for the event and was invited to be a guest for the first year of Spa-Con.
"For the first year, I thought it leaned toward superhero stuff," Moriarity said. "I am more of an underground-type cartoonist or an alternative cartoonist — I felt like a fish out of water a little bit.
"But since then, it has gotten more diverse and more alternative. The con is gradually getting better and becoming more diverse, and I like that about it. I just really enjoy it."
He said there are so many different types of artists now and people who like art.
"There is room for everybody," he said. "It is a growing process, a learning process, because it is such a new convention."
Solleder said his background and interest have always been underground comics. That's how he came to know Moriarity and fellow artist David Laskey.
"They do comic books, but not necessarily typical superhero comics," Solleder said. "That is something I bring in. We will have a few underground artists.
"Something that will push the envelope even further this year will be the appearance of YouTube paint instructor Art Sherpa. She basically paints on YouTube, and she has a following of people who paint along with her.
"Spa-Con is defining itself as more than a comic convention."
Solleder said one thing that is changing from last year is the elimination of panels and workshops happening simultaneously. He said there was always a workshop and a panel happening, forcing guests to pick which one they wanted to attend and missing out on the other.
"We responded to that comment by changing it to where no workshops are conflicting," Solleder said. "That way, all congoers will have a chance to go to both and not have to pick between them."
For more information or to purchase tickets, visit www.spa-con.org.
Staff writer Sam Pierce can be reached at (501) 244-44314 or spierce@arkansasonline.com.
Sponsor Content