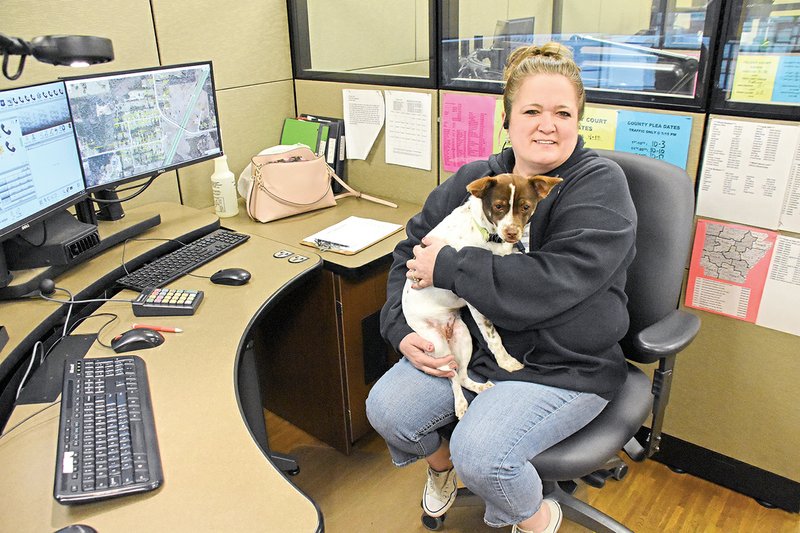 Stacy King, a dispatcher at the White County 911 Dispatch Center in Searcy, holds 9-month-old Rookie, the center's emotional-support dog. The dispatchers got him as a puppy from the Bald Knob Animal Shelter and adopted him in April. The dispatchers pay for all of his care. ( Staci Vandagriff)
A baby isn't breathing. A terrified homeowner hears a prowler. A man is having a heart attack.
White County 911 Dispatch Center employees in Searcy are the callers' lifeline at that moment.
It's a stressful job, but a shelter dog named Rookie has come to the dispatchers' rescue. He lives at the center and provides emotional support for its 13 dispatchers.
Nancy VanWinkle, director of the center, proposed the idea to employees about getting a dog.
"I had seen, and my assistant had seen, different agencies using dogs for dispatch," she said. VanWinkle added that she doesn't know of another 911 center in Arkansas with an emotional-support dog.
"When we answer the phone, 80 percent of our calls are not somebody having a good day," VanWinkle said. "We hear people take their last breaths. We hear moms screaming because their children aren't breathing, or people who hear noises outside of their houses and are scared — they don't know if someone is coming in.
"Once the phone is hung up, we replay those things in our heads, and we will for years. It helps to have something to distract us some from what we deal with on a daily basis. We sit for eight to 12 hours a day. We don't get out of our chairs to go to lunch; we eat at our consoles. We can take breaks, but a lot of dispatchers don't."
That's where Rookie comes in.
"We can get up and walk out because Rookie needs to go out," she said. "When somebody's just having a bad day, they'll grab him and say, 'Let's go outside; let's talk.' He's small, so he can be picked up."
VanWinkle said she researched the idea of an emotional-support dog and talked to Canines for Christ [out of Tennessee] for advice.
"They go around to different 911 centers throughout the United States and have offered to come here," she said, "but we just never could get a good time for them to come over here."
Rookie came from the Bald Knob Animal Shelter, where his mother had been a shelter dog.
Devin Craft, animal-control supervisor at the shelter, said Rookie's mother was a long-haired Chihuahua and was pregnant when she was brought to the shelter.
"Someone came in and wanted to adopt her, even though she was pregnant," Craft said. Her guess is that Rookie's father was a Jack Russell terrier.
When the momma's six puppies were born in January, the shelter took them in. The White County 911 Dispatch Center picked the little white dog with brown and black spots. They started fostering him in March and adopted him in April.
Names were suggested and voted on, and VanWinkle came up with the winning name of Rookie.
Craft said it makes her happy that a puppy from the shelter became an emotional-support dog.
"I absolutely love it," she said. "I love to get on Facebook, seeing pictures of [the dispatchers] cuddling with him. It's a hard job. Having an animal for them to love on helps relieve some of that tension. I think it's wonderful; I think he fits right in."
VanWinkle said Rookie, who lives at the center, is still being potty-trained and is learning his manners.
"He likes to tear up his bed; we've had a little bit of trouble with that. We're working on teaching him not to chew up stuff," she said.
He's cold-natured, so VanWinkle is thinking about getting him an insulated dog house to use inside the center.
"Right now, he's in my office. He'll drag a blanket in here. It's like having a child, you do trip over him. You're a good boy, aren't you, Rookie?
"He does not like a leash; he's still learning what no means," she said. "We're trying to teach him not to jump on people. We're trying to do it on our own; it's extremely expensive [to have obedience training]."
VanWinkle said Rookie's needs are paid for solely by the dispatchers, even his veterinary bills.
"It's not a county thing. We pay for him out of our pockets — food and everything, the whole 9 yards," she said.
Rookie is quite the celebrity, too. He has his own Instagram page, Rookie_the_ Dispatch_Dog.
People talk about him and come visit, including police officers and sheriff's deputies.
"Some of our dispatchers have brought their kids in to see him; they take him out and throw the ball. The ladies from the prosecuting attorney's office will come over and love to play with him. It's a community; it's a village.
"[Rookie is] spoiled rotten, so it works out for him," she said.
VanWinkle said Rookie is friendly and full of personality.
"He rolls around on the floor with a toy and holds it up in the air. When he looks at you, he has a little bit of an underbite, so with his funny little face, you can't help but laugh at him," she said.
"When he looks at you, it looks like he's smiling," dispatcher Victoria Thornton said.
Thornton, 28, has worked at the White County 911 Center for almost nine years. She said she was excited when she heard about the plan to get an emotional-support dog. "I thought it would be interesting because whenever units have had K-9s, we've gotten to play with them," she said.
Thornton said Rookie brings a calming influence to the center.
"It helps. An animal makes everybody happy; especially a dog makes everybody happy," she said. "Usually, on very overwhelmed days, whether it be calls or radio traffic, … being able to pick him up and set him on our laps helps. It's a warmth, I guess. It makes you feel better. Right now, he's on my knee, wanting to be petted.
"He definitely can be playful at times. He's still in the training process. He'll be pulling on our pant legs when we're trying to walk through the building."
But when the dispatchers are on calls, Thornton said, Rookie stays out of the way.
"He senses, usually, whenever there's high-stress situations," Thornton said. "If we're on a high-stress call, I've not ever had him be all up in our way when we're trying to work."
VanWinkle also takes 911 calls. She said that in 2018, from about April through December, the center received 52,578 administrative calls and 38,850 calls for 911. Some of those were animal complaints and nonemergency calls, but most were calls from people who needed help.
"We'll get a call for someone breaking into a house, and an officer arrives on the scene, and that dispatcher might have to pick up another call for someone having a heart attack or for reckless driving on the interstate. We take the call, and we have to move on to the next call. It's somewhat of a mystery; we don't know the outcome of some of these calls," she said.
Amy Barnette, assistant supervisor of the center, said she couldn't be happier with Rookie.
"I think he's great; he's a great addition to our family," Barnette said. "He really helps out when they have bad calls or tough calls. They say being a dispatcher, we have two companions, other dispatchers and stress. When you take a bad call and you look down, and there's this little puppy with an underbite that just wants to play and love on you, it helps tremendously."
Rookie is working out just as VanWinkle had hoped.
"I think if he helps one dispatcher, that's the purpose. He's done his job," she said. "As we know in today's world, tragic things don't stop. He's here to get us through the tragic things that occur, and he does that."
Senior writer Tammy Keith can be reached at (501) 327-5671 or tkeith@arkansasonline.com.
Sponsor Content