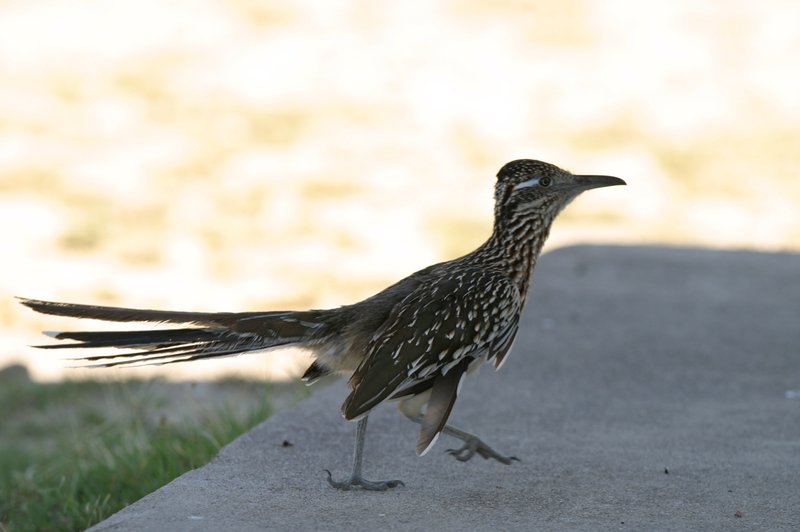 Greater roadrunner in downtown Hot Springs. (Special to the Democrat-Gazette/JERRY BUTLER)
There are, of course, many good places for Arkansans to see free-ranging birds. You can find many locations by looking on the maps and clicking on the "Hotspot" button on the eBird website. Be aware that some may be on private land or areas of restricted access.
Millwood Lake in Hempstead County has recorded 254 species, and Two Rivers Park in Pulaski County boasts 233. In the southeast portion of the state, Lake Chicot State Park harbors 199 species.
Just across the Arkansas state line near Tom, Okla., there is Red Slough Wildlife Management Area where 315 species of birds have been seen.
To the east, 315 species have also been documented at Ensley Bottoms in Memphis.
Birds are all about us, not just in parks, preserves and refuges. Birds are not confined to pristine areas. In the last two weeks, I have seen a roadrunner in downtown Hot Springs, a great-tailed grackle on the off-ramp of Interstate 30 at Arkadelphia and a peregrine falcon perched in a dead pine in my urban neighborhood.
Bird-watching is not confined to uncommon species, either. We can learn and enjoy from the ordinary. Watch a wren build a nest. Listen to a mockingbird sing. Feed birdseed to sparrows.
[RELATED: Where the birds are]
Style on 09/09/2019
Print Headline: Free-ranging birds are found all over
Sponsor Content