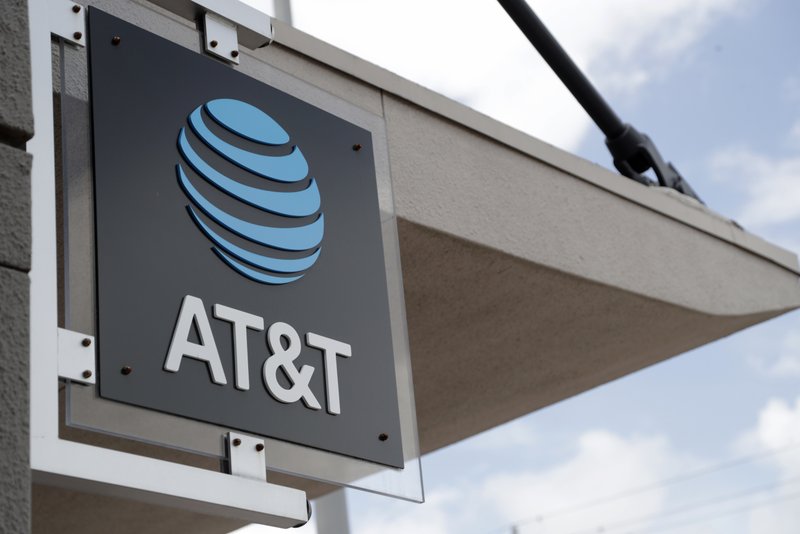 FILE - In this July 18, 2019, file photo, a sign is displayed at an AT&T retail store in Miami. Activist hedge fund manager Elliott Management is making a new $3.2 billion investment in AT&T, saying the company could be valued at more than $60 a share by 2021's end. AT&T stock jumped nearly 6% to $38.31 in Monday, Sept. 9, premarket trading. (AP Photo/Lynne Sladky, File)
NEW YORK -- Activist hedge fund manager Elliott Management is making a new $3.2 billion investment in AT&T, roughly a 1% stake, and calling for changes at the company such as selling assets and paying down debt.
Elliott says AT&T underperformed for years as it struck giant acquisitions and lost ground in the race to dominate the U.S. telecom landscape.
The move comes as AT&T readies a streaming service following its $81 billion purchase of Time Warner. It plans to launch HBO Max in the spring of 2020 as more people cut the cord and move to streaming services. It joins an increasingly crowded field with Disney, Comcast, Apple and others readying their own streaming services.
But Elliott said AT&T has yet to come up with a "clear and strategic rationale" as to why it needs to own Time Warner. A federal appeals court cleared the deal in February.
In an emailed statement, AT&T said: "Our management team and board of directors maintain a regular and open dialogue with shareholders and will review Elliott Management's perspectives in the context of the company's business strategy."
It also said many of the actions proposed are things the company is already doing.
AT&T Inc. stock rose 1.5% to $36.79 in Monday trading.
On Twitter, President Donald Trump called the disclosure of an activist investor "great news" for AT&T, which owns news channel CNN, long a target for Trump's tweets.
Elliott Management sent a letter to AT&T's board saying it should look into divesting non-core assets like DirecTV and its Mexican wireless operations. The hedge fund said it has identified opportunities for more than $10 billion in savings, but that its plan represents $5 billion in cost cuts. It called on the company to stop making large acquisitions and instead repurchase stock and commit to growing its dividend. The investor also suggested separating the chief executive officer and chairman positions at the Dallas company. Randall Stephenson has held the roles since 2007.
Elliott analysts believe the stock can top $60 by the end of 2021.
AT&T has said the idea behind the merger with Time Warner was to help AT&T -- which claims about 25 million of the 90 million U.S. households that are pay TV customers -- compete better with online rivals like Netflix, YouTube and Hulu.
"The merger of these innovative companies has already yielded significant consumer benefits, and it will continue to do so for years to come," AT&T General Counsel David McAtee said in a statement when the deal got final clearance from a federal appeals court in February.
AT&T's HBO Max service will offer HBO content, other video from the Warner Bros. studio -- like Friends -- and new series and movies that are exclusive to the service. AT&T has not announced a price.
With a series of deals over the past several years, AT&T has transformed itself from a traditional telecom company into a multimedia behemoth. The company bought satellite-TV provider DirecTV for $67 billion in 2015, leaping into first place among U.S. pay-TV companies. Elliott criticized that deal in its letter as having come "at the absolute peak of the linear TV market."
AT&T then moved firmly into entertainment and media with the $85 billion acquisition of Time Warner in 2018. That deal brought marquee assets such as HBO, CNN and Warner Bros.
"Despite nearly 600 days passing between signing and closing (and more than a year passing since), AT&T has yet to articulate a clear strategic rationale for why AT&T needs to own Time Warner," Jesse Cohn, a partner at Elliott, and Marc Steinberg, an associate portfolio manager, said in the letter. "While it is too soon to tell whether AT&T can create value with Time Warner, we remain cautious on the benefits of this combination."
Elliott pointed to a series of strategic setbacks for AT&T, the "most damaging" of which was its $39 billion attempted purchase of T-Mobile US Inc. That deal resulted in the largest breakup fee of all time when the government blocked it in 2011 -- about $6 billion in cash and assets.
Founded in 1977 by Republican billionaire Paul Singer, Elliott Management has stakes in or owns a wide array of organizations including online retailer eBay, bookseller Barnes & Noble and soccer team AC Milan.
For Singer, the move represents one of the biggest bets in the four decades since the hard-driving activist investor founded his firm. And it strikes at the core of the way AT&T has built its bigger-is-better empire.
"There will be a fight," said Chetan Sharma, a wireless-industry analyst.
Information for this article was contributed by Michelle Chapman and Mae Anderson of The Associated Press; by Michael J. de la Merced of The New York Times; and by Scott Deveau and Olga Kharif of Bloomberg News.
Business on 09/10/2019
Print Headline: Hedge fund buys $3.2B stake in AT&T;
Sponsor Content