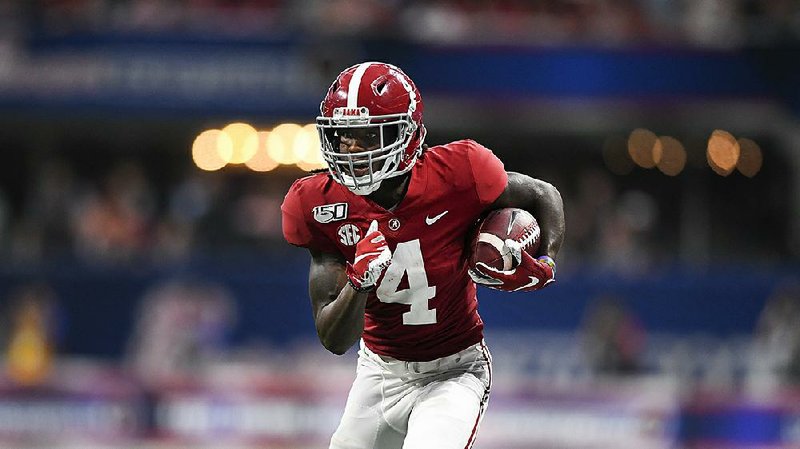 Alabama wide receiver Jerry Jeudy won the Biletnikoff Award as the the nation's top receiver last season as a sophomore, and has 18 receptions for 240 yards through two games this season.
TUSCALOOSA, Ala. -- Jerry Jeudy couldn't pass up the chance to work out with one of the NFL's best receivers, a guy he has been watching since high school.
The Alabama star reached out to Antonio Brown over the summer on Instagram while both were training in Fort Lauderdale, Fla.
"I just hit him up and asked if one day we could link up and get some work in," Jeudy said.
That workout is just one example of how Jeudy, who is off to a red-hot start, has often studied or worked out with star receivers trying to improve his game. In high school, he trained regularly with current Atlanta Falcons receiver Calvin Ridley in south Florida, but he also spent hours online studying players like Brown, Ridley, Amari Cooper and Julio Jones.
Even after winning the Biletnikoff Award as the nation's top receiver as a sophomore, Jeudy was trying to improve on things such as his mastery of Alabama's offense and reading coverages more quickly.
"You always want to get better," said Jeudy, who was named to the AP preseason All-America team. "My motivation was just to get better than I was last year. You should never be satisfied. Just all the little things that you need to work on to be the best receiver you can be. You can never be perfect. There's always something to work on."
Jeudy has had two huge games to start the season and is trying to join Justin Blackmon and Michael Crabtree as the only repeat Biletnikoff winners. He had a career-high 10 catches for 137 yards against Duke, then added 103 yards on 8 catches with a school record-tying 3 touchdowns in a rout of New Mexico State ahead of this weekend's SEC opener at South Carolina.
He's had a much quieter summer than Brown, who was released by the Oakland Raiders and signed by New England over the weekend.
That topic is out of the comfort zone for Jeudy, who comes across as decidedly less flamboyant than the four-time All-Pro.
"That's Antonio Brown. That has nothing to do with me," he said. "I'm just focused on what we've got going on here."
Some of Jeudy's teammates were surprised and impressed when Jeudy posted video on Instagram of his workout with such a big-name NFL player, a fellow Florida native.
"Well he's from Florida, so of course I guess they're close, but it was kind of surprising to me because I don't really have a bunch of NFL guys that I'm friends with," safety Xavier McKinney said. "But I thought it was cool to see him working out with AB."
Quarterback Tua Tagovailoa said he has seen growth from Jeudy off the field, too. He cites his leadership but also Jeudy's other interactions with teammates.
"Before it would just be me and Jerry hanging out all the time," Tagovailoa said. "Jerry hangs out with a lot of other guys now, he doesn't just sit and eat with me. Off the field, that aspect, I see a big improvement for Jerry."
The statistics so far have been a good sign, too.
Sports on 09/11/2019
Print Headline: Success not ample enough for Jeudy
Sponsor Content