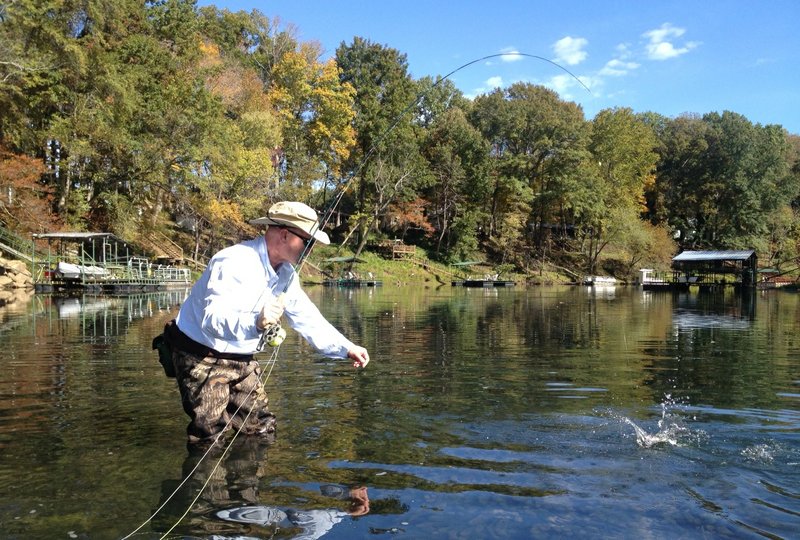 When the heat drives you off the water at big lakes like Bull Shoals and Greers Ferry, you can cool off catching trout in their chilly tailwaters. ( Bryan Hendricks)
FISHING HOT SPOTS
GREERS FERRY LAKE Bass are biting spoons, Inky Dinks, inline spinnerbaits, swimbaits and soft plastics, and topwater baits from super shallow out to 60 feet. Crappie are biting all over the lake and rivers either by trolling or fishing vertically with jigs, minnows or crankbaits at 18-30 feet. Walleye can be caught dragging crawlers or fluke- or swimbait-type baits on the bottom or on a drop-shot rig at 25-43 feet. Bream are biting crickets, crawlers, small crankbaits or inline spinners from super shallow out to 28 feet. Hybrids and white bass are biting Texas Tornadoes, spoons, topwater baits, swimbaits, Alabama rigs and spoons.
HARRIS BRAKE LAKE Bass are biting purple worms off the shoreline. Crappie are biting yellow jigheads in the early mornings. Catfish are biting chicken livers and trotlines baited with goldfish.
ARKANSAS RIVER (MORRILTON POOL) Bass are biting tube jigs around timber. White bass are biting white and shad-colored crankbaits. Catfish are biting worms on the front sides of jetties and up creeks.
Sports on 09/12/2019
Print Headline: Fishing hot spots
Sponsor Content