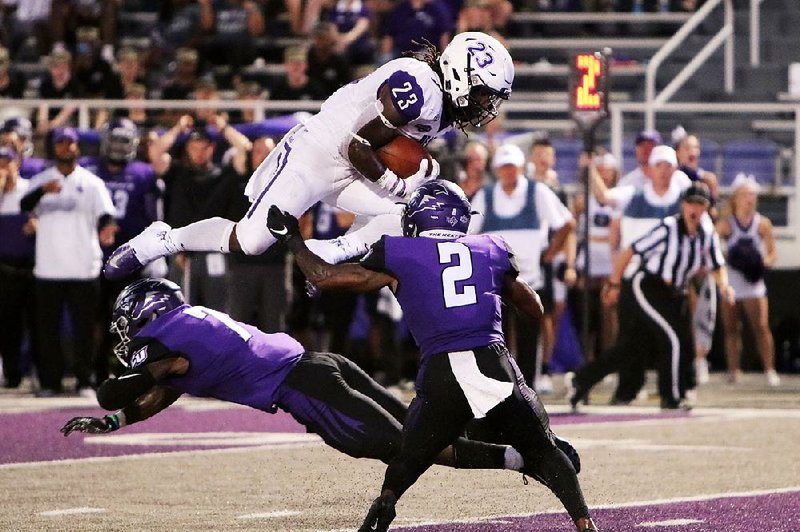 UCA running back Carlos Blackman (23) had two touchdowns for the Bears on Saturday in a 31-30 victory over Abilene Christian in the Southland Conference opener for both schools at Estes Stadium in Conway.
CONWAY -- Control flip-flopped throughout, but the University of Central Arkansas finally landed with a 31-30 victory over Abilene Christian at Estes Stadium on Saturday night in the team's Southland Conference opener.
Trailing by six points with 5:23 left in the game, UCA (3-0, 1-0 Southland) followed passes of 23 and 35 yards from sophomore quarterback Breylin Smith to sophomore receiver Lujuan Winningham to a 3-yard touchdown run by senior running back Carlos Blackman with 1:30 left in the game.
It proved to be enough when ACU sophomore kicker Blair Zepeda's 46-yard field-goal attempt sailed wide right with 30 seconds left.
"When the game comes down to it, you want to go to your best guy," Smith said of his connections with Winningham. "You just want to give him a chance. When you do, he'll make the play."
Winningham caught 6 passes for 119 yards and 1 touchdown. The Southland's leader in receptions and yards, Winningham was held to two catches for 28 yards through the first three quarters.
"We just had a lot of other receivers get open," Winningham said. "That helped a whole lot in the fourth quarter. We needed everyone to make their plays."
Blackman caught a career-high 12 passes for 82 yards and 1 touchdown, and freshman Tyler Hudson caught 5 passes for 69 yards. Smith completed 36 of 53 passes for 367 yards and 2 touchdowns.
UCA also won its first two games this season with fourth-quarter comebacks, which UCA Coach Nathan Brown said left his players confident to finish Saturday's game.
"Our guys are poised and relaxed in the fourth quarter," Brown said. "They've been there before."
ACU was aware of the Bears' late-game prowess.
"We've been talking for the last five days about how they've been outscoring their opponents in the fourth quarter, so [when] it happens to you, it's disappointing," ACU Coach Adam Dorrel said. "But I thought we stayed aggressive. I didn't think we got conservative. I just feel like they made some plays."
ACU (1-2, 0-1) held a slight edge through the first half, but seemed to take command on senior running back Tracy James' 13-yard touchdown run for a 17-9 lead with 3:29 left in the third quarter.
UCA, which had failed to score a touchdown in four previous trips inside ACU's 20, responded with an 11-play, 70-yard drive that was highlighted by Smith's 10-yard touchdown pass to Blackman with 14:54 left in the fourth quarter. Freshman BeSean McCray ran in the two-point conversion to tie the score at 17-17.
ACU retook the lead on its next possession with Zepeda's 51-yard field goal, then built upon it with junior quarterback Luke Brown's 20-yard touchdown pass to senior back Tyrese Miles for a 27-17 lead with 11:07 to play.
UCA responded with a three-play drive capped by Smith's 27-yard touchdown pass to Winningham to cut the deficit to 27-24 with 10:09 left.
"The times [Winningham] got open early, I didn't capitalize," Smith said. "I have to make sure when he's open one-on-one, I take advantage of it."
An ACU punt was followed by a fumble from Smith that gave ACU possession at UCA's 19. Zepeda's 33-yard field goal gave ACU a 30-24 lead with 5:28 left.
"Abilene is a very, very good team," Brown said. "They will win a lot of games this season."
Dorrel is in his third season at ACU. Before he moved to the Southland, he coached NCAA Division II Northwest Missouri State to an overall record of 76-8 from 2011-2016. His six teams won three Division II national championships.
After UCA's 34-0 victory ended Abilene Christian's season in 2017, Dorrel stood in the south end zone and spoke of his admiration for UCA's program.
"They are exactly where we want to be," he said then.
Both former UCA coach Steve Campbell and Brown have said it was just a matter of time before the Wildcats would compete for Southland championships.
After that defeat two seasons ago, ACU played UCA to a 16-7 loss last season, followed by Saturday's result.
"I think there's a lot we can take away from this game," Dorrel said. "We'll get there. I'm really proud of our guys. I thought we really competed at a high level tonight."
Brown thought the same about UCA.
"It's just so nice to see our guys make enough plays in the end to make us 3-0," Brown said. "It's nice that we have a bunch of guys who've been there and done that."
Abilene Christian 7 3 7 13 -- 30
Cent. Arkansas 3 6 0 22 -- 31
First Quarter
AC--James 6 run (Zepeda kick), 3:12.
UCA--FG Ray 21, 1:11.
Second Quarter
UCA--FG Ray 37, 10:50.
AC--FG Zepeda 42, 3:50.
UCA--FG Ray 23, 0:21.
Third Quarter
AC--James 13 run (Zepeda kick), 3:29.
Fourth Quarter
UCA--Blackman 10 pass from Smith (McCray run), 14:54.
AC--FG Zepeda 51, 13:36.
AC--White 20 pass from Anthony (Zepeda kick), 11:07.
UCA--Winningham 20 pass from Smith (Ray kick), 10:09.
AC--FG Zepeda 33, 5:28.
UCA--Blackman 3 run (Ray kick), 1:30.
Attendance--10,123.
AC UCA
First downs 23 24
Rushes-yards 35-123 26-47
Passing 322 367
Comp-Att-Int 24-41-0 36-53-1
Return Yards 33 153
Punts-Avg. 5-41.2 4-40.8
Fumbles-Lost 1-1 2-2
Penalty-Yards 7-71 8-63
Time of Possession 29:11 30:49
INDIVIDUAL STATISTICS
RUSHING--Abilene Christian, T. James 21-84, B. McCrary 3-17, S. Davis 2-13, L. Anthony 3-10, L. McConnell 2-4, J. Miller 1-2, J. Fink 1-(minus 2). Cent. Arkansas, K. Crossley 8-42, C. Blackman 8-16, C. Richmond 1-5, D. Fernandez 1-2, B. Smith 6-(minus 14).
PASSING--Abilene Christian, L. Anthony 24-41-0-322. Cent. Arkansas, B. Smith 36-53-1-367.
RECEIVING--Abilene Christian, J. Fink 4-98, K. Clark 5-64, B. Hohenstein 5-46, J. Lee 4-33, R. Lutz 1-32, T. White 1-20, L. McConnell 1-19, T. Tumbleson 1-11, T. James 2-(minus 1). Cent. Arkansas, L. Winningham 6-119, C. Blackman 12-82, T. Hudson 5-69, M. Fox 4-46, D. Blakey 4-24, C. Richmond 2-16, M. Perkinson 1-6, A. Norris 1-5, D. Fernandez 1-0.
Sports on 09/15/2019
Print Headline: Bears emerge victorious from Southland seesaw
Sponsor Content