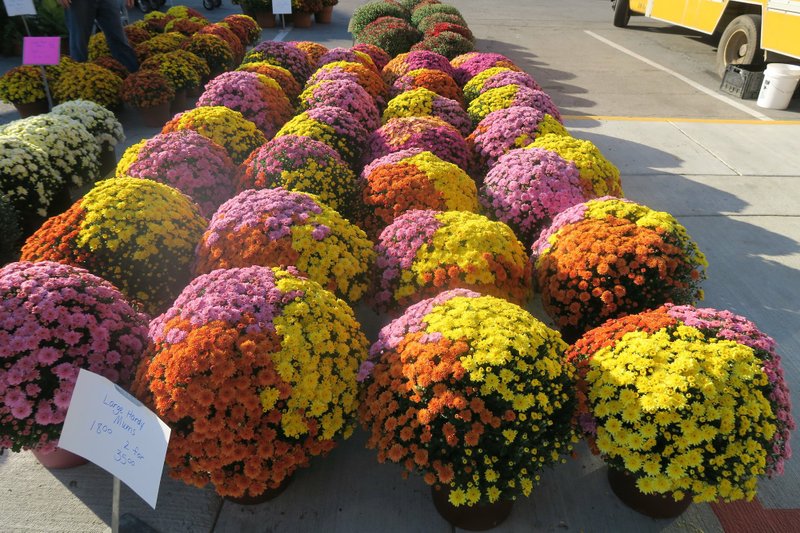 Mounds of mums are showing up at garden centers across Arkansas, in time for adding bright color to the landscape for fall. (Special to the Democrat-Gazette/JANET B. CARSON)
While the calendar may say it's fall, the weather has been anything but fall-like. Everyone is ready for a break from the heat and humidity. Gardening has been a challenge, with the main task being watering.
If you have the energy to visit a nursery or garden center, you can tell they are gearing up for fall. Chrysanthemums, pumpkins and winter annuals are beginning to hit the market.
If your garden needs a pick-me-up with color, you can begin the perking-up process, but add color gradually.
As you start looking at your color options for the cooler months, you have some help from the Arkansas Diamonds program. This is a joint venture of the Arkansas Green Industry and the University of Arkansas Cooperative Extension Service. It promotes specific plants that have demonstrated they thrive in Arkansas.
A committee of nurserymen, growers and horticulturists meets to discuss annual plant varieties that will do well across our state. To be designated as an Arkansas Diamond plant, these annuals not only have to be the variety selected, but they must also be grown by an Arkansas grower. Only such plants can be found in nurseries and garden centers under the blue Arkansas Diamonds logo.
The program is in its fifth year, and for the first time it is recommending some fall/winter options. The three plants being promoted for fall planting are "Bright Lights" Swiss chard and two Cool Wave Pansy varieties — "Violet Wing" and "Golden Yellow."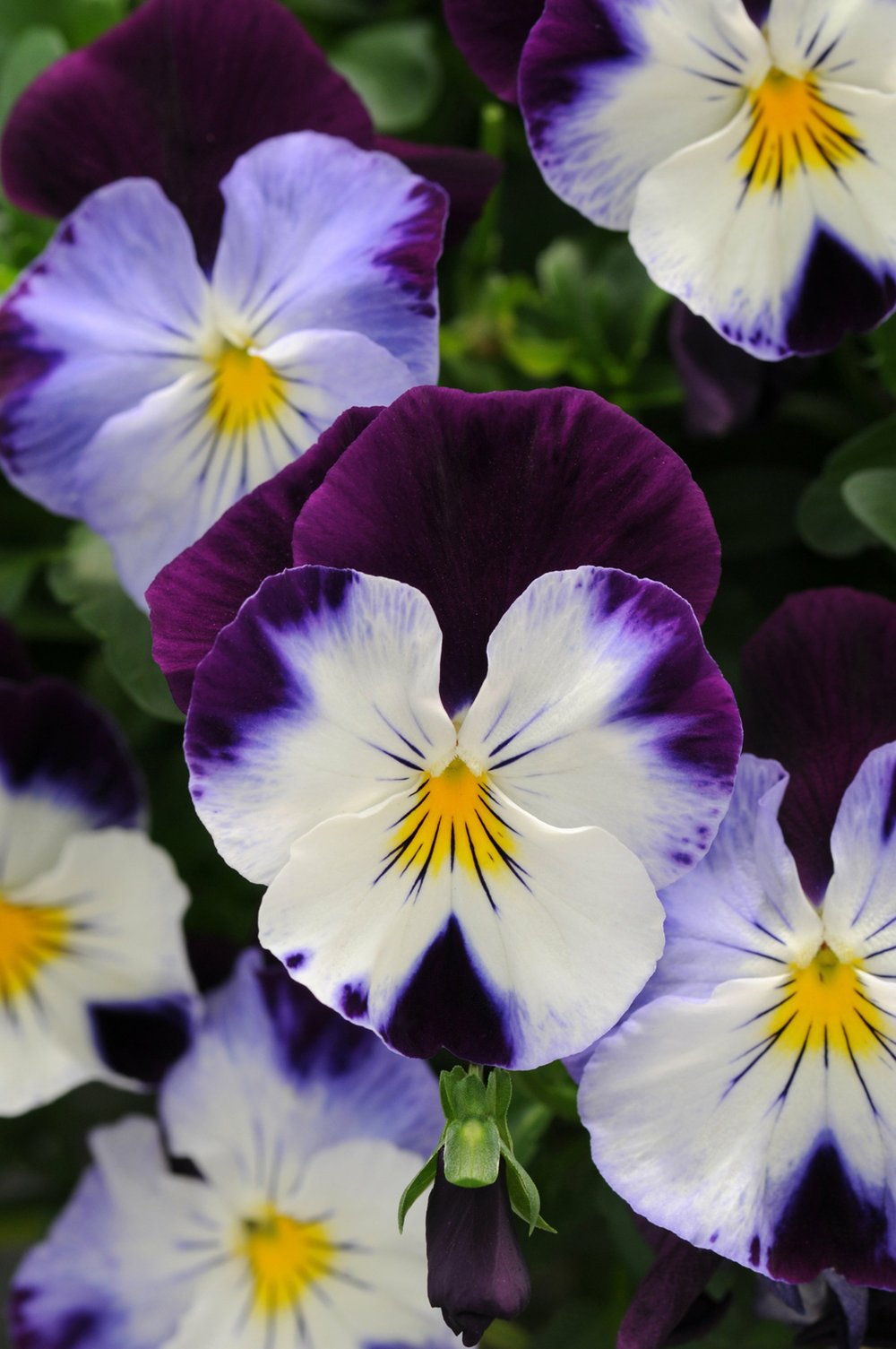 Rather than face-like blotches, Cool Wave "Violet Wing" spreading pansy flowers have vibrant color blocks and fine lines. (Photo via Arkansas Green Industry Association)
WITH FACES OR WITHOUT
Pansies are the No. 1 fall and winter annual grown in Arkansas. It is still too hot to plant them.
If pansies are exposed to high temperatures, they grow leggy, and quickly. Wait for the weather to cool off a bit, and plant them in October and November.
There are many varieties of pansies, in a big range of colors and color combinations, and options also include solid-color blooms, aka "clear," or blooms with blotches.
Among the newest additions to the pansy lineup are the Cool Wave series plants. Cool Wave pansies tend to trail or spread out more than other pansies. Two of the best varieties for Arkansas are "Violet Wing" and "Golden Yellow."
• "Violet Wing" has a deep purple background with lighter shades of purple and then a pure white center. The color combination is amazing.
• The "Golden Yellow" Cool Wave pansy has a clear bright yellow bloom.
The Cool Wave pansies are not the largest flowering pansy on the market, but the flowers cover the plants. Their spreading growth habit allows them to fill in more quickly. They will give you nonstop color from October through late May in full sun to partial shade. For best blooming they need at least six hours of sun.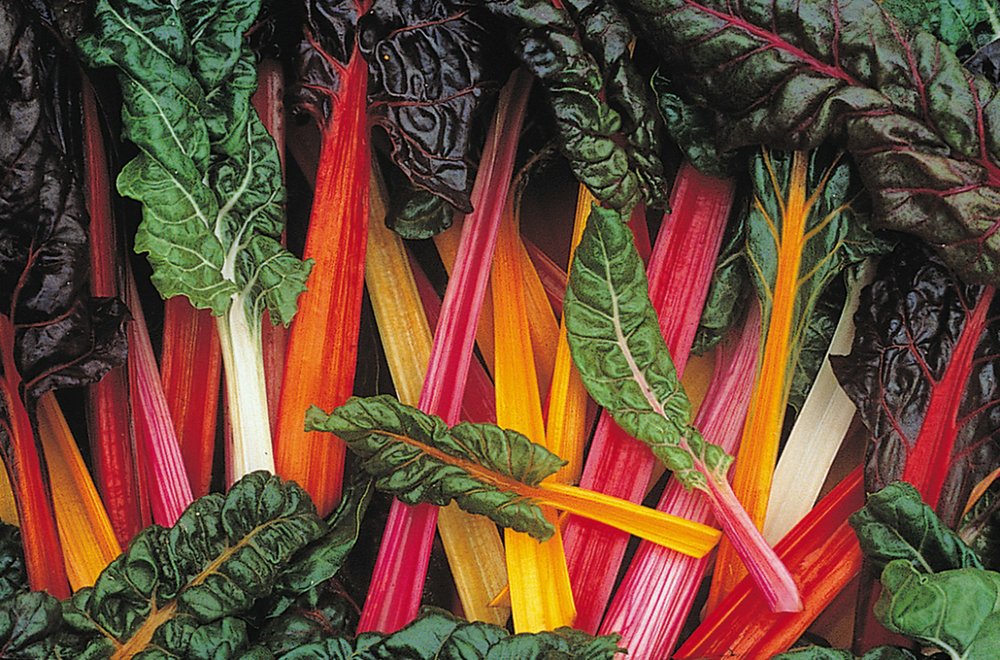 Swiss chard "Bright Lights," a 2019 Arkansas Diamonds selection, is edible as well as colorful. (Photo via Arkansas Green Industry Association)
VIVID AND EDIBLE
"Bright Lights" Swiss chard, the other Arkansas Diamonds selection for 2019, is a strong performer in Arkansas gardens. It can be planted now, and you have quite a few options.
It is not a flowering plant but achieves its bold color from the stem (petiole) and the veins in the leaves.
Swiss chard is in the beet family, and this is a double-duty beauty. Not only can you grow it for its showy foliage, it is edible.
Stems come in a range of colors from bright yellow to hot pink, orange, red and magenta.
It should be planted in full sun to partial shade.
TOUGH AS DIAMONDS
Earlier this year, the program introduced its summer selections: SunPatiens "Compact Royal Magenta," Pachystachys lutea or Golden Shrimp plant, coleus "Lava Rose" and dichondra "Silver Falls."
Earlier years' selections highlighted cuphea "Vermillionaire" and "Sriracha Pink," "Wasabi" and "Redhead" coleus, "Bouquet Deep Blue" torenia, "Dragon's Breath" celosia, "Big" or "Whopper" and "Dragon Wing" begonia, "White Christmas" caladium, "Vista Bubblegum" petunia, "Graffiti Red" pentas, "Velvet Elvis" plectranthus, "Cora Cascade Polka Dot" vinca, blue scaevola, yellow or gold lantana and purple angelonia.
See a photo gallery at arkansasonline.com/diamonds.
MORE CHOICES
Some other options to add seasonal color in this transition period include ornamental peppers, marigolds and crotons. Although not winter hardy, all have great fall color and will last until a killing frost.
Dianthus and snapdragons are a great way to add fall and early spring color. Planted now, they can flower, slow down in the cold weeks and then flower again when spring comes along.
Violas look like smaller blooming pansies, but can be more tolerant of fluctuating weather.
Some other foliage plants which can be planted now are flowering kale and cabbage — or edible kale and cabbage — giant red mustard, parsley and cilantro.
Chrysanthemums and asters add to the color palette, and while both are technically perennials, many gardeners treat them as annuals and discard them after bloom.
Gallery: Diamonds fall color
BIG COLOR
A quick way to add instant color to the garden is using pumpkins and gourds.
Every year we get more and more choices in size and shape and in color, too. From deep orange to pale apricot, there are green, white and even black pumpkins available. Then add the plethora of gourds to the mix, and the colors can pop.
If the weather is still hot and dry as you are planting, don't forget about the need for water. Lightly fertilize your annuals at planting, and follow up throughout the season. Fertilize them periodically throughout the winter.
Maybe if everyone starts pretending the weather feels like fall and starts planting, Mother Nature will realize we need to cool off and head into another season. Try some new plants this fall and look for the Arkansas Diamonds plants.
Read Janet Carson's blog at arkansasonline.com/planitjanet.
HomeStyle on 09/21/2019
Print Headline: Perking up fall — with color: Arkansas Diamonds program promotes plants that thrive here
Sponsor Content