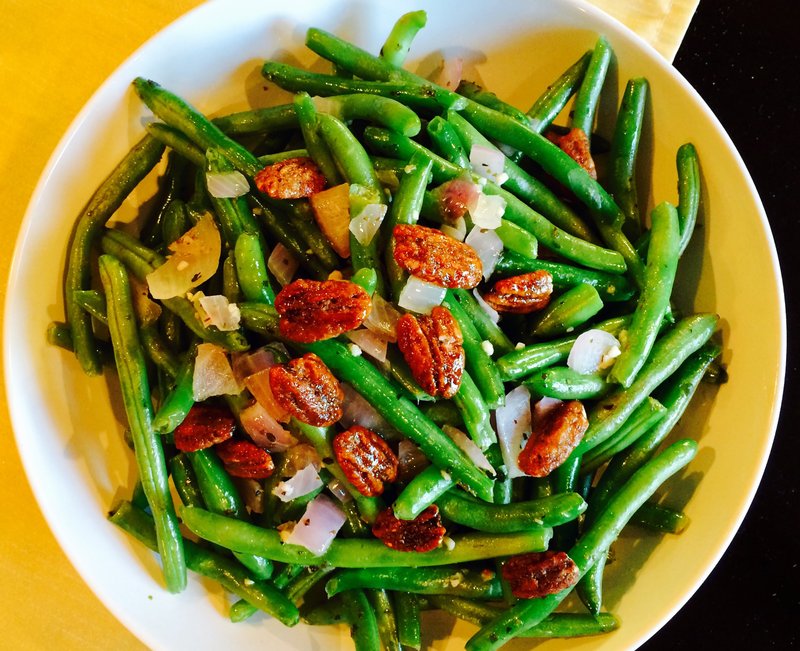 Gwynn Galvin
A week's worth of quick, healthful meals for budget-minded families
SUNDAY: Take it easy today with a packaged pot roast (fully cooked roast with gravy). Serve it with mashed potatoes and mix in some fresh snipped chives. Alongside, add Buttery Green Beans With Glazed Pecans (see recipe) and crusty rolls. For dessert, buy a Boston cream pie.
Plan ahead: Save enough roast, gravy, potatoes and Boston cream pie for Monday.
MONDAY: Make open-faced hot roast beef sandwiches for dinner. Place the heated, sliced leftover beef on dense white bread and spoon hot leftover gravy over it all. Heat the leftover potatoes to accompany the easy meal. Add a lettuce wedge for some crunch. Slice the leftover Boston cream pie for dessert.
TUESDAY: Dinner will be on the table in no time with refrigerated tortellini. Spoon marinara sauce over the heated pasta and garnish with freshly grated parmesan cheese. Serve with mixed greens and garlic bread. Fresh pineapple chunks work for dessert.
WEDNESDAY: You'll want Portobello Mushroom Stew (see recipe) in your permanent collection of favorites. Serve the flavor-loaded stew over no-yolk noodles. Add a romaine salad and toasted cheese Italian bread (place any shredded cheese on sliced Italian bread; broil until cheese melts). Instant butterscotch pudding is dessert.
THURSDAY: The kids will have their hands and faces washed early for Spaghetti Pie (see recipe). Serve with ants on a log (celery sticks stuffed with cream cheese and topped with raisins) and soft rolls. Apricots are for dessert.
FRIDAY: Saving money is even better when the result is as good as Tex-Mex Chicken. In a Dutch oven over medium heat, combine 2 cups cooked chicken or 1 (12-ounce) can chicken breast, 1 (15-ounce) can pinto beans (rinsed), 1 (11-ounce) can Mexican-style corn (drained), 2 cups salsa and 1 (14-ounce) can unsalted chicken broth. Heat through and ladle into bowls; garnish each with a lime wedge. Serve with a sliced avocado salad and baked tortilla chips. Nibble on sugar cookies for dessert.
SATURDAY: Serve your own grilled shrimp to your guests with Herbed Polenta on the side: Bring 3 cups unsalted chicken broth and 1 tablespoon olive oil to a boil over medium-high heat. Gradually whisk in 1 cup yellow cornmeal, stirring constantly. Reduce heat and simmer, whisking often, 10 minutes or until polenta is thick. Remove from heat and stir in 2 tablespoons freshly grated parmesan cheese, 1 tablespoon finely chopped fresh flatleaf parsley and 1 tablespoon fresh basil. Serve immediately. Add a spinach salad and a baguette. For dessert, make a Rainbow Parfait by layering orange, lime and raspberry sorbets.
THE RECIPES
Buttery Green Beans With Glazed Pecans
1 tablespoon olive oil
½ cup chopped red onion
2 cloves garlic, minced
1 teaspoon dried marjoram
¾ teaspoon coarse salt
½ teaspoon ground black pepper
⅓ cup dry white wine or unsalted chicken broth
2 pounds fresh green beans, trimmed
2 tablespoons butter
½ cup glazed pecans
Heat oil in a large skillet on medium-high. Cook onion, garlic, marjoram, salt and pepper 2 minutes or until onion is just beginning to soften. Add wine; cook 1 minute. Stir in green beans; cook 8 minutes or until softened, stirring occasionally. Add butter and stir until melted and beans are evenly coated. Transfer to a serving dish; top with pecans and serve. (Adapted from a recipe by Gwynn Galvin, SwirlsOfFlavor.com.)
Makes 8 servings.
Nutrition information: Each serving contains approximately 120 calories, 3 g protein, 8 g fat, 12 g carbohydrate, 8 mg cholesterol, 244 mg sodium and 4 g fiber.
Carbohydrate choices: 1.
Portobello Mushroom Stew
1 large onion, chopped
1 tablespoon chopped fresh or 1 teaspoon dried rosemary
2 tablespoons olive oil, divided use
2 (6-ounce) packages portobello mushrooms, stems removed, cut into ½-inch slices
1 pound whole white mushrooms, stems removed, cut into ¼-inch slices
1 (14 ½-ounce) can no-salt-added diced tomatoes, with liquid
3 tablespoons no-salt-added tomato paste
2 cloves garlic, minced
1 tablespoon dry sherry or white wine vinegar
½ teaspoon coarse salt
¼ teaspoon black pepper
¼ teaspoon crushed red pepper
Heat a large skillet coated with cooking spray on medium. Add onion and rosemary; cook 12 minutes or until onion is lightly browned. Remove to a medium bowl. Return skillet to stove, add 1 tablespoon olive oil and allow to heat. Add portobello mushrooms and cook 7 minutes or until browned. Add portobellos to onion mixture. Repeat cooking procedure with white mushrooms and remaining 1 tablespoon oil. Return onion mixture to skillet and add tomatoes, tomato paste, garlic, 1 cup water and sherry; mix well. Bring to a boil; reduce heat and simmer 15 minutes. Season with salt, black pepper and crushed red pepper.
Makes 4 servings.
Nutrition information: Each serving contains approximately 162 calories, 7 g protein, 8 g fat, 20 g carbohydrate, no cholesterol, 277 mg sodium and 5 g fiber.
Carbohydrate choices: 1.5.
Spaghetti Pie
8 ounces spaghetti
½ pound lean ground beef
½ pound ground turkey breast
½ teaspoon coarse salt
¼ teaspoon pepper
2 (8-ounce) cans no-salt-added tomato sauce
1 ½ cups sour cream
½ cup green onions, chopped
¼ cup Neufchatel cream cheese
1 cup shredded sharp cheddar cheese
Heat oven to 350 degrees. Cook spaghetti according to package directions; drain and place in a 2-quart casserole dish coated with cooking spray.
Meanwhile, cook beef and turkey in a large skillet over medium heat 6 minutes or until no longer pink; drain and return to skillet. Stir in salt, pepper and tomato sauce. Bring to a boil, reduce heat and simmer 20 minutes. Combine sour cream, green onions and cream cheese in a small bowl. Spread over cooked spaghetti. Top with meat mixture. Sprinkle with cheddar cheese. Cover and bake 25 minutes. Uncover and bake 5 more minutes or until cheese is bubbly.
Makes 8 servings.
Nutrition information: Each serving (prepared with reduced-fat sour cream and 50% less fat cheese) contains approximately 316 calories, 24 g protein, 12 g fat, 29 g carbohydrate, 69 mg cholesterol, 309 mg sodium and 2 g fiber.
Carbohydrate choices: 2.
Susan Nicholson is an Atlanta-based cookbook author and registered dietitian. She can be reached by email:
susan@7daymenu.com
Food on 09/25/2019
Print Headline: 7-day menu planner
Sponsor Content