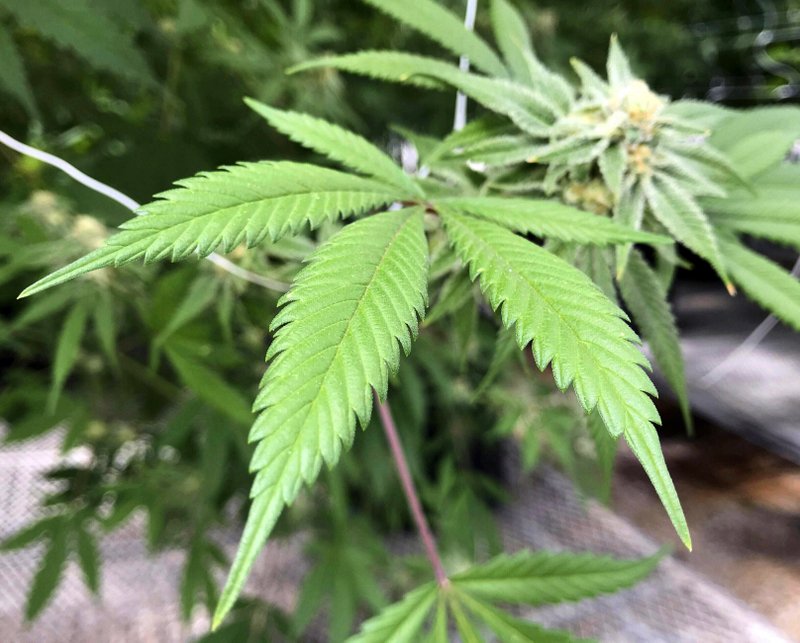 FILE - This April 6, 2018, file photo, shows the leaves of a marijuana plant inside Ultra Health's cultivation greenhouse in Bernalillo, N.M. Australia's capital has become the first part of the country to legalize recreational marijuana for personal use. (AP Photo/Susan Montoya Bryan, File)
ROGERS -- More than 200 people -- including Gov. Asa Hutchinson -- went to the launch of a campaign Thursday to convince voters not to sign petitions to put recreational marijuana legalization on the 2020 ballot.
Sen. Cecile Bledsoe, R-Rogers, organized the Thursday evening meeting at the First Baptist Church in Rogers where she and the governor are members. Organizers tallied 228 in the audience.
Petitions to get the measure on the ballot will require 89,151 signatures from registered Arkansas voters -- a tenth of the number of voters in the last governor's election.
Holding the petitions' total to less than that is a daunting task, but it remains the best chance of stopping the proposal, the governor, Bledsoe and other speakers said at the meeting.
"Ten or 15 years ago, ballot measures by petition were earned by the hard sweat of our citizens," Hutchinson told the crowd. "Now, well-funded groups can hire canvassers to do the work."
Hutchinson said he never expected to be governor of a state that has already legalized medical marijuana and casino gambling. Both those measures got on the ballot through petitions.
"Arkansas voters are in a passing mood," Hutchinson told the crowd about ballot measures.
Melissa Fults, executive director of the Drug Policy Education Group, said in a telephone interview that she wishes her group had the kind of financial resources the governor attributed to it. Her group supports the legalization.
"They have just acknowledged that if this gets on the ballot, it will pass," she said Friday.
Hutchinson said at the meeting that legalization in other states received contributions from all over the country and that recent elections in Arkansas, such as voter approval of casinos, showed a pattern of outside support.
Gregory Bledsoe, the state's surgeon general, also attended the meeting. He told the group that the tobacco industry has supported legalization efforts as it diversifies from tobacco products.
"Big marijuana is just big tobacco painted green," Gregory Bledsoe said. He is the son of Cecile Bledsoe, who organized the meeting.
Cecile Bledsoe said her effort does not have a name, a director or similar organization. The "do not sign" effort relies on volunteers to bring up information she and other opponents have gathered concerning recreational legalization in other states, she said.
The governor, Gregory Bledsoe, Cecile Bledsoe and other speakers pointed to an increase in marijuana use where recreational marijuana is legalized.
Gregory Bledsoe said light but regular marijuana use before the age of 25 diminishes cognitive function.
"Even if you stop, you will get some of that function back, but it will never get back to baseline," he said.
Fults' group had representatives at the meeting and she said the facts presented are either misleading or partially presented to put marijuana use in an unfavorable light.
"For instance, they presented figures on how often marijuana was detected in cases involving traffic deaths," she said. "They did not say in those figures what other substances were found.
"I don't want anyone impaired in any way to be driving next to me. But if I had to, I'd choose someone who had smoked some marijuana to someone who drank a pint of whiskey."
Metro on 09/28/2019
Print Headline: Governor decries pot initiatives
Sponsor Content