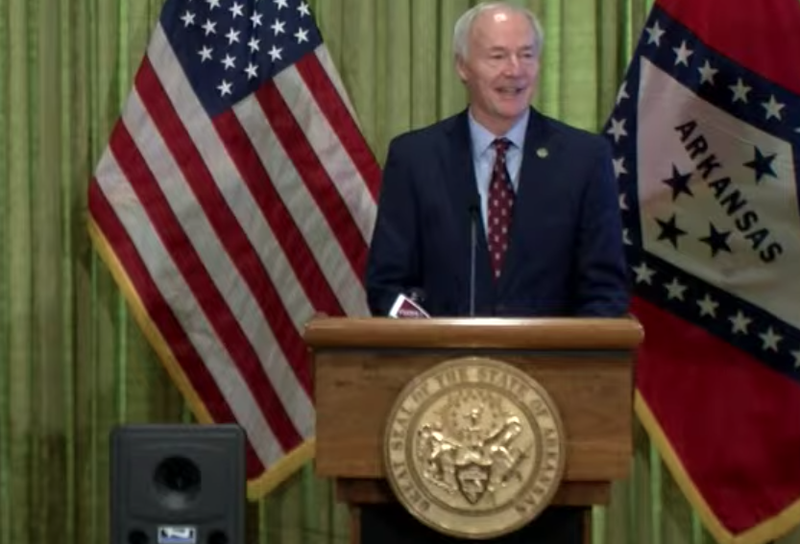 Arkansas Gov. Asa Hutchinson speaks to reporters in Little Rock on Monday in this screen grab of video provided by the governor's office.
8:10 p.m.
The number of positive coronavirus cases in Arkansas reached 927 Monday night, according to figures on the state Department of Health website.
The number of cases was listed at 875 earlier Monday.
3:43 p.m.
Gov. Asa Hutchinson presented figures at Monday's news conference that he said show how much Arkansans have slowed the spread of covid-19 since the outbreak began.
During the first two weeks of the outbreak, the number of cases doubled every one to four days, according to a graphic shown at the press conference.
But the most recent doubling, from about 350 to about 700, took a week.
Hutchinson said this shows that social distancing combined with the closures of schools, certain businesses and some public places is working.
Health Secretary Nate Smith agreed and said Arkansas seems to be "flattening the curve," or controlling the rate of spread to prevent overwhelming hospitals or running out of ventilators.
However, Smith said even if the current trajectory of Arkansas' cases is promising, he is cautious about making judgements on how many cases the state will see in total or what the peak will be.
Smith said the state has just under 800 ventilators, including 500 to 550 not currently in use. An often-cited model from University of Washington estimates only 86 ventilators will be needed at the peak of the outbreak in Arkansas, but Smith said models vary widely and sometimes a state's case growth will appear linear before suddenly becoming exponential.
Hutchinson said Arkansas' population is also older and has more health challenges than other states, which could complicate a larger outbreak here.
Additionally, because of the large coronavirus outbreak in Louisiana, Hutchinson said Arkansas will be sending 5 ventilators to its neighbor.
Hutchinson said the state wants to help while also preparing for its own needs, and he does not anticipate taking overflow patients from Louisiana.
He said Arkansas is also still trying to buy additional ventilators. Intense competition with other states and other countries has kept Arkansas from purchasing any so far.
2:41 p.m.: In-person classes called off for rest of school year
School campuses in Arkansas will be closed for in-person instruction through the end of the academic year, Gov. Asa Hutchinson announced Monday, as the number of coronavirus cases in Arkansas hit 875.
Students had previously been set to return to classrooms April 20. Schools across the state have been closed to in-person instruction since at least March 17.
Year-end testing for the state has already been called off.
Education Secretary Johnny Key said graduation ceremonies will be subject to Health Department rules on social gatherings. Some districts have started plans for virtual ceremonies, Key said, while others are on hold to see when an in-person commencement may be possible.
The partnership between schools and Arkansas PBS for kindergarten through eighth grade education will continue through May 1, Key said, giving districts time to create lesson plans for remote instruction. He said districts in need of extra support in creating those plans can contact the Education Department.
Of the 875 positive covid-19 patients reported Monday afternoon, Health Secretary Nate Smith said 2.3% are children, 6.7% are ages 18-24, 30.3% are 25-44, 34.9% are 45-64 and 25.7% are 65 and older.
Smith said 74 patients are hospitalized, including 22 on ventilators. The number of deaths remained at 16, the same as Sunday, while 102 have recovered.
Healthcare workers account for 122 cases or about 14%. Smith said 59 nursing home residents are ill, as are 32 nursing home employees.
The residents and employees are spread out among 13 nursing homes in the state.
Smith said four of the 16 deaths in Arkansas have been associated with a nursing home.
[Video not showing up above? Click here to watch » https://www.youtube.com/watch?v=KS2Kb4V8U3I]
EARLIER:
The number of confirmed coronavirus cases in Arkansas has risen by one to a total of 854, according to the state Department of Health.
The agency reported no additional deaths Monday morning.
Arkansas Governor Asa Hutchinson and Dr. Nathaniel Smith, secretary of the Arkansas Department of Health, will provide an update on Arkansas' covid-19 response at 1:30 p.m.
Check back for updates and to watch the live video.
Sponsor Content