Organizations serving adults with disabilities have had to close buildings for some programs, come up with new services and move staff members around accordingly.
Care professionals for clients who require round-the-clock help are on the front line of the coronavirus pandemic.
People with disabilities and covid-19
Disability alone does not equate to a higher risk of getting covid-19, according to the Centers for Disease Control and Prevention. However, people with disabilities may be at a higher risk of infection becasue of an underlying medical condition.
All people with underlying chronic medical conditions, such as chronic lung disease, a serious heart condition or weakened immune system, are more susceptible. Adults with disabilities are three times more likely than adults without disabilities to have heart disease, stroke, diabetes or cancer.
[CORONAVIRUS: Click here for our complete coverage » arkansasonline.com/coronavirus]
A person with a disability type listed below could be at increased risk of becoming infected:
• People who have limited mobility or who cannot avoid coming into close contact with others who may be infected, such as direct support providers and family members.
• People who have trouble understanding information or practicing preventive measures, such as hand washing and social distancing.
• People who may not be able to communicate symptoms of illness.
Source: cdc.gov
The Elizabeth Richardson Center provides vocational training, job placement, life skills and community involvement services and residential options for adults with disabilities throughout Northwest Arkansas.
One of its adult development centers has closed, and the organization will soon close the other one, both in Springdale, Zarah Reed, assistant executive director, said Thursday.
The organization also has a workshop on Crossover Road near the Springdale/Fayetteville border that has 70-80 people doing contract work for different companies. That operation also has closed.
Three intermediate care houses in Springdale, with 10 people in each who have their own bedrooms, are still open. Caretakers and nurses are on-site 24 hours a day, seven days a week.
"They're really doing everything they can to make sure everyone is safe," Reed said.
At the houses, checking temperatures, social distancing, extensive cleaning and washing hands have become part of the daily operation, in addition to a caretaker's usual responsibilities.
Teaching clients how and why they have to limit interactions and change behavior also poses a hurdle, she said. Many residents have followed the same routine for years, and that suddenly has changed, she said.
"Their life is disrupted," Reed said. "Understanding why that has happened is not something that goes well for all of us. So that's been difficult."
Family members can call a 24-hour phone line to talk to residents over the phone or through FaceTime. Family members are asked not stop by.
Professionals go grocery shopping for the residents, as well as for adults with disabilities living in apartments and homes throughout Northwest Arkansas, she said.
A NEW PLAN
Life Styles essentially had to reconfigure its operation, Executive Director John Newman said. The organization closed its center in Fayetteville, which normally would have about 100 people going in and out daily from all over Northwest Arkansas, he said.
The building, on Sycamore Street, houses the administration office and is where clients attend continuing education programs. Another large building also is closed, the Blair Center for Visual Arts near Lake Fayetteville, where the organization holds its art therapy program.
That's not to say people are going without services. Staff members are doing any business they can over the phone or online, Newman said. Direct contact with clients is being held to a minimum.
The organization helps adults with disabilities get jobs. About 20 clients are out of work because of business closures, Newman said. Some clients work at businesses considered essential, like Walmart, and have kept their jobs.
Case managers are working on unemployment claims for the displaced workers, he said.
Life Styles also owns an apartment building off Sycamore Street where 14 adults with disabilities live. The organization has tried to keep the number of staff members to a minimum, but those clients require care. Concern that a resident or care professional could get the virus is constant, Newman said. Staff members have taken on duties outside their usual responsibilities, such as meal preparation and working with clients on other needs, he said.
Staff members and volunteers have been taking 160-180 meals every day to about 90 clients, most of whom live in Fayetteville.
"Our No. 1 goal was: how can we prevent people from leaving their homes?" Newman said. "We thought by shopping for groceries and cooking for them, that would be the best step we could take."
Organizations with a narrower focus have had more difficulty adapting. Open Avenues in Rogers, for example, helps adults with disabilities find jobs, but also provides vocational work on-site. About 100 people do assembly and packaging work for companies such as Ring Snuggies in Springdale and Daisy and Jotto Desk, both in Rogers. Following social distancing was impossible, Executive Director Brenda Neal said.
People who were doing that work have had to stay home. Some of the workers need constant supervision.
"We're researching everything we can get our hands on," she said. "We're trying to look at all the resources that might be available. I don't think we're leaving anything unturned right now."
STAYING BUSY
Adults with disabilities working on their educations have been able to do so online. The University of Arkansas EMPOWER program, like the rest of campus, has gone virtual.
The nondegree program is intended to give students with cognitive disabilities a full college experience. The acronym stands for educate, motivate, prepare, opportunity, workplace readiness, employment and responsibility.
There are 12 students enrolled in the program, said Director Ashley Bradley. Students have weekly schedules of assignments and exams set for the rest of the semester. Professors FaceTime, talk, text and email with students. About 30 peer mentors work with the students through FaceTime to help with assignments and keep the students on track, she said.
"This time has been tough for all of us, but our students are managing and adapting well considering all the sudden changes," Bradley said.
Rockin' Baker in Fayetteville has a workforce development program for people with intellectual and developmental disabilities. The company shifted its model from producing mostly wholesale to providing bread to nonprofit Seeds that Feed, which distributes the food to area agencies.
Founder Daymara Baker couldn't bear the thought of closing her doors when the pandemic began shuttering businesses across the state. The bakery has been able to keep its ovens hot and pay its employees, including three with disabilities, through monetary donations, she said.
About 1,500-1,800 rolls go out the door to hungry people each day that the bakery is open, Baker said. Also, the employees who otherwise would be stuck at home have a sense of purpose greater than themselves, she said.
"We'll continue doing this while donations come in," Baker said.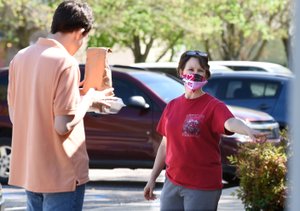 Dena McCool, a direct support professional at Life Styles, walks with her client Colin (preferred to use only one name) Thursdayafter he picked up a delivered lunch and dinner on the residential campus in Fayetteville. (NWA Democrat-Gazette/David Gottschalk)
SundayMonday on 04/12/2020