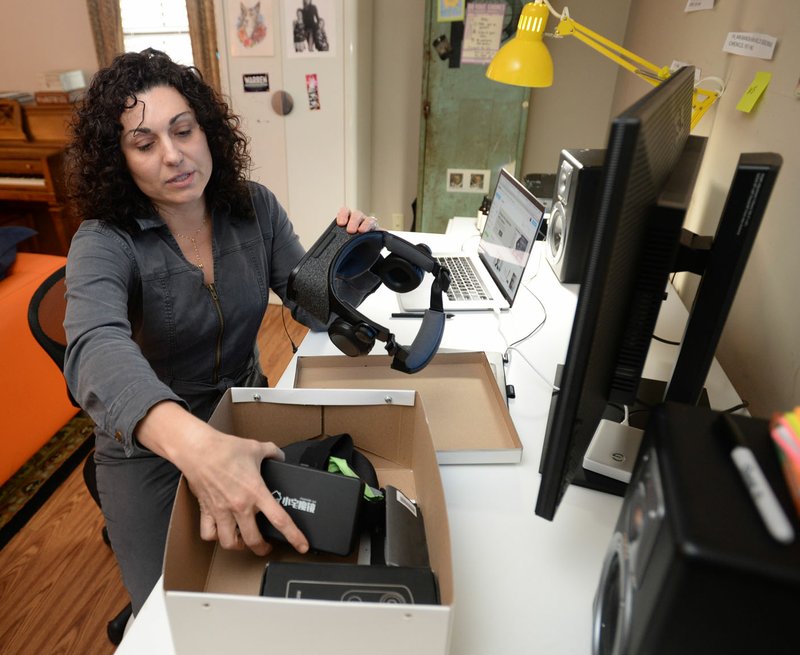 Artist Lisa Marie Evans shows the virtual-reality equipment used to view her work on Wednesday in her home studio in Fayetteville. (NWA Democrat-Gazette/Andy Shupe)
Artists are using immersive practices developed in video game design to captivate new audiences for their artwork, experts say.
Artists have been at the forefront of video game design that developed those practices, said David Fredrick, director of the Tesseract Center for Immersive Environments and Game Design and associate professor of classical studies at the University of Arkansas.
Get visually immersed
Experience Lisa Marie Evans' "Lia Uribe on Bassoon at the All-Inclusive Show" on Vimeo at https://vimeo.com/264753356.
Source: Lisa Marie Evans
Experience audio immersion
Ehule Stille's "Nuee Ardente" can be experienced online at https://soundcloud.com/ehule_stille/nuee-ardente.
Source: Reilly Dickens-Hoffman
"They've been leading people through 3D spaces for 40 years," Fredrick said.
Tesseract's students design interactive, game-based content for courses and research. The center was created in 2010 in the J. William Fulbright College of Arts and Sciences.
Video games are designed in such a way the action comes at players using visual art to create a landscape, environment and characters, he said. The creative elements of storytelling, music, sound and theater round out some of the artistic aspects for building a virtual gaming environment.
"The aesthetics of the game are most-visible," he said. "If you're doing your job right, the technology is almost invisible to the player."
Video games immerse players in environments with a sense of space, he said. Many create scenarios in which players have to be aware of what's in the environment in any given direction.
"You have to always keep turning and looking," Fredrick said of moving a video game character through virtual space. "If you run into a thing, you stop. So, you have a sense of a body that collides with things."
Such practices have begun to move beyond game design and into the art industry as artists have started making works that are altering the way creative experiences are consumed and accessed.
VISUAL IMMERSION
Lisa Marie Evans, 42, of Fayetteville said she's begun incorporating virtual reality into her works to create immersive experiences as a filmmaker and animator.
Virtual reality consists of a computer-generated simulation of a 3D item or location that can be interacted with in what appears to be a real or physical way through the use of specialized equipment, such a helmet with a screen inside or gloves equipped with sensors.
Evans said she was moved to learn more about shaping viewers' perception of reality through virtual experiences after attending a TedxWomen event in Kansas City, Mo., in 2015.
The artist experienced Hunger in Los Angeles by Nonny de la Pena, a journalist and documentary filmmaker. The interactive news piece was set in a virtual food bank environment where a man waiting for food fell to the ground in a diabetic coma, Evans said.
"People were there as bystanders in the virtual reality," she said. "People were crying. People were trying to help him."
Evans was inspired to create the same sense of connection through a piece she created featuring her partner called Lia Uribe on Bassoon at the All-Inclusive Show.
Evans used a virtual reality camera to film the talk and variety show event "The All-Inclusive Show" by Kat Wilson in 2018 at the Meteor Guitar Gallery in Bentonville.
Viewers can experience the five-minute piece from the show featuring Uribe by connecting a smartphone to a virtual reality headset or by using a smartphone or computer to orient the view of the performance, spectators and the environment 360 degrees to the left or right, she said.
"You can be in the crowd. You can watch somebody perform, and it becomes sort of intimate in that sense," Evans said. "You're part of the actual event."
The artist said she'd like to use virtual reality to help people better relate on topics such as immigration and sexual identity.
Evans identifies as a lesbian and proposed the concept of using a hidden virtual reality camera to film people's reactions to two women holding hands while walking down the street.
"It's always interesting holding another female's hand in public," she said. "Does it become a public act versus being able to have that intimacy?"
Creating such an experience could help people better understand what it's like to be publicly scrutinized, Evans said.
"We can see people as other than us, and that really puts people at a distance or secludes us," she said. "I think it's really powerful for people to feel that."
AUDIO IMMERSION
Reilly Dickens-Hoffman, 36, of Fayetteville said he uses the power of sound to immerse people into creative experiences.
Dickens-Hoffman is a first-year master of fine arts student at the University of Arkansas who creates audio art under the moniker Ehule Stille.
Ehule Stille is an old family name allowing Dickens-Hoffman to make his creations the focus for listeners, he said.
"It kind of helps dissolve the ego a little bit," he said. "I don't want my art to be about me."
Dickens-Hoffman uses recordings to create immersive sound fields in a virtual environment, he said.
The artist recorded the rain and used music to create an ambisonic composition called Nuee Ardente as part of his degree studies, he said.
Ambisonics is a full-sphere, surround sound format that allows sound sources to come from multiple directions for a listener, Dickens-Hoffman said. Nuee Ardente was created in a trailer with a metal roof and used strategically located speakers to create an immersive sound experience of rain falling around the listener.
"It puts me in a state of presence, because it's all completely around you, and then it's also removed," he said.
Creating such experiences has archival and accessibility aspects for creating the experience of locations listeners wouldn't have an opportunity to experience otherwise, Dickens-Hoffman said.
"You can gain so much from the sound without seeing anything," he said. "I think that's probably a valuable thing -- just respecting and engaging with this sense."
Dickens-Hoffman said he'd like to explore acoustic ecology by gathering sounds from urban and rural environments around the country, such as as Badlands National Park in South Dakota, Yellowstone National Park in Wyoming, Seattle and Salt Lake City.
"You can learn about the weather, the culture there, the geology, the animals," he said. "There's all sorts of information that can be gleaned from that."
Using recorded sounds in combination with a 3D scan of the environments would allow people from around the world to experience such locations, Dickens-Hoffman said.
"Anything that can open up your senses and make you more engaged viscerally with your world is probably going to be positive," he said.
IMMERSION ECONOMICS
Creating immersive experiences can be a costly endeavor, Fredrick said.
A video game developed by Tesseract, which the university uses in support of its history curriculum, cost $50,000 and took two years to develop, he said.
"Mornin' in Your Eyes" is set in a coffee shop during the Civil Rights Movement and creates scenarios for students to explore, he said. The game allows students to be immersed in an environment amid intense historical discussions.
"It really starts to make you think about your sense of personal responsibility," Fredrick said. "They can be involved in all kinds of circumstances that are emotionally very powerful."
Video game development can cost from $500 for a game with limited features to $300 million for an action-adventure game, according to VironIT, an international software development company based in Minsk, Belarus.
Evans said she filmed Lia Uribe on Bassoon at the All-Inclusive Show using a virtual reality camera costing less than $400. Viewers can experience the piece for free using a smartphone or a computer or by using virtual reality goggles, which can be priced as low as $30, she said.
"It's really about the quality of the project," she said, noting higher-end cameras and goggles can help create better-quality experiences.
Dickens-Hoffman said he offsets his $160 computer, free software and $300 microphone with equipment provided by the university.
"It's as expensive as you want it to be," he said. "There are microphones out there that are $30,000 to $50,000."
The cost for creating or experiencing immersive technology is constantly evolving, Fredrick said. More powerful products lower in cost are routinely being developed, making creation all the more accessible, he said.
The greatest economic investment for immersive creation should be at the university level, though, Fredrick said.
"The idea is if you make a game that's online, is teaching kids on an online course, then over time it recoups its investment," he said.
Creating more curriculum rooted in the concepts of sculpting, animation, game art and environmental art will help Northwest Arkansas students be more marketable following graduation, he said.
"In terms of the mainstream programs that are used to make video games and all other kinds of 3D content, we have almost no curriculum on that at the U of A," Fredrick said. "That's really not good."
Immersive experiences are becoming more mainstream and part of how industry operates and trains employees, he said. Focusing on developing the skills for creating such experiences could effect real change for the state.
"If you grew the talent here, talk about a creative economy," he said of industries supported through the arts. "It actually could be among the most transformative things you could do."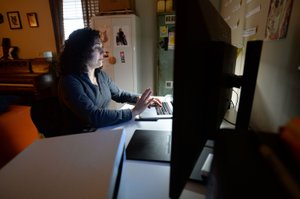 Artist Lisa Marie Evans shows video editing work she does Feb. 26 in her home studio in Fayetteville. Evans used a virtual reality camera to film the talk and variety show event "The All-Inclusive Show" by Kat Wilson in 2018 at the Meteor Guitar Gallery in Bentonville. Go to nwaonline.com/200413Daily/ for today's photo gallery. (NWA Democrat-Gazette/Andy Shupe)
Metro on 04/13/2020
Print Headline: Artists apply immersion to attract new audiences
Sponsor Content