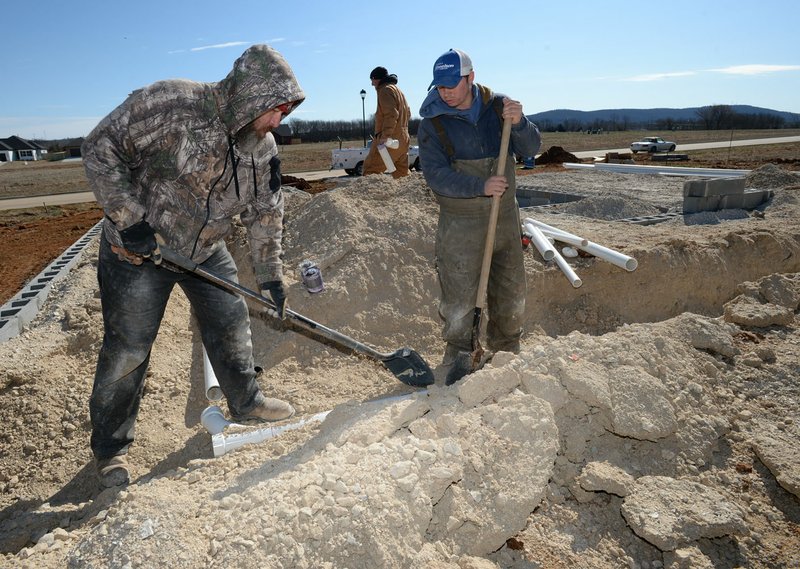 Vance King (from left), a journeyman plumber, works Feb. 27 alongside Hunter Young, an apprentice plumber, as master plumber Jay Shackleford walks through the site as they cover up a pipe at a construction site inside The Farmington Heights development in Farmington. Go to nwaonline.com/200413Daily/ for today's photo gallery. (NWA Democrat-Gazette/Andy Shupe)
FAYETTEVILLE -- Northwest Arkansas is projected to have nearly 1 million residents by 2045, almost double this year's population. Regional planners have started to figure out where to fit all those people.
Planners will be working with each city in the region over the next several months to see where they plan to allow new housing, according to Tim Conklin, senior planner at the Northwest Arkansas Regional Planning Commission.
"Something to think about in each of the cities, obviously, you have only so much land to develop. We have 22 cities that have city limits that adjoin," Conklin said. "It's only a certain amount of population you can actually allocate from your jurisdiction, so be thinking about are you going up 15 stories or stick with single families? What areas will remain the same, what areas will be increasing in density? What areas will be increasing in employment? There'll be an effort by all of us to allocate that. Then look at the land area you have."
New projections by the Arkansas Economic Development Institute at the University of Arkansas at Little Rock are predicting 974,275 residents in Benton and Washington counties in 25 years. Benton County is predicted to have 545,893 and Washington County 428,382.
Conklin said he wanted a third party to do the forecast. The demographic model used all factors that determine population, including birth rate, death rate, migration in and out, race and ethnicity, he said.
The Northwest Arkansas Council predicted the metro area population would hit 566,100 in February. That estimate assumes the increase of 28.5-people-a-day between the 2010 Census and the U.S. Census Bureau's population estimate of July 1, 2018, has continued. In the past year, the influx has been 31.9 per day.
The Census Bureau estimated the July 1, 2018, population was 549,128. Both the census figure and the council figure include McDonald County, Mo. McDonald County was removed from the Metropolitan Statistical Area in fall 2018, which will likely lower the numbers some.
Conklin said he doesn't expect the covid-19 pandemic and subsequent economic downturn to have significant impact on the long-term planning process, even though stay-at-home and shelter-in-place orders are likely reducing migration into Northwest Arkansas right now. Regional planning has not made any adjustments to the projected growth rates.
"Forecasts are based on many years of historical data and trends that have included recessions and other events that impact the rate of growth," he said.
Conklin said he's seen the region's growth and development patterns first-hand over the past 25 years and doesn't expect them to change that much.
"Do we continue to grow at the same rate we have for the last 20 to 30 years? All indications are that we will. I can't see anything changing," he said. "Walmart announced they are staying here, basically, with their new campus. I think you'd have to have a major disruption in the major employers to change the trajectory of our growth."
Making things manageable
Making the numbers seem more manageable is part of the goal, Conklin said. The regional plan for 2040 has about 800,000 people forecast to be living and working in the two counties.
"Figuring out where people are, where they go, how they get there, it's a science, but it's more like an art," said Cristina Scarlat, who handles geographic information system mapping at regional planning.
Scarlat said they identified natural features that would limit growth, such as Beaver Lake, the Ozark National Forest and various floodplain or environmentally sensitive areas. They reviewed cities' past comprehensive plans and where the cities thought growth was going to occur. They looked at how much multifamily housing has been permitted and built in each city.
"So, we're going to be doing this again with the cities to see what their plans are as to infrastructure and potential growth areas," Conklin said.
Conklin said he doesn't expect to see smaller towns adding a lot of density.
"Typically where you're seeing increases is in your bigger cities because you do need water and sewer and urban-type amenities to serve high-density residential and nonresidential development, Conklin said. "But, we are talking about 25 years, so I won't say we're not going to put some density farther out."
Conklin said student growth at the University of Arkansas and significant multifamily housing projects in Centerton, Rogers, Bentonville and Springdale are examples of why they're getting more dense.
The projections will be revisited when 2020 Census numbers are available in early 2021, Scarlat said.
Framing the issue
The development Northwest Arkansas is experiencing is different than what happened across the country in previous decades and requires a different approach, according to John McCurdy, director of community development in Rogers.
A traditional pattern, typical since the 1950s, was for cities to expand laterally.
"As part of that expansion you end up with road projects that typically are dealing with a very localized problem, like congestion at an intersection, or a road that's busy, and we've made those roads bigger and bigger," McCurdy said.
That strategy has created a new set of problems. As the value of the property along those roads increases, many cities allow strip malls, fast-food franchises and the like, which leads to more traffic.
"That makes those roads less effective. It's just kind of semi-planned growth around infrastructure," McCurdy said.
Planners in Rogers have been looking for solutions for at least a couple years, McCurdy said.
Over time, Rogers will use up the majority of the remaining empty land in the city, McCurdy said.
"Then, we're going to have to start going up and, if we're going to go up, where do we want that to occur," McCurdy said.
McCurdy said the city is encouraging multi-story, mixed-use development in the Uptown area, which is along Interstate 49 near the Promenade and the Arkansas Music Pavilion. The city has essentially the same objective for downtown, but with shorter buildings that better fit its character.
Throughout town, planners have designated 31 intersections as neighborhood centers where mixed-use development is allowed. Mixed-use development is a combination of residential housing and businesses located in the same area.
"Within any neighborhood, you should be no more than about a quarter of a mile away from a gallon of milk or other services like churches and schools and fire stations," McCurdy said. Looking out 30 or 40 years, that's where the city would like to see the majority of new population growth, he said.
The approach brings with it numerous benefits, McCurdy said.
"We don't have to accommodate the entire population growth spread over the entire city, which means that our water and sewer and other utilities and roads, infrastructure improvements, can be focused on those higher-density areas," he said. "And, finally, those higher-density areas will lend themselves to future mass transit. So, as the whole area grows, we've already identified the areas where future bus stops will be and, if we ever get to bus rapid transit or even light rail, we know where the population would eventually support higher speed or volume mass transit."
Previous population projections based on census data predicted 102,281 residents in the city by 2040.
Go west young man
Springdale probably has more undeveloped land than other cities in Northwest Arkansas, and city officials have made a conscious effort to extend infrastructure to areas where they expect development, said Patsy Christie, director of planning. The projections still can be intimidating.
"It's really interesting when you look at those numbers. I think they're kind of scary, myself," Christie said. "Having grown up here, to think there's going to be that many people, I just don't know that that's a good idea, if you want to know the truth. But, I know it's going to happen."
Previous population projections based on census data predicted 148,612 residents in the city by 2040.
Springdale has focused on roads to move people across town faster and easier for almost two decades.
"I remember when we started the Don Tyson Parkway project, everybody said nobody would drive on it, that's too far away. And now, I don't know what we'd do if it wasn't there. I don't know how we'd move traffic across town," she said.
U.S. 412 is the only major highway and truck route from Tulsa to northeastern Arkansas, and it cuts right through the city. The 412 Bypass is being built in stages on the northern edge of town.
"East and west was always a challenge, with 412 going through the middle of Springdale. One of the things I think will help traffic congestion is to get the bypass all the way over to Highway 265 so a lot of that truck traffic that's just going through the region doesn't have to come through Springdale," Christie said.
The city is adding another overpass across Interstate 49 to continue to move traffic across the interstate to the ever-growing west side. Residential and commercial developments are regularly being approved by the city near Arvest Ballpark and Arkansas Children's Northwest hospital, both west of the interstate.
"I think that's becoming an area where we're going to see a lot more offices. It's going to have some housing to support that -- people want to live and work and play in the same area," Christie said. "I think we'll see the northwest portion of Springdale grow because there is a lot of area out there that will become a stronger residential area."
Like the other big cities in the region, she said higher-density housing is the future. The city has approved several large multi-family projects in the past six months.
Ways to house the expected growth keeps Christie awake at night, she said.
"How do we assure that we're getting quality housing for everyone. We have to have a range of housing options in Springdale, but it all has to be good, quality housing," she said.
"How do we retain the quality of life? My kids grew up here, they're still here, I want my grandkids to stay here. We want a good environment for them, good places to work, fun things to do, all that so they can stay in the region. Quality of life, for me, is always a big issue."
Boots on the ground
Garner Stoll, development services director in Fayetteville since December 2017, said the city has room to grow.
"We have an additional 35 square miles in our planning area beyond our existing city limits that could be annexed into Fayetteville according to state law. Not all of this area is suitable for development, flood prone areas and steep slopes," Stoll said. "Our present city limits comprises 55 square miles. In order to double our population, we will need to use our existing land more efficiently as it can't all be accommodated in our planning area."
The average population growth in Fayetteville is about 3% per year while the national average is about 1%, Stoll said.
"We just updated the city master plan for 2040 and used the figure of 140,000 within the city limits as a target population. The city now has around 90,000 residents," Stoll said.
How a city is physically built determines people's options and choices like proximity can be encouraged, Stoll said.
"We're actively trying to find locations for housing," he said. "Our zoning policies encourage in-fill and a little more dense development than is typical to better use our limited land, utilities and infrastructure."
The goal is to be efficient to keep tax rates lower, he said.
City leaders are trying to design a city that can handle the increased population while maintaining a high quality of life that makes people want to live here, Stoll said.
"We'd like to keep our neighborhoods livable, comfortable places that people like and are attached to, but accommodating 140,000 by 2040 predicts a lot of change," he said. "It's not like, physically, there isn't room. We have lots of vacant land, we have lots of underused land in Fayetteville."
Stoll said he expects development patterns to change as the value of land increases. For example, surface parking lots may be redeveloped into living space with parking decks, which is more efficient.
"I think the city's goal is proximity, where services and cultural opportunities and recreational opportunities and jobs are in close proximity," Stoll said.
Stoll said Northwest Arkansas currently has what he calls "a contingency proximity."
"The contingency is access to a car. Things are close and convenient if you do have a car," he said. "One of Fayetteville's goals is to reduce that contingency where people can do shorter trips, where people can get their basic needs accommodated through walking, riding a bicycle."
Respect the past
Planners in Bentonville want their city to grow in a way that respects people who were born and raised here as well as people who are moving to the city, said Shelli Kerr, city planning manager.
"As rapidly as things have been growing, it's almost hard to know what it's going to look like," Kerr said. "But, our goal is to continue to create that center part of the city to really create a community where people want to live, work, play, stay, visit, and really achieve all those goals."
Previous population projections based on census data predicted 70,325 residents in the city by 2040.
Bentonville has a comprehensive 2040 plan that was adopted two years ago, she said. Within that is a land use plan that identifies where desired uses are within the city. It includes a variety of lower-density housing to medium and high-density housing as well as mixed developments of housing, commercial and office uses.
"We'll be focusing more on some in-fill type of development with higher-density development to help accommodate that increase in population," Kerr said.
She said part of the goal of denser, urban development is to create a more walkable environment, especially downtown, to offer alternatives to driving.
"We've got the master street plan in the works right now. We also have a drainage study underway and a master bicycle and pedestrian plan being prepared," Kerr said. "All those are based on the comprehensive plan and build off it, really trying to be comprehensive in the way that we are addressing some of the issues that a growing community faces."
NW News on 04/13/2020
Print Headline: Planners consider how to fit 1 milllion residents into Northwest Arkansas
Sponsor Content