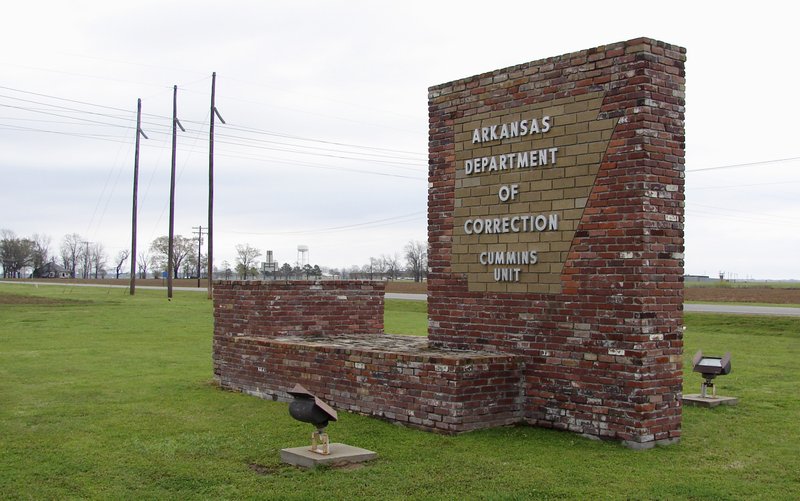 This file photo, shows a sign for the Arkansas Department of Correction's Cummins Unit prison in Varner, Ark.
The number of confirmed covid-19 cases at the state's largest prison have soared to 44 since the first confirmed case was announced by the Department of Corrections on Sunday, according to two lawmakers briefed on the matter.
The chair of the Legislature's subcommittee on state prisons, state Sen. Gary Stubblefield, R- Branch, said he was told by Corrections Secretary Wendy Kelley on Monday that the disease had spread through a barracks at the Cummins Unit, an 1,876-bed prison farm located in Lincoln County.
Department of Corrections spokeswoman Dina Tyler said in a statement Monday afternoon that 44 of 47 inmates housed in a single barracks at the prison have tested positive.
At his daily press conference on the pandemic, Gov. Asa Hutchinson addressed the outbreak at Cummins, but said he was not considering using his pardon power to reduce prison populations, calling such a move "unwise."
"There's a reason those inmates are in a maximum security unit," Hutchinson said. "I don't see that happening."
The department announced on Sunday that its first inmate with a confirmed case of the virus was housed at the Cummins Unit.
That inmate was hospitalized, and the barracks he lived in was placed on restricted access while other inmates and staff with access to the barracks were tested. Those additional tests were conducted by Wellpath, the company contracted to provide medical services to state prisons.
None of the additional staff members tested for the virus were reported to be positive, according to the department's release.
Altogether, 17 employees of the state's correctional agencies had tested positive for the virus as of last week.
Tyler said the barracks has been placed under quarantine, with food and other supplies being brought to the inmates.
The department also began supplying inmates and staff at Cummins with masks manufactured by prisoners at the unit last week.
This story was originally published at 1:16 p.m.
CORRECTION: The number of positive coronavirus cases at the prison is 44. A previous version of this story gave the incorrect number.
Sponsor Content