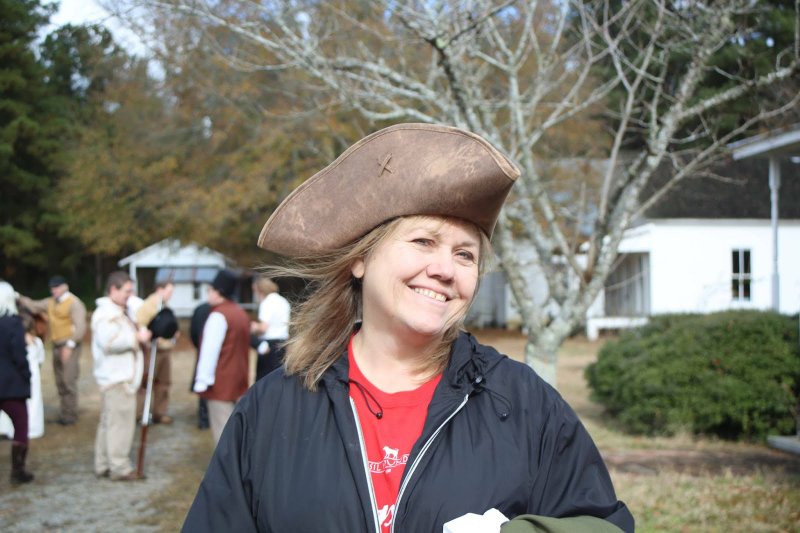 Beverly Reep is shown during the filming of the movie "Captain" is south Arkansas in 2014.
Covid-19 claimed the life of a 62-year-old Warren woman who began showing symptoms a few days after returning home from a European vacation, her husband confirmed Saturday.
Beverly Reep was the wife of former mayor and state lawmaker Gregg Reep. He told the Arkansas Democrat-Gazette during a phone interview that his wife died from covid-19 complications shortly after 12:30 p.m. Saturday at CHI St. Vincent in Little Rock.
"We're crushed, and we're heartbroken," Reep said. "She was a great person. We're going to miss her very much."
Beverly Reep, a retired history teacher who worked at schools in Warren, Dumas and Hermitage during her 39-year career, had been hospitalized for more than a month. Her husband said she took a turn for the worse two weeks ago when doctors told him her kidneys had started to fail and she was showing no signs of improvement.
[CORONAVIRUS: Click here for our complete coverage » arkansasonline.com/coronavirus]
Her death came less than an hour before Gov. Asa Hutchinson addressed reporters during his daily news conference, where he announced that the latest death total for the state stood at 38. It wasn't immediately known whether Reep was Arkansas' 38th victim of covid-19.
The Reeps were criticized over social media for going on their overseas trip in spite of warnings. Gregg Reep said Saturday that he and his wife had consulted a number of people before the trip and were advised to take precautions, but were encouraged to enjoy their "trip of a lifetime."
They left for Europe on March 5, before the United States was consumed with the fear of how rampant and deadly the virus was, he said.
"I could second-guess the decision forever," he said. "It was something she and I really wanted to do."
Had the vacation started a week later, they would have surely canceled or postponed it, he said.
"We thought we could handle it. We thought we would be OK," he said.
Reep was mayor of Warren from 1986 through 2004. He then served as a state representative for District 26 from 2005-11.
His wife was known for her summer field trips with students to Washington, D.C. She gave students an opportunity to see a part of the country they otherwise may never have seen. Many of them had never been outside Arkansas. Throughout the day Saturday, Reep and his son were receiving phone calls and messages from former students offering their condolences and prayers, he said.
Reep said he also had tested positive for the virus, but his symptoms were mild. His wife was diabetic and had undergone open-heart surgery a couple of years ago, he said.
Dr. Jennifer Dillaha, an infectious-diseases specialist for the Arkansas Department of Health, said during a news conference Saturday that covid-19 patients with chronic health conditions, something she referred to as "comorbidity," are at far greater risk of death from the virus.
Beverly Reep had been on a ventilator since mid-March.
Gregg Reep said his wife's devotion and support sustained him and took him to heights he otherwise never would have experienced.
"I never would have accomplished anything without her," Reep said. "She was the first lady of Warren for 18 years. She was right there with me the entire time I was in public service. She was very supportive. She was my rock."
Information for this article was contributed by Mike Wickline of the Arkansas Democrat-Gazette.
Metro on 04/19/2020
Print Headline: Ill after Europe trip, ex-lawmaker's wife dies at 62
Sponsor Content