Sonic the Hedgehog director Jeff Fowler and his collaborators appear to have created a bit of alchemy. They somehow have managed to create a watchable movie from a videogame.
While there have been legions of big screen adaptations of characters and scenarios from PlayStation and Wii games, does anybody really want to remember Pixels, Super Mario Bros or Need for Speed? Even the movies that have made money haven't aged that well. Tomb Raider and Resident Evil are still more fun on a console. Sonic the Hedgehog is currently available for digital purchase now and comes out on Blu-ray on May 19.
Breaking the Curse
"One thing we worked very hard was trying to forget it was based on a videogame and just really try to tell a great story," Fowler said by phone from Los Angeles. "We just tried to find some things to do with the character that were relatable for a lot of people and not make it sort of fan service and to try to create a relatable character that was grounded [and] really relatable. Hopefully, that's what we created, and that's what people responded to."
Throughout the brief conversation and through the audio commentary track that he recorded with voice actor Ben Schwartz, who played the title character, Fowler continually brings up touchy-feely responses to the blue-furred, speedy beast who has been a staple of the gaming world since 1991.
It probably helps that Sonic himself has more personality than the avatars who usually occupy first person shooters or racing games. One thing that made Sonic stick out from his digital peers was that he would challenge players even when they stopped to take a breath. If a player took too long to pick up the controller, he would look at the screen impatiently and point to his watch.
The kindly Mario Bros. didn't have that sort of attitude.
"That's 100% of what makes the difference is personality," Fowler says. "Even in that little 16-bit, 1991 first look at Sonic the Hedgehog, there was that much sort of personality to enjoy. It made a very lasting impression on people, and I think that's why he's still around, and he's still very popular.
"He's also a hero. We love stories about heroes, and Sonic is out there fighting for the little guys. Sonic is rescuing all the little animals from the tyranny of this maniacal Dr. Robotnik (played in the film by Jim Carrey). I don't think that anybody gets tired of being told a good hero story."
While Sonic might not admit it, one factor in his rise to fame is the evil genius who makes his life as difficult as slow, indecisive players. It's fitting that the hyperactive protagonist is being pursued by human Red Bull can Jim Carrey.
"We were so fortunate to have him play Robotnik with all the ideas and creative energy that he brought to the character," Fowler says. Not many bad guys grab henchmen by their mouths.
"He's really a comedic genius, but he's smart not just about pitching jokes but how to make him a fully-formed human character. It's very tricky because he's very moustache-twirling and maniacal, but we wanted it to have a bit more dimension. You want to have fun with it, but you want there to be some kind of space to be enjoying his time on screen, but you want to be actively rooting against him. The movie's got to have a villain, and he's got to have some credibility."
The Ghost in the Machine
From listening to Fowler talk about the feisty, defiant creature or his obsessed antagonist, it's easy to forget that he's a veteran of the Blur special effects and animation studio.
Co-founded by Deadpool director Tim Miller, who executive-produced Sonic, the studio has contributed to everything from Avatar to South Park: Bigger, Longer & Uncut. They've also created portions of games like Halo 2 and Batman: Arkham City.
Despite his technical background, Fowler is no stranger to narrative storytelling or working with actors. He wrote and directed the Oscar-nominated short Gopher Broke, where a rodent living on country roads places obstacles in the path of trucks, hoping to make food fall off them.
The gopher has roughly the same luck gathering a meal as Wile E. Coyote does. The film, which is on YouTube, has no dialogue, but human beings still had to make the frustrated grunts that accompanied the gopher's futile quest.
When I bring up the short at the start of the interview, Fowler quips, "My whole portfolio. That's everything you need to know about me.
"I directed and worked on a lot of commercial projects and a lot of things for the videogame industry, and those all had sort of active human components. Voice actors would give us groundwork for our animation. I was used to working with voice actors and actors doing motion capture work and some stunt people, so that was all very helpful experience to have."
Re-Vision
To play Sonic, Schwartz wore motion capture dots on his face so that his own expressions could guide the computer-generated version of the character. In some ways, Sonic initially looked a little too human for viewers' comfort.
When the film's trailer debuted in 2019, fans expressed horror online about how Sonic's human teeth and less than stylized movement unnerved them. After a three-month character re-design, the film successfully debuted in February.
Over the phone, Fowler doesn't sound as if he has been frustrated by the re-design and the challenges involved. Because the rest of the film was working, there was something to salvage.
"More than just salvage," he adds. "Obviously, with the movie, it was important to be selling a good story. The design of the character is a very important ingredient. That's what made the whole experience very manageable. People were very excited about the movie. Obviously, fans wanted some changes to be made, and fortunately that was something we were able to do. You want people to be excited about the movie and not have that first trailer be some sort of obstacle. Once we made those kind of adjustments, it just sort of clicked."
The outtakes and alternate cuts that come with the digital copy and the Blu-ray prove Fowler and company made several tweaks during shooting and editing to tighten the story or adjust problematic plot points. These extras include pre-visualizations that bear little resemblance to the rendered characters, which helps explain why the post-trailer adjustments didn't sink the project.
"A lot of that stuff was very helpful material from a story standpoint. A lot of it was trying to balance it with pacing. You want to keep the audience engaged and interested. It's just a bit of a balancing act. So it was great that we were able to release those deleted scenes and unfinished early versions just to show some of our process," Fowler says.
"(The pre-visualizations) don't even qualify as animation. It's just layout. It was never meant to be submitted for any kind of creative merit. Having more of a beat with Sonic and (his mentor) Longclaw was kind of nice because there was a kind of genuine kind of emotion there. For pacing and tone sake it wasn't quite right for the movie."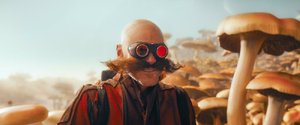 Jim Carrey is the maniacal Dr. Robotnik in Sonic the Hedgehog, a role that, in this odd, virus-truncated year, might even earn him an Academy Award nomination.
MovieStyle on 04/24/2020