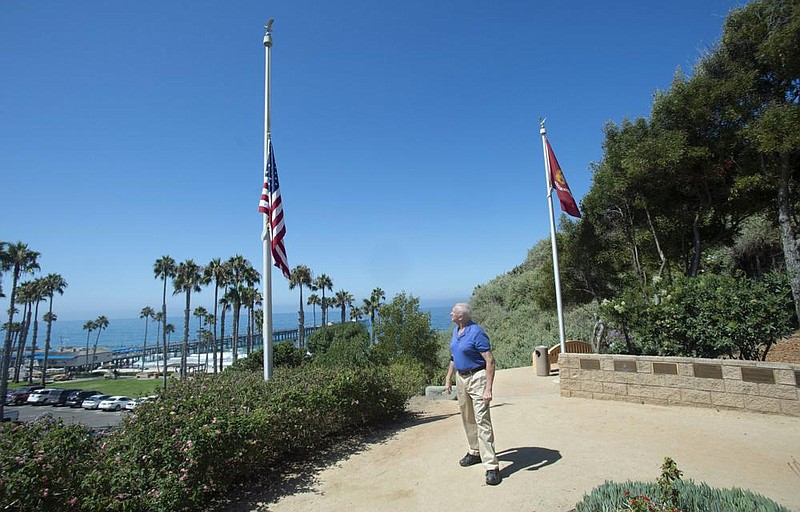 Former San Clemente Mayor Wayne Eggleston lowered the U.S. flag Friday at Park Semper Fi in San Clemente, Calif., after Thursday's fatal military accident. (AP/The Orange County Register/Paul Bersebach)
Vehicle sinks; Marine dead, 8 missing
SAN DIEGO -- Eight Marines were missing and one was dead after an amphibious assault vehicle sank during a training exercise near a military-owned island off the coast of Southern California, authorities said Friday.
There were 15 Marines and a Navy sailor in the vehicle Thursday evening when it started taking on water as it traveled from the shores of San Clemente Island to a Navy ship, said Lt. Cameron H. Edinburgh, a Marine Corps spokesman for Camp Pendleton.
Two Marines who were among those rescued were injured, with one hospitalized in critical condition and the other in stable condition, a Marine Corps statement said.
Military ships, small boats and helicopters Friday were searching choppy seas for the missing Marines amid moderate to strong winds. The Navy-owned island is about 70 miles offshore from San Diego.
All of the Marines on the vehicle, which resembles a seafaring tank, were assigned to the 15th Marine Expeditionary Unit and were involved in a routine military exercise, the Marine Corps said.
Marathon bomber's sentence tossed
A federal appeals court Friday threw out Dzhokhar Tsarnaev's death sentence in the 2013 Boston Marathon bombing, saying the judge who oversaw the case did not adequately screen jurors for potential biases.
A three-judge panel of the 1st U.S. Circuit Court of Appeals ordered a new penalty-phase trial on whether the 27-year-old Tsarnaev should be executed for the attack that killed three people and wounded more than 260 others.
"But make no mistake: Dzhokhar will spend his remaining days locked up in prison, with the only matter remaining being whether he will die by execution," the judges said, more than six month after arguments were heard in the case.
An email seeking comment was sent to an attorney for Tsarnaev. A spokesperson for the U.S. attorney's office in Boston said officials were reviewing the opinion and had no immediate comment.
Tsarnaev's lawyers acknowledged at the beginning of his trial that he and his older brother, Tamerlan Tsarnaev, set off the two bombs at the marathon finish line. But they argued that Dzhokhar Tsarnaev is less culpable than his brother, who they said was the mastermind behind the attack.
Tamerlan Tsarnaev died in a gunbattle with police a few days after the April 15, 2013, bombing. Dzhokhar Tsarnaev is now behind bars at a high-security supermax prison in Florence, Colo.
Officials ID suspects in July 15 hacking
MIAMI -- A British man, a Florida man and a Florida teen were identified by authorities Friday as the hackers who earlier this month took over Twitter accounts of prominent politicians, celebrities and technology moguls to scam people around the globe out of more than $100,000 in Bitcoin.
Graham Ivan Clark, 17, was arrested Friday in Tampa, where the Hillsborough state attorney's office plans to prosecute him as an adult. He faces 30 felony charges, according to a news release. Mason Sheppard, 19, of Bognor Regis, U.K., and Nima Fazeli, 22, of Orlando, Fla., were charged in California federal court.
In one of the most high-profile security breaches in recent years, hackers sent out bogus tweets on July 15 from the accounts of Barack Obama, Joe Biden, Mike Bloomberg and a number of tech billionaires including Amazon CEO Jeff Bezos, Microsoft co-founder Bill Gates and Tesla CEO Elon Musk. Celebrities Kanye West and his wife, Kim Kardashian West, were also hacked.
The tweets offered to send $2,000 for every $1,000 sent to an anonymous Bitcoin address.
"There is a false belief within the criminal hacker community that attacks like the Twitter hack can be perpetrated anonymously and without consequence," U.S. Attorney David L. Anderson for the Northern District of California said in a news release. "Today's charging announcement demonstrates that the elation of nefarious hacking into a secure environment for fun or profit will be short-lived."
Florida man held in shooting rampage
A Florida man is in police custody after he went on a 40-minute shooting rampage on a Tampa highway and city streets where he fired on at least 11 people, wounding two adults, and injuring a police officer when he shot into his squad vehicle.
None of the injuries were life threatening, Tampa police officials said.
The Tampa Police Department started getting reports of someone shooting from a moving car on Interstate 275 on Thursday evening. A Tampa police officer responding to the shootings spotted the 31-year-old suspect's car and attempted to pull him over, the Tampa Police Department said in a news release.
Antonio Cruz Ortiz got out of his car and fired on the officer's squad car. The unnamed 24-year-old officer ducked as bullets shattered the back windshield and penetrated the front window, according to authorities.
Cruz Ortiz ran into a nearby apartment building where other officers tracked him down and arrested him, police said.
Sponsor Content