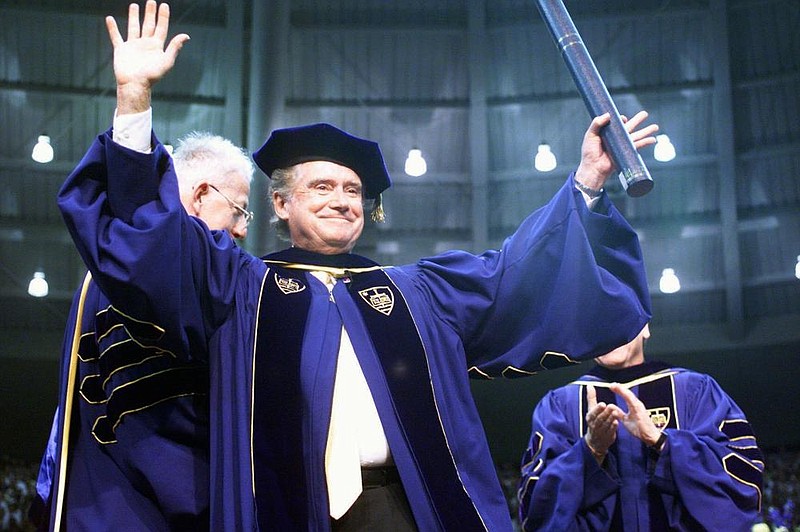 In this May 16, 1999, file photo, Regis Philbin, a Notre Dame graduate, waves to the crowd after receiving an honorary degree during Notre Dame's 154th commencement exercises in South Bend, Ind. Philbin, who died last week at 88, has been buried at the university's Cedar Grove Cemetery, following a private funeral service Wednesday, July 29, 2020. (AP Photo/Joe Raymond)
• Television host Regis Philbin, who died last week at 88, has been buried at the University of Notre Dame after a private funeral service at his alma mater, a school spokesman said. Philbin was buried Wednesday at Cedar Grove Cemetery on the northern Indiana Catholic school's campus after a private service at the school's Basilica of the Sacred Heart. "The Philbin family wanted to bring Regis back to the place he loved so much for a private funeral and burial. That occurred on Wednesday, and he is now resting in peace at Notre Dame," school spokesman Dennis Brown said in an email. The genial television host and personality graduated from Notre Dame in 1953 and was an enthusiastic alumnus, often returning to the South Bend campus for football games, pep rallies, banquets, concerts and other events, the South Bend Tribune reported. In 2001, he gave $2.75 million to the school to create the Philbin Studio Theatre, meant for laboratory and performance-arts productions, at its DeBartolo Performing Arts Center. Philbin died of natural causes on July 24, just over a month before his 89th birthday. He retired in 2011 after a long television career that included hosting the syndicated morning shows "Live! with Regis and Kathie Lee" from 1985-2000 -- with co-host Kathie Lee Gifford -- and "Live! with Regis and Kelly"-- with Kelly Ripa -- from 2001 until his retirement.
• Ernest Hemingway, Muhammad Ali, Benjamin Franklin and Leonardo da Vinci are getting the Ken Burns treatment in the next few years. The PBS documentarian said this week that he has eight projects in the works, half of them in-depth looks at the four personalities. The da Vinci project is the first one Burns has done on a non-American subject, he said. The next great conflict that the maker of "The Civil War" is turning to is the American Revolutionary War, a project he hopes to have ready in 2025. He's also doing documentaries on the United States' actions during the Holocaust, the comeback of the buffalo and the history of President Lyndon Johnson's Great Society. PBS announced an online home for Burns' work and many of its documentary projects. On Tuesday, the service will launch the PBS Documentaries Prime Video Channel, available by subscription for $3.99 a month. Past programming from the "NOVA," "Frontline," "Nature" and "American Experience" shows will also be available for streaming on the new service. It will join other existing streaming services PBS Kids, PBS Masterpiece and PBS Living. Public television also announced a series of forthcoming projects planned in part as a reaction to the nation's discussion of social justice concerns in the wake of George Floyd's death. One will be a PBS Kids half-hour special, premiering on Oct. 9, about talking to youngsters about race and racism.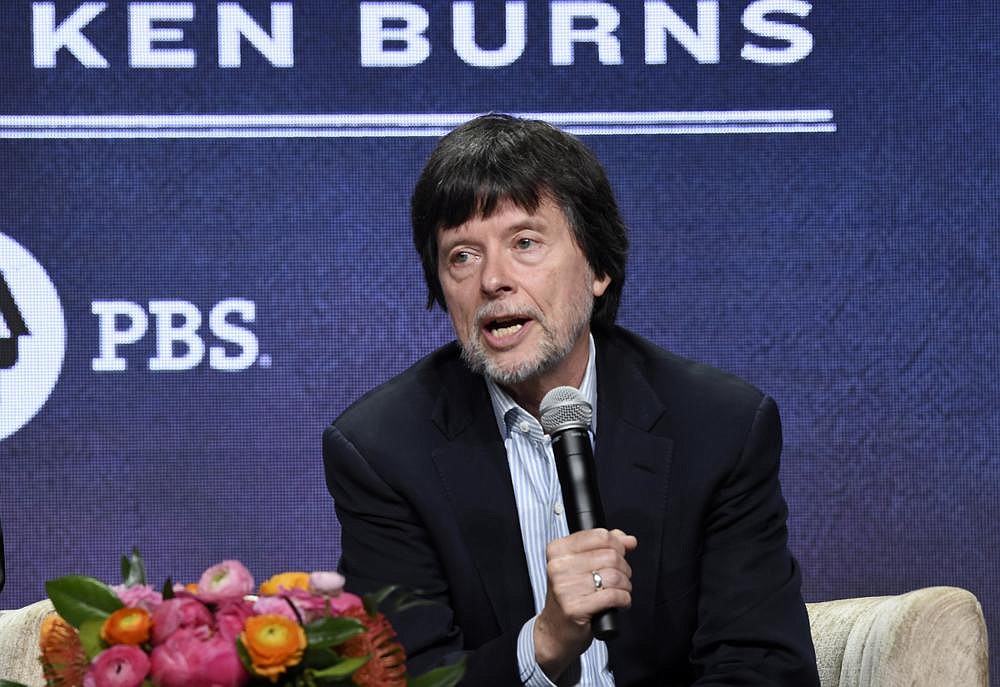 Ken Burns, director of the PBS documentary series "Country Music," speaks in a panel discussion during the Television Critics Association Summer Press Tour on July 29, 2019, in Beverly Hills, Calif. (Photo by Chris Pizzello/Invision/AP, File)
Sponsor Content