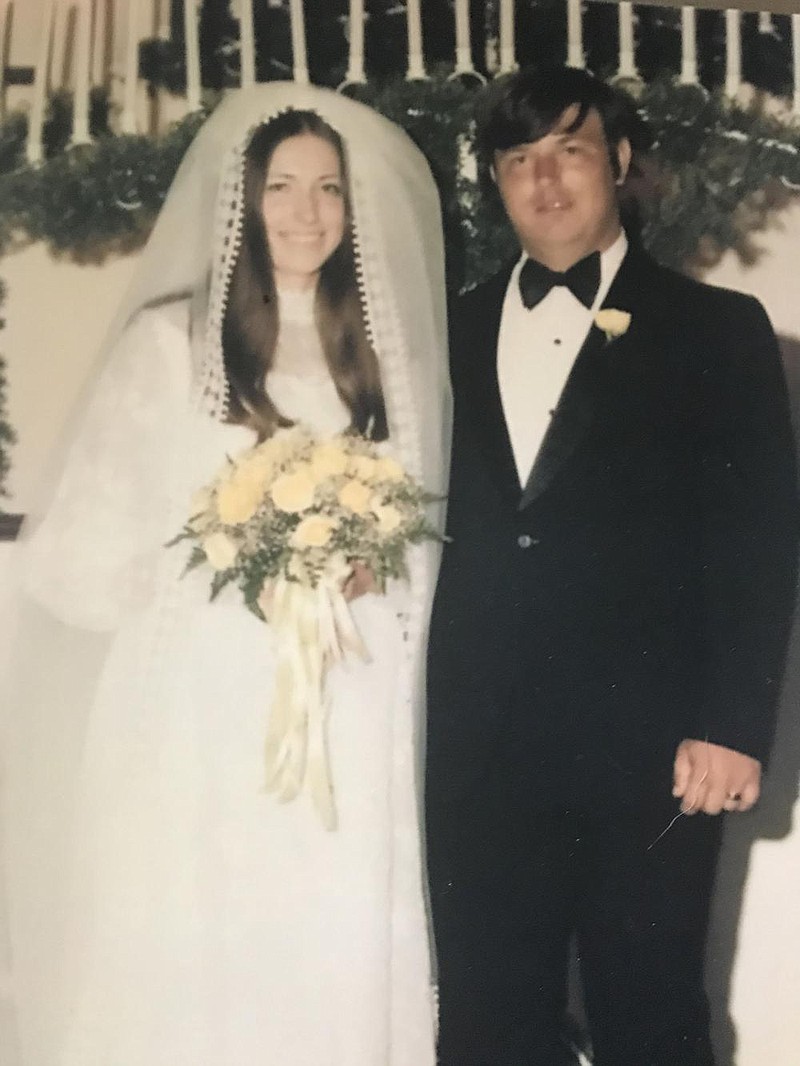 Judy White and Joe Rennicke were married on June 26, 1971. They met at Devil's Fork on Greer's Ferry Lake. He offered to take her for boat ride but left her high and dry. He has made up for that over the years. "We've always just had a good time," he says. (Special to the Democrat-Gazette)
Judy White didn't exactly fall for Joe Rennicke hook, line and sinker. Rather, he took the bait and chased her all around her hometown just to get a date.
She and her mother were meeting her cousin at Greer's Ferry for a girls' weekend in summer 1969 when Judy and Joe first met. When the Whites got to their cabin from their home in Newport, they went to a payphone in a pavilion to call her cousin and let her know where they would be.
"There was a group of people out there, sitting at the picnic tables," Judy says. "My mother talked to everybody. She started talking to them."
Joe was in that group, along with a single friend and a couple with their three kids. Judy's mother found out through the conversation that she knew the single friend's parents.
"The conversation just went on from there," Judy says.
Joe offered to take them all for a boat ride the next morning and mentioned that he was driving a black Ford pickup with a yellow barrel in the back.
"I had a thing against pickup trucks," Judy says.
But she and her cousin looked for him the next morning. They saw his truck with the yellow barrel in it parked at the dock, but Joe and the boat didn't return to shore to get them while they were there.
"We just swam and had a nice day," Judy says.
Joe doesn't remember why he didn't come back to look for Judy, but since the friends he was with had three children he thinks the group just got caught up in playing on the water.
Before Judy and her cousin went back to their cabin, she wrote Joe a note -- on a blank check, with her address and phone number printed on it -- and left it on the windshield of his truck, letting him know they had come by and didn't see him.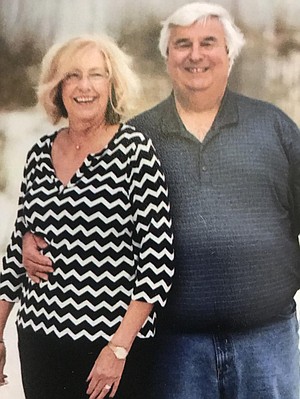 Judy and Joe Rennicke have delayed their anniversary celebra- tions most years because work on their farm was too demanding in June. Now that Joe is retired, they enjoy traveling and spending time at Greer's Ferry Lake where they met more than 50 years ago. "We're lake people," Judy says. (Special to the Democrat-Gazette)
"The way he does things, he lost that," she says with a laugh. "So he didn't have my phone number anymore."
Joe didn't let that stop him -- he drove to Newport, about half an hour from where he lived in Weiner, to look for her. He didn't remember where she lived, but he knew the ways of young people.
"Back in the day, we circled the Dairy Queen," Judy says.
She had her Pomeranian in the car with her the night she was cruising around with her friend.
"I think he couldn't figure out what it was jumping around in my car," she says.
He was in his parents' car and she didn't notice him at first. He had to make several passes before he got her attention and convinced her to stop and chat.
When he finally did, he asked her for a date.
"The next weekend was Fourth of July and he already had plans so I wasn't invited to that," she says.
But the weekend after that, they saw a movie -- "Paint Your Wagon."
"It was a good date," says Joe, who was 20, two years older than Judy.
Judy had gone to the university then known as Harding College in Searcy the year before but had already submitted paperwork to transfer to Arkansas State University at Beebe, where Joe was a student.
Once on campus together, they ran into a young man they discovered they both knew. That young man had brought several guys, including Joe, to the Harding campus to meet her the year before.
"They left me a message because I was in class. I don't know what they were doing," she says, a nod to the fact that unlike her, they were not in class. "He said, 'She's the one we went to Harding to see that day.' I guess he was probably hoping I would introduce them to some of my friends."
By Christmas, they had decided to get married.
They exchanged their vows on June 26, 1971, in Holden Avenue Church of Christ.
Joe was a senior the following year, and when he graduated they moved back to his family farm in Weiner.
"We've been there ever since," she says.
Judy and Joe have two children -- Brandy Carroll of Little Rock and Jennifer Rennicke of Springdale. They also have two grandchildren, Arden and Sophie Carroll, also of Little Rock.
Joe let Judy pick their wedding date, and she chose to be a June bride. But she did have to settle for later in the month because of the farm's schedule.
"I told her she had to wait until we got the soybeans planted," Joe says.
Because farming was their livelihood, they have delayed anniversary celebrations most years so he could work.
Judy has gotten over her distaste for trucks.
"Now, all I drive is a truck," she says. "I was a city girl then."
They enjoy traveling, especially now that Joe has retired. And he has taken her for several boat rides over the years, making up for the first couple that went awry.
"We're lake people," she says.
"We've always just had a good time," Joe says.
If you have an interesting how-we-met story or if you know someone who does, please call (501) 425-7228 or email:
kimdishongh@gmail.com
More News
The first time I saw my future spouse:
She says: "I was unimpressed. But I thought he was nice."
He says: "I thought she was a pretty girl, and I wanted to go out on a date with her."
On our wedding day:
She says: "My mother decided my wedding veil needed to be ironed and she burned a hole in it."
He says: "My dad was very work-oriented on the farm and this was just kind of an interruption."
My advice for a long happy marriage:
She says: "You can't wait for someone else to make you happy. You make your own happiness and someone else isn't going to do that."
He says: "Just be happy and be tolerant."
Sponsor Content