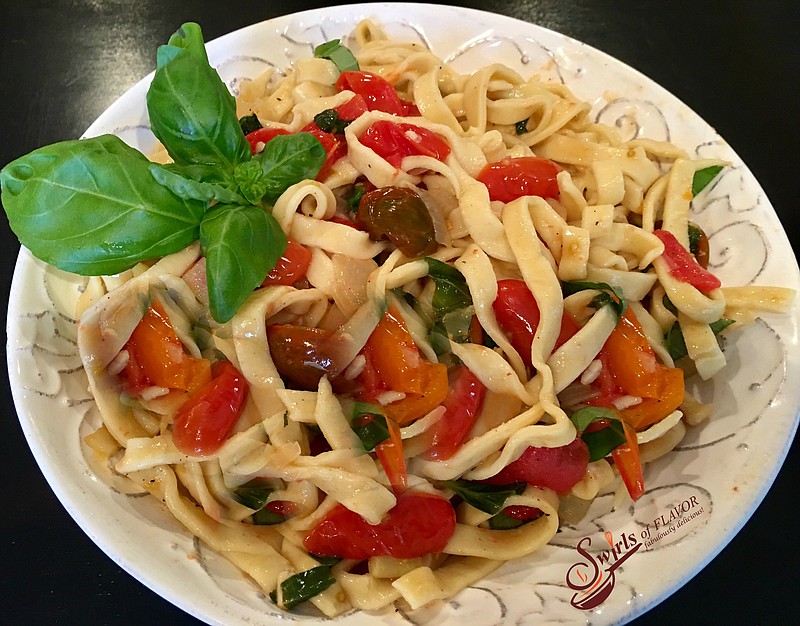 Tomato Basil Fettuccine (Courtesy of Gwynn Galvin)
This week marks the beginning of the 26th year of the 7-Day Menu Planner, completing 25 years of easy, healthful, economical and tasty menus for the whole family.
SUNDAY: Plan to relax on family day and buy an easy-to-prepare spiral-sliced ham. Add German potato salad and coleslaw from the deli, along with pickled beets and rye bread. Make Blueberry-Vanilla Napoleons for dessert: In a large bowl, beat 1 (3.4-ounce) package vanilla instant pudding mix into 1 ½ cups cold milk for 2 minutes or until well-blended; let stand 5 minutes. Add 1/3 cup pudding to a small bowl; cover and refrigerate. Into the remaining pudding, fold 1 cup (of 1 1/3 cups total) fresh blueberries. Reserve remaining blueberries. Thaw 1 (11 ¾-ounce) frozen pound cake and cut into 12 thin slices; toast until golden. Place 1 slice on each of 6 dessert plates. Spoon blueberry-pudding mixture onto slices, dividing evenly. Top each piece with another slice of cake. Garnish with reserved pudding and reserved blueberries. Serve immediately.
Plan ahead: Save enough ham, coleslaw and blueberries for Monday. Save enough ham for Wednesday.
MONDAY: Use some of the leftover ham for delicious Ham, Asparagus and Swiss Quiche (see recipe). Serve with leftover coleslaw and crusty rolls. Keep dessert light with leftover blueberries.
TUESDAY: For an easy meal, buy a packaged Mexican dinner kit and follow the directions. Serve with pinto beans and guacamole. Fresh pineapple spears are good for dessert.
WEDNESDAY: Treat the kids to Macaroni and Cheese With Ham by stirring cubed leftover ham into hot macaroni and cheese. Cover and let stand 5 minutes to heat through. Add baby carrots on the side for some crunch, along with bread sticks. Strawberries are good for dessert.
Plan ahead: Save enough carrots for Friday.
THURSDAY: Spicy Cheese and Rice Bake (see recipe) has plenty of flavor without any fuss. Serve it with a spinach salad with thinly sliced red onion and toasted walnuts. Add whole-grain bread. How about some juicy fresh apricots for dessert?
FRIDAY: We can't get enough tomatoes during the summer, so Tomato Basil Fettuccine (see recipe) is welcome and easy on the budget. Add garlic bread and leftover baby carrots. Watermelon wedges are a messy, fun dessert.
SATURDAY: Treat the family as you would guests when you serve them your grilled tuna tonight. Add packaged long-grain and wild rice. Summery sliced tomatoes garnished with fresh basil and drizzled with olive oil is our favorite salad. Add a baguette. Buy fruit tarts for dessert.
THE RECIPES
Ham, Asparagus
and Swiss Quiche
1 refrigerated pie crust (from a 15-ounce package)
1 tablespoon butter
1 medium onion, sliced
8 ounces fresh asparagus, cut into 1-inch pieces
8 ounces ham, cubed
2 medium tomatoes, coarsely chopped
3 eggs
½ cup milk
¼ teaspoon nutmeg
Dash hot sauce
8 ounces shredded Swiss cheese
Heat oven to 375 degrees.
Use a 10-inch quiche pan and prepare crust according to package directions for a 1-crust pie. Trim excess dough and refrigerate pan.
In a large nonstick skillet, melt butter on medium-low and cook onion and asparagus 5 minutes or until softened. Reduce heat to low. Add ham and heat through. Remove from heat and stir in tomatoes. In a separate bowl, combine eggs, milk, nutmeg and hot sauce. Spoon ham mixture into prepared pie crust. Add Swiss cheese and pour egg mixture over all. Bake 45 to 55 minutes or until center is set.
Makes 6 servings.
Nutrition information: Each serving (prepared with 1% milk and reduced-fat cheese) contains approximately 428 calories, 27 g protein, 27 g fat, 24 g carbohydrate, 145 mg cholesterol, 751 mg sodium and 2 g fiber.
Carbohydrate choices: 1.5.
Spicy Cheese
and Rice Bake
1 (14.5-ounce) can diced tomatoes with green chiles
6 ounces sour cream
4 cups cooked rice, divided use
4 ounces grated cheddar cheese, divided use
3 tablespoons sliced pickled jalapeno peppers
2 tablespoons chopped fresh cilantro
Heat oven to 350 degrees. Coat a 2-quart baking dish with cooking spray.
In a small bowl, combine tomatoes and sour cream. Layer half of rice, half of tomato mixture and half of cheese in the baking dish. Repeat layers. Bake 35 to 40 minutes or until cheese is lightly browned and casserole is bubbly. Garnish with jalapeno peppers and cilantro.
Makes 4 servings.
Nutrition information: Each serving (prepared with reduced-fat sour cream and cheese) contains approximately 359 calories, 15 g protein, 10 g fat, 53 g carbohydrate, 36 mg cholesterol, 759 mg sodium and 2 g fiber.
Carbohydrate choices: 3.5.
Tomato Basil Fettuccine
8 ounces fettuccine
4 tablespoons butter, divided use
1 cup chopped Vidalia onion
2 cloves garlic, minced
½ teaspoon coarse salt
¼ teaspoon freshly ground black pepper
1 pint cherry tomatoes, halved lengthwise
¼ cup dry white wine
½ cup chopped fresh basil leaves
Cook pasta according to directions; reserve ½ cup pasta water.
In a large skillet, melt 2 tablespoons butter on medium-high and add onion, garlic, salt and pepper. Cook 2 minutes or just until softened. Add tomatoes and cook 2 minutes or just until tomatoes begin to wilt. Add wine; cook 1 minute. Stir in reserved pasta water and remaining butter and cook until sauce forms. Stir in fresh basil and cooked pasta, tossing until evenly coated; cook 1 minute or until heated through. (Adapted from www.swirlsofflavor.com.)
Makes 4 servings.
Nutrition information: Each serving contains approximately 366 calories, 9 g protein, 13 g fat, 52 g carbohydrate, 31 mg cholesterol, 359 mg sodium and 3 g fiber.
Carbohydrate choices: 3.5.
Susan Nicholson is an Atlanta-based cookbook author and registered dietitian. She can be reached by email:
susan@7daymenu.com
Sponsor Content