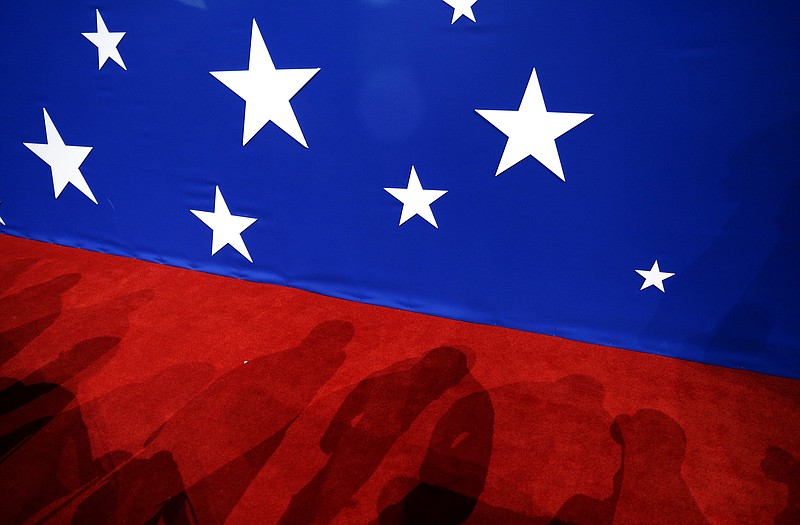 FILE - In this July 19, 2016 file photo, the shadow of delegates are seen on the convention floor during the second day of the Republican National Convention in Cleveland. The Republican National Committee is sharply restricting attendance on three of the four nights of its convention in Jacksonville, Florida, next month as coronavirus cases are spiking in the state. (AP Photo/John Locher)
Republican National Convention officials will allow a small number of journalists to cover the renomination of President Donald Trump in Charlotte, N.C., on Aug. 24, though party meetings Aug. 21-23 will remain off limits, officials announced this week.
Republicans also will livestream the Aug. 24 proceedings, officials said.
A convention spokesperson initially said the entire event would be "closed press," but Republican National Committee officials later said a final decision had not been made.
Tuesday, the convention's Committee on Arrangements announced plans for greater access.
"Given the flexibility indicated by the [North Carolina] Governor's team upon receiving the RNC 2020 Health Protocol Plan, the [committee] has worked with the Congressional Press Galleries who will select a limited group of reporters to cover Monday's formal nomination. However, given the in-person capacity limitations by the state of North Carolina due to COVID-19, the group will be small as to meet capacity and social-distancing restrictions in place," a news release stated.
"For television broadcast, the [committee] is working with the major news networks and C-SPAN to provide the primary TV coverage for Monday's event. The livestream is also available for broadcast purposes for news media entities upon request," it stated.
Jonathan Salant, president of the Regional Reporters Association, portrayed Tuesday's announcement as positive. Salant, a reporter for N.J. Advance Media, has attended the past 18 national conventions.
"We're glad that Republicans are letting the public witness a major historical event," he said.
Republican Party of Arkansas Chairman Doyle Webb, who chairs the convention's credentials committee and serves as convention general counsel, had expressed hope that reporters would be given access, telling the Arkansas Democrat-Gazette, "Normally, everything's open."
He noted, however, the challenges posed by the ongoing public-health crisis.
Because of the pandemic, this year's Republican National Convention has been dramatically scaled back. Rather than 2,550 delegates casting votes, there will only be 336 present -- six from each state, territory and the District of Columbia.
Instead of gathering in Charlotte's 20,200-seat Spectrum Center, Republicans will convene in the Charlotte Convention Center.
Trump plans to give an acceptance speech later in the week, either from the White House or Gettysburg, Pa., he said in a tweet on Monday.
Democrats, who initially planned to gather in Milwaukee, delayed their convention before scaling it back dramatically, telling thousands of delegates to stay home. At this point they're opting for a virtual convention.
Presumptive nominee Joe Biden plans to deliver his acceptance speech from his home state of Delaware.
Sponsor Content