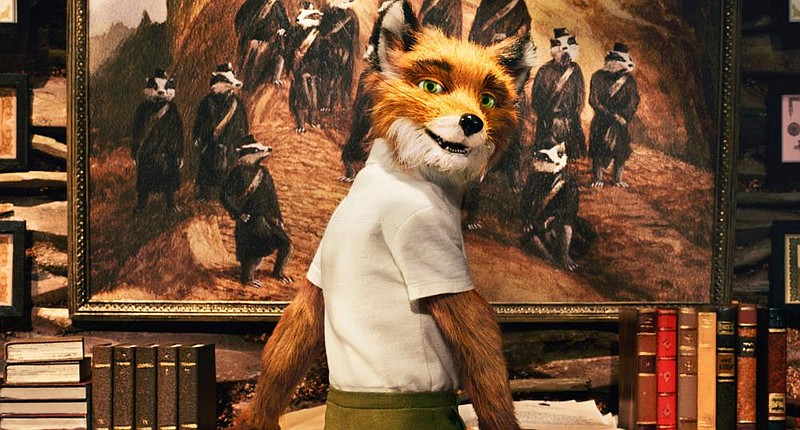 George Clooney provides the voice of the title character in Wes Anderson's "Fantastic Mr. Fox," a 2009 stop-motion animated comedy based on Roald Dahl's 1970 children's novel of the same name.
Stuck inside, and with precious little to do other than read books, bake things, and bug our friends and family members, there is no time like the present to fully put to use all those streaming services we've been paying for and underusing. For our new streaming column, we're rounding up the current 10 best films in a given genre you can stream at home. Given the multitude of streaming options, we're limiting our search to a selection of the biggest and best-known services -- Amazon Prime, Disney+ and Netflix -- along with a niche offering -- Criterion Channel -- that we honestly couldn't live without.
This Week's Genre: Kids
As much suffering as we adults have endured under the cruel provinces of covid-19, our children have paid dearly for their early break out of school, to the tune of online learning, no graduation or closure from the school year, and a mostly lost summer, with travel plans and camps all canceled. Not that parents haven't already had to pour through the streaming sites, finding every possible morsel of entertainment to dispatch to their heaving hordes, but, just the same, here's a list of wonderful, kid-friendly films that parents can also enjoy if they're coerced into sitting on the couch with their teeming offspring.
"City Lights" (1931): Charlie Chaplin became a comedy superstar on the strength of his extraordinary physical comedy genius, of course, but also from his canny emotional EQ: His understanding of human psychology was as sharp as Spielberg's (for better and occasionally for worse). This delightful silent film finds the downtrodden Tramp madly in love with a blind woman (Virginia Cherrill), who mistakes him for a rich duke. When he frantically enacts a series of schemes in order to earn the money to pay for an operation to return her sight, he sets himself up for the inevitable moment when she sees how wrong she was about his financial position.
Intended Kid Audience: Sentimentalists/Non-Traditionalists/Visual Gag Lovers
Sample Dialogue: "Remember, we split fifty-fifty, and you promise you won't hurt me."
Streaming Service: Criterion Channel
"Coco" (2017): A strong, later-era Pixar film, and their first Hispanic-based adventure, the narrative concerns a young boy (Anthony Gonzalez), desperately wanting to be a musician to the consternation of his family, having long enacted a ban against such artistic folly. Eventually, the boy travels to the land of the dead to seek guidance from his deceased grandfather, once a great musician himself. Culturally rich and emotionally evocative, Lee Unkich and Adrian Molina's film is also visually entrancing.
Intended Kid Audience: Music-Lovers/Aspirationals/Color Fiends
Sample Dialogue: "He's been forgotten. When there's no one left in the living world who remembers you, you disappear from this world. We call it the Final Death."
Streaming Service: Disney+
"Elephant" (2020): NOT to be confused with the Gus Van Sant drama of the same name (this would be a traumatic mistake), this Disneynature animal documentary focuses on a mother elephant and her young calf as they make the long migration across the Kalahari Desert toward the life-giving waters of the Zambezi River. As a sort of beginning documentary experience, Disney's clear narrative lines -- and relentless anthropomorphism -- make for a captivating watch for younger ones. Nature isn't entirely neutered in these films, but she is softened enough to be generally comforting. Notably, Meghan Markle is our narrator, her first gig since that whole Royal removal thing.
Intended Kid Audience: Early Animal Lovers/Science Types/Kids Who Dig Trunks
Sample Dialogue: "The herd does need to drink, and they do trust Gaia, but this is unsettling!"
Streaming Service: Disney+
"Fantastic Mr. Fox" (2009): For most parents, the best possible outcome is to be able to watch a film with your kid and absolutely adore it yourself. Wes Anderson's lively and clever claymation adaptation of the Roald Dahl book, co-written by Noah Baumbach, is so filled with clever whimsy and intricate dialogue, it's thoroughly irresistible. With an impressive voice cast including Anderson mainstays Jason Schwartzman and Bill Murray, along with George Clooney, Meryl Streep and Willem Dafoe, and with wondrous creative flair, the film remains thoroughly enjoyable, regardless of age or disposition.
Intended Kid Audience: Sophisticated Readers/Lovers of Language/Little Cusses
Sample Dialogue: "Why a fox? Why not a horse, or a beetle, or a bald eagle? I'm saying this more as, like, existentialism, you know? Who am I? And how can a fox ever be happy without, you'll forgive the expression, a chicken in its teeth?"
Streaming Service: Disney+
"John Mulaney & the Sack Lunch Bunch" (2019): The comedy of John Mulaney combines the sophisticated current with a weirdly comforting sense of the past -- he's like a time traveler from another era, but it's unclear which direction he's coming from -- so his variety-show kids' special is pretty much on-brand for him. He's brought your comedy sketches, your silly songs, and a cavalcade of special appearances, but all with his arch quality that calls things into question without slipping into full irony. He's not a dad, per se, but like your cool uncle with whom you secretly wish you could live with so you could stay up all night eating saltines and Skittles, watching monster movies.
Intended Kid Audience: Showtunes Lovers/Silly Heads/Ironists
Sample Dialogue: "Give me the clarinet you mentioned before/I said I didn't need it/Give it to me, please/You'll never believe what a sound it makes/When I throw it out the window and the window breaks."
Streaming Service: Netflix
"Madagascar 3: Europe's Most Wanted" (2012): Weirdly, this is the second animated feature on this list to have been written by Noah Baumbach (much better known as a chronicler of live-action neurotic adults and their families), but it's also a big winner. This installment finds the gang joining a European circus in hopes of eventually getting back to their beloved New York (certainly a sentiment with which Baumbach, a Gotham native, can sympathize). Filled with clever plot twists, and strong character work (voices include Ben Stiller, Jada Pinkett Smith, Chris Rock and Frances McDormand), its infectious energy powers it along as if on Maglev rails.
Intended Kid Audience: Animal Lovers/New Yawkers/Lion King Skeptics
Sample Dialogue: "Wait a minute, that's no lady, that's the King of Versailles; and that's not the King of Versailles, that's the chimps! And the chimps are smoke, and where there's smoke, there's fire, and by fire, I mean the penguins!"
Streaming Service: HBOM
"My Neighbor Totoro" (1988): One of the most beloved of the animated oeuvre of Hayao Miyazaki -- which is saying something, considering the great Japanese animator has made a literal cottage industry out of his other 28 titles -- the film, only his second feature, has all the ingredients that would come to be recognized as his singular genius. A pair of young girls move to the country in order to be near their sickly mother and end up befriending a woodland spirit, with whom they share grand adventures.
Intended Kid Audience: Adventurists/Dreamers/Creative Types
Sample Dialogue: "Trees and people used to be good friends. I saw that tree and decided to buy the house. Hope Mom likes it too. OK, let's pay our respects then get home for lunch."
Streaming Service: HBOM
"Rango" (2011): Before the endless hot-goss epic of the dissolution of his marriage to Amber Heard, Johnny Depp was a skilled and creative performer, as with his turn in Gore Verbinski's animated Western, about a simple former pet chameleon (Depp), who arrives at a dusty western town of thirsty animals, and gets pressed into duty to become its sheriff, a role he at first relishes and then soon comes to abhor.
Intended Kid Audience: Changelings/Gunslingers/Braggarts
Sample Dialogue: "All right, folks; stand back, clear the area, this is a crime scene, now. Secure the parameter, dust for prints, check for fibers, scan for DNA, I want a urine sample from everyone and get me a latte. Don't mix up the two."
Streaming Service: Amazon Prime
"The Boy Who Harnessed the Wind" (2019): One of those earnest, fact-based films that remains moving despite its easy predilections, Chiwetel Ejiofor's directorial debut concerns William (Maxwell Simba), a teenage boy in Malawi, whose love of science and physics leads him to build a wind turbine for his desperately drought-ridden village, saving the community. The talented Ejiofor also wrote the screenplay, based on the book by the now-grown William Kamkwamba. As a paean to the ways science can enact positive change, it's directly on-point.
Intended Kid Audience: Junior Scientists/Puzzle Lovers
Sample Dialogue: "It's not a dream, Papa. I'm not dreaming."
Streaming Service: Netflix
"Willy Wonka & the Chocolate Factory" (1971): While we were extolling the virtues of Mr. Depp above, there is absolutely no contest between his and Tim Burton's off-putting collaboration with Roald Dahl's novel, and this original adaptation from Mel Stuart, which stars the redoubtable Gene Wilder as the titular candy magnate, and Peter Ostrum as his young charge. Less disturbing than Burton's interpretation (albeit one that retains the racist Oompa-Loompas) this version nevertheless captures the somewhat cruel spirit of the original novel, dispatching ill-mannered children with flinty aplomb.
Intended Kid Audience: Book Lovers/Candyists/Young Businesspeople
Sample Dialogue: "If you want to view paradise, simply look around and view it. Anything you want to, do it; want to change the world ... there's nothing to it."
Streaming Service: Netflix
Sponsor Content