In June 2018, when Tara Harper told Frederick Rahr that she was going to drive eight hours round trip, from Dallas to Pasadena, Texas, to pick up an elderly and neglected German shepherd, she never imagined the man she had been seeing for just a few months would volunteer to join her. When he did, she figured he was just trying to score a few points with her.
But after both had spent time in the car with the rescued animal, Harper knew that having Rahr, 53, who goes by Fritz, with her at that time was so much more. "It didn't matter to Fritz that our new friend was dirty and smelled," she said.
When they returned to Harper's Dallas home, Rahr jumped in the shower with the old dog and gave him what was probably his first bath. "After the shower, Fritz and I were sitting on the kitchen floor exhausted," Harper said. "The [dog] came over to Fritz and put his foot on his arm, thanking him. I started bawling."
It was then that Harper, 45, realized that his love of animals and rescuing them was real. "But more than that," she said. "I knew he was kind. I knew in that moment that I was going to spend the rest of my life with this man."
The pair had first met at a Rahr & Sons Brewing Co. event in Fort Worth where Harper was holding a dog adoption for the charity she co-founded, Paws in the City. Harper teases that she's surprised Rahr remembers meeting her as she was in sunglasses and a ball cap all day. Even the date is a little fuzzy now, she says. "We think it was about nine years ago."
'REACHED OUT TO HER'
In September 2017, Rahr messaged Harper on Facebook. "I reached out to her after I saw her comment on a mutual topic of interest." Rahr says he couldn't help himself. "I had to ask Tara out on a date," Rahr said, "There was something captivating about Tara. Her love and passion for dog rescues really hit home for me. I would do anything for my dogs and from what I could tell Tara would do that and a lot more."
Harper didn't say yes at first. In fact, Rahr, who lived in Fort Worth, asked several more times before she finally agreed. It wasn't that she wasn't intrigued. "I immediately thought he was incredibly good-looking, very nice and funny," she said. "The truth is I needed to do my research. Dallas and Fort Worth are two completely different worlds. I couldn't simply make one call and know everything about him like I could if he lived in Dallas."
Their first date was in October 2017 at Del Frisco's Grill in Dallas, and it turned out to be more of a first meeting. When Rahr arrived at the restaurant, he spotted Harper at a table with a half dozen or so of her friends. "I thought she was just hanging out with some friends and we would move to another table for the evening," Rahr said. But that was not the case. She simply asked him to have a seat.
"My friends are very important to me," said Harper, explaining why she was with her friends at the restaurant. "In order for a relationship to work everyone has to get along and enjoy each other. He passed the test with flying colors."
WASN'T BOTHERED
Rahr wasn't bothered by the extra company. "I immediately fell in love with her and I did everything I could not to mess things up in front of everyone," he said.
Neither Rahr nor Harper is used to messing up.
Rahr started Rahr & Sons Brewing, a microbrewery, in 2004, after a long and successful railroad career. He had worked at Southern Pacific, Conrail, and, ultimately, at the Kansas City Southern Railroad as the director of sales. Back then, microbrews weren't popular in Fort Worth, but he managed to increase business over the years.
In 2011, Harper left a job as the vice president in her family's design and manufacturing business only to return in February 2019 to be a co-founder of Blushly Beauty, a beauty accessories company that is a branch of her family's business.
She has never let fear of failure stop her when it comes to relationships, either. She has been engaged four times and each time knew the man asking was not "the one." It was entirely different with Rahr, Harper said. Right from the start, she said, "It all felt right."
In July 2019, she moved into Rahr's Fort Worth house. This past February, they bought a house together, also in Fort Worth.
PLANNED TO PROPOSE
Rahr had planned to propose to Harper during a trip he organized to New York in July 2019. "New York City is a very special place for both of us," he explained. "It's the city Tara grew up in, and she still has family there."
But their flight was canceled because of bad weather. Two month later, he planned another New York getaway. "I contacted everyone again, spun the trip to New York with Tara as a family outing this time with her family and my sister and boyfriend and her brother and husband," Rahr said. "I wanted to ask Tara to marry me at Rockefeller Center. That was the first place I told Tara I loved her."
On the trip were Harper's parents, Suzanne and John Harper of Ennis, Texas, and her brother, Brad Harper, and his husband, Pedja Arandjelovic, as well as Rahr's sister, Heidi Rahr, and a handful of close friends. They all met at the planned proposal spot and Rahr popped the question. "She was confused at first, but soon realized what was going on and that everyone else was in on it," he said. "She bent over, placed her hands around my face, and said, 'Yes. Yes. Yes.'"
The couple originally planned to marry July 23 at Villa Balbianello on the western shore of Lake Como, Italy, with family and close friends, but they had to pull back those plans because of the coronavirus. (They are planning a vow-renewal ceremony at Villa Balbianello in July 2021.)
BOUNTY OF PINK ROSES
Instead, they married at home on July 11. They dressed their house in a bounty of pink roses, set up a Zoom call with 45 guests, and invited a small group to attend in person. Among those present were Harper's parents and brother and Rahr's two sons from a previous marriage, Will and Hayden Rahr. A friend of the couple, Ron Corning, officiated, having been ordained by Universal Life Church. And the couple's dog, Shep (that forlorn German shepherd they rescued), acted as ring security during the ceremony.
With a recording of "Here Comes the Bride" playing, Harper, wearing a Monique Lhuillier gown, glided down the stairs of their home and down an aisle created in the dining room, which had been set up with chairs and a lush wall of pink roses. Rahr waited at the end of the aisle wearing a classic custom tuxedo and vest from Sean Marshall of Marshall & Metcalf.
The ceremony was a mixture of prayers and readings, and the vows included some personal jokes. Rahr vowed "to assist in rescuing dogs," and Harper promised "to share in long drives to the Duck Camp," a reference to Rahr being an avid hunter.
"After all the changes in plans, as upsetting as it was, we pulled together an amazingly, beautiful wedding in our home with our family and friends," Rahr said.
After the ceremony, the newlyweds greeted friends and family on Zoom. Guests wished them well.
"We love you!"
"Congratulations!"
"See you in New York!"
OPULENT DINNER
For the in-person guests, an opulent dinner prepared by the chef John Bonnell of Bonnell's Restaurant in Fort Worth followed the ceremony. The small group gathered at a set table with pink roses and white hydrangea.
Although there was no bouquet toss or a father-daughter dance, the couple did have a first dance to Frank Sinatra's "The Way You Look Tonight."
"Even though we prepared for our dream wedding in Lake Como, Italy, having the wedding in our home made it feel like that's where it was meant to be," Rahr said.
"If there is a couple out there who is feeling sadness for not being able to have that 'dream wedding,' take a page out of Tara and Fritz's book," Corning said after the event. "Don't let the day be defined by where it is or how many people attend. Tara and Fritz are proof you can make it special and memorable under any circumstances."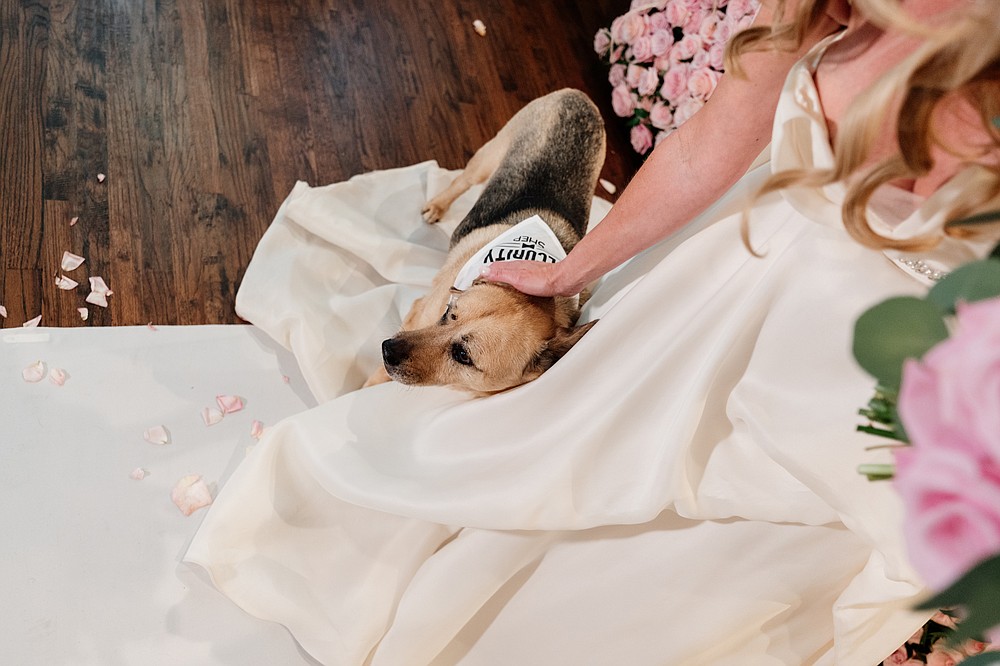 Tara Harper pets her dog, Security, at her wedding, Fort Worth, Texas, July 11, 2020. Harper knew Rahr was the one after he volunteered to join her on a trip to rescue a German shepherd and then gave it a bath. (Zerb Mellish/The New York Times)