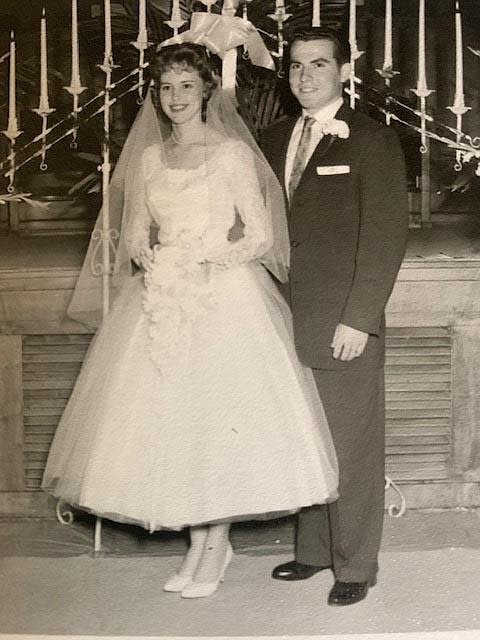 Wilma Williams and Gene Weston were married on July 15, 1960. A poem he wrote for her was published in the International Library of Poetry in 2001. ìI hope my life gave proof/and I think you love me too/I didnít shout it from the rooftops but I really do love you,î he wrote. (Special to the Democrat-Gazette)
The only thing Wilma Williams was interested in learning more about -- as she sat in study hall during her junior year of high school -- was Gene Weston.
"The study hall was divided with part set on one side and part set on the other, and I sat there and stared at this good-looking guy across the way," says Wilma, who was new to Hot Springs High School in 1957.
Gene, a senior, was focused on his books.
"I hadn't noticed her in study hall," he says. "She was the one who noticed me."
He worked in his family's business, Hot Springs Packing Co., every afternoon so he desperately needed to finish his homework before the end of the school day.
"He had wavy, auburn hair, and he was really muscular. I thought he was so good-looking," Wilma says. "But he kept his eyes down, studying, so I didn't see his eyes that much."
Wilma talked to a guy she knew at school about Gene, and he offered to arrange for her to meet Gene one day between classes, just a few weeks into the school year.
It didn't take much for Gene to agree to an introduction.
"I was just interested in meeting pretty girls," Gene says. "When I went up to the fourth floor of the high school and started to ask her if I could take her home from school, she turned away from me. I thought, 'Well, you know, she's changed her mind.' She was kind of bashful. I think that got me a little bit."
Wilma blushed and told him if he took her home, he would also have to take her younger sister, who was in junior high. He told her that was fine, and the brief ride that afternoon gave them a few more minutes to talk.
Gene had been on plenty of dates and had no trouble finding girls, he says, but most were not as demure as Wilma.
"The other girls were more enthusiastic. She was quieter. She would hardly talk to me at first," Gene says.
He was intrigued by her reserve, and in short order, he asked her out.
Wilma's father was a minister and he insisted that her first date with Gene be at church. Gene's church was having a party so they went to that.
Her father didn't specify where they should go on later dates but they had no problem finding fun. They got burgers and ice cream at the local hangouts and spent time with friends.
"Back then it was mainly movies and drive-in movies and church," Wilma says. "He taught me how to ski, too, but that was after we got married."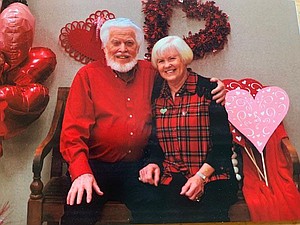 Gene and Wilma Weston met after she studied him in school for several weeks. ìI sat there and stared at this good-looking guy across the way,î she says. (Special to the Democrat-Gazette)
The Christmas after they started dating, Gene's gift to Wilma was a big cedar chest he had delivered to her house. Inside the chest were several smaller boxes, one nestled inside the other.
"They just kept getting smaller and smaller until I got down to the last one and inside it was a watch," she says. "And then he drove by and brought my mother a trash can because he knew she would want me to throw all the trash in it."
Wilma graduated in 1959 and got a job at Dierks Forest Inc. Gene had started college at what was then Henderson State Teachers College (now Henderson State University) in Arkadelphia.
They got engaged while they sat in a pavilion on North Mountain.
"She hinted all around," Gene says.
"I did not," she says, though she says she can't remember him actually proposing.
He gave her an engagement ring on Christmas Eve, at his grandfather's house where his family had gathered to celebrate the holiday. The wave of attention their announcement brought resulted in Wilma blushing extensively.
"She was still bashful," he says.
They exchanged their vows on July 15, 1960, at Second Baptist Church in Hot Springs, about three years after they started dating.
Gene's nerves took over and he almost fled because of them.
"I chickened out and headed out the back door and two guys brought me back into the auditorium," Gene says. "I was only 19, and she was only 18."
He had forgotten until the day before the wedding that he needed to get a suit.
He found a brown one in a local store, though there was no time for alterations.
"He still looked good, so it didn't matter," Wilma says.
When Gene was 29, his family sold the business and he went into banking.
"I was vice president at three banks, and I ran five title companies," he says. "I got to be well-known all around, in the governing structure and everything around Hot Springs."
Their daughter, Amy Schultz of Hot Springs, was born 15 years after they married. They have one grandson, Weston, who will be 4 years old next month.
There were plans for a party to celebrate their 60th anniversary this year, says Wilma, but they were squelched by covid-19.
"We decided it would just be best if we didn't," Wilma says. "[Amy] just came over and brought us a cake and we celebrated together."
If you have an interesting how-we-met story or if you know someone who does, please call (501) 425-7228 or email:
kimdishongh@gmail.com
More News
The first time I saw my future spouse:
She says: "I just thought he was so cute. I couldn't keep my eyes off of him."
He says: "It wasn't love at first sight. I wanted to date her but I didn't really know anything about her except what my friend had told me."
On our wedding day:
She says: "I was nervous but excited."
He says: "I was busy trying to get my clothes together and everything and I don't remember thinking about it a whole lot until I got to the church. Then I got real nervous."
My advice for a long happy marriage:
She says: "Put God first, your family second and yourself last. That's what he does for sure. I'm not sure I always do that."
He says: "I keep saying two words — patience and perseverance."
Sponsor Content