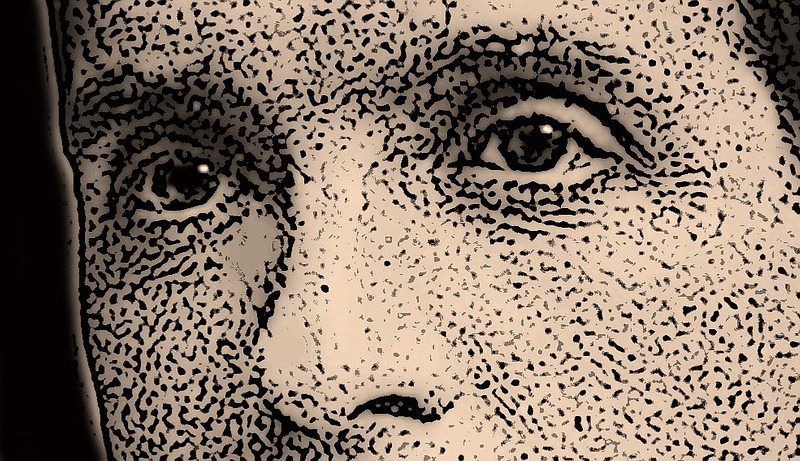 Charles Ponzi, circa 1915-20, after an image in the George Grantham Bain Collection at the Library of Congress. (Democrat-Gazette illustration/Celia Storey)
An extraordinary con man came under federal investigation 100 years ago today in Boston.
About the same time, stories about him appeared in Arkansas newspapers. Con men come and con men go. What made this one a household word?
I looked up the flimflam artist in the digital collections of the Library of Congress and, gotta say: Charles Ponzi, kind of a cutie.
But what a talker. What a character.
Thanks to his charisma and many, many copycats, including, eventually, Bernie Madoff, 100 years after Charles went to jail, Americans know and even understand the financial term "Ponzi scheme." It's a particular type of ripoff. It's not merely a ripoff in which a broker exaggerates the value of an investment, saying it will produce big yields with little risk. That's simple dishonesty.
What makes a Ponzi scheme special is the robbing of Peter to pay Paul. The people who fall for a Ponzi schemer are not actually investing in the product or system or business or person they imagine themselves supporting. The schemer takes their money and shuffles it around. When the time comes to pay returns to yesterday's clients, he gives them money deposited by today's.
These later investors could get money too ... unless nobody else comes along to invest after them. Last one in gets the rotten egg.
Ponzi schemes are related to another scam, the "pyramid" scheme. In a pyramid, the schemer requires that his investors recruit more customers. Charles Ponzi didn't require his early investors to be his accomplices. They volunteered.
He made good on his promise of "profits" for people who then went forth and told their friends about the genius on Boston's School Street with the sure-fire money machine.
According to an account in the book "Pulitzer's Gold: Behind the Prize for Public Service Journalism," Ponzi had been raking in dough for a few months in Boston when, on July 4, 1920, a courthouse reporter for the Boston Post filed an item about a $1 million lawsuit against him by a former employee. The reporter couldn't get a quote from the plaintiff, but Ponzi was always ready to chat up the press. He bragged about the success of his clever business that returned clients' money plus 50% in just 45 days.
The lawsuit had been filed, he said, by a guy who hated him because he was wealthy.
The 5-foot, 2-inch Italian immigrant, a famously snappy dresser, was estimated to be worth $8.5 million. (According to the inflation calculator at in2013dollars.com, $8.5 million in 1920 had about the buying power that $110 million has today.) Ponzi owned all kinds of properties, such as trust companies, office buildings, a big estate, a mansion, motor cars. He even owned a bank that had turned him down for a business loan.
But the editor of the Post was suspicious about those 50% returns and only in part because some press employees had invested with Ponzi. The editor put a team on the story.
Eventually, the Post would win a Pulitzer for two months of dogged reporting that drew the attention of authorities who exposed the hollow core of the scheme. But for starters, the paper published two mostly positive reports that drew flocks of new customers to Ponzi's shop on School Street. The first ran July 24 on Page 1. It quoted his rags-to-riches life story — leaving out his criminal record — and sketched his account of how he took advantage of different exchange rates for postal reply coupons.
The coupons were a form of postage stamp that could be bought in one country for use in another.
Citizens lined up to invest for weeks even as the Post published more-skeptical pieces, quoting authorities on the impossibility of making as much as Ponzi claimed to make off the coupons.
His name was first mentioned in the pages of the Arkansas Gazette on July 27, 1920, on Page 12, under the headline "Get Rich Quick Plan Is Probed."
This report from Boston stated that Ponzi had agreed to stop taking deposits from investors so an auditor selected by a district attorney could look at the books of his Securities Exchange Co. This probe finally triggered an avalanche of clients frantic to get their money back.
You can read about how cleverly he managed publicity during this sensation in a history piece published by Smithsonian Magazine in 2009 during the Madoff scandal. (Here's a shortcut link: arkansasonline.com/817ponzi ).
In Arkansas, the Gazette followed up July 30 with a local angle, about postal matters in Little Rock. I will now quote from that report for you, Dear Reader.
No One Here Gets Rich
Off Coupons
"Time was when to most people the equivalent of postage stamps were pennies. Of course, too, everyone realized that a penny was a start on the road to wealth, but not even the most ambitious and thrifty barefoot boy had dreams of acquiring great wealth suddenly by means of a postage stamp — or its equivalent.
"With the reported amassing of a fortune of $8,000,000 by Charles Ponzi of Boston, our ideas of postage stamps have undergone a radical change. The little International Reply Coupons have assumed a new dignity in the eyes of the public, yet they are nothing more than the equivalent of postable stamps. They are little slips of paper which may be purchased at any large post office for six cents, and in any foreign country, they may be exchanged for a five-cent stamp. Or the process may be reversed and those bought in foreign countries may be redeemed in the United States.
"Heretofore they have been regarded as a convenience and not as a means to achieve wealth. Moreover, in this part of the country, they have been for the most part a neglected convenience. The Little Rock post office ordinarily sells only two or three a month, but since the war a few more than usual have been sold. The purchasers usually are people who have relatives in foreign countries and who during the war were unable to hear from them. They enclose return postage to make an answer more certain. They are not used to any extent by business houses, it is said."
In the months that followed Ponzi's eventual arrest and conviction, "Ponzi" became a generic noun and "Ponzi imitator" appeared often in Arkansas headlines, sometimes dignifying small-potatoes crooks. You can see the solidification of a new household term in all these headlines and sarcastic news items.
My favorite is a quip from the Oct. 22, 1920, Gazette editorials:
Seven hundred sharks
are caught every month
and sent to the tannery,
says the Popular Science
Monthly. Boston merchants soon may be advertising "Ponzi shoes."
Email:
cstorey@adgnewsroom.com
Sponsor Content