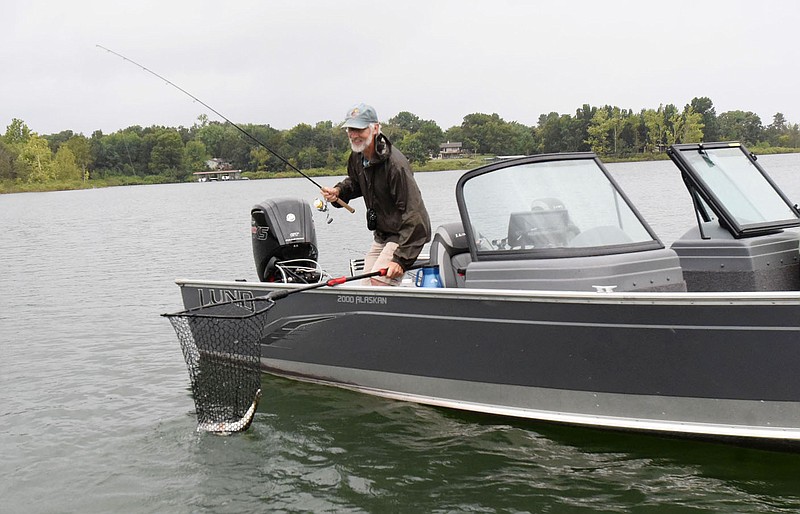 Bruce Darr nets a walleye, one of 10 species of fish three anglers caught at Beaver Lake while using one type of lure. A rainy day July 31 2020 had the fish in a mood to bite. (NWA Democrat-Gazette/Flip Putthoff)
It's a day of fishing when anglers need fingers and toes to count their catch. It's even better when the number of species soars into double digits.
What better way to beat summer's dog days than by catching 25 to 30 fish at Beaver Lake on a cool and rainy Friday, July 31. The truly remarkable frosting on the cake was catching 10 species of fish, all on the same type of lure.
Three anglers fished in two boats and bounced blade baits off the lake bottom 30 feet deep. It's heavy metal fishing. Blade baits are thin, metal minnow-imitating lures with a treble hook on each end. Jigging spoons are simple slabs of metal with a single treble hook. Both look like a meal to game fish and are good for working deep water.
The trio knew fish were there. They could see them. Bright screens of their depth finders showed schools of bait fish, most likely threadfin shad, near the bottom below their boats. Larger fish lurked all around, close to the bait.
A depth finder is like fish radar, indicating if fish are below. It also shows the depth of the water and surface temperature.
What a depth finder doesn't do is get fish to bite. But all kinds of fish, 10 species, were in a feeding mood on this gray, rainy morning.
Bouncing blade baits or jigging spoons near the bottom is a tried and true way to catch fish during midsummer. The key is to find schools of bait fish with a depth finder, then lower a spoon or blade bait directly over the side of the boat. Let the lure sink until it hits bottom, then crank the reel handle a time or three so the lure is a couple feet above the bottom.
Raise the lure with the rod tip, let it flutter down and hang on tight. Bites often come during the lure's fall as it imitates an injured bait fish.
Creek arms, bays and coves at Beaver and other Ozark reservoirs are good places to look for bait fish. Bruce Darr and Alan Bland found school after school of bait fish and game fish on July 31, searching a cove in the middle portion of the lake.
Fishing was good from the early 6:15 a.m. start all through the morning. Darr lives on the lake east of Rogers and fished out of his boat. Bland, of Rogers, and his fishing buddy fished beside Darr in another boat.
Darr reported catching high numbers of white bass the previous morning, so white bass were the hoped-for fish. But black bass, yellow bass, walleye and a small striper were the first to bite.
Bland kept count of the species. The wow factor of this trip grew as the number hit seven species by 9 a.m. Yet nary a white bass had bit the nearly identical blade baits the trio jigged near the bottom.
Around midmorning, Darr boated a heavy white bass for species No. 8. The count hit 10 species and 25 to 30 fish by late morning. Fish were still biting and the rain kept falling at the end of the trip.
The 10 species were: White bass, yellow bass, largemouth bass, spotted bass, walleye, small stripers, catfish, bluegill, crappie and longear sunfish.
"I always like cloudy days, and a little drizzle isn't bad either," Darr said earlier in the morning. When the drizzle turned to a steady shower, out came the rain gear and the three kept jigging.
"I was hoping we'd catch fish," Bland mused. "I never thought in my wildest dreams we'd catch 10 different kinds."
This bottom-bouncing, blade-bait fishing can be hit and miss. Sometimes it's difficult to find fish. Then they may not bite. Cloudy days seem better than sunny ones. First light to midmorning is usually the best time for this summertime fishing. Evenings are good. Rainy days may bring the best catching.
Fishing in the rain is kind of natural, really. As a wise angler once said, "Fish like water."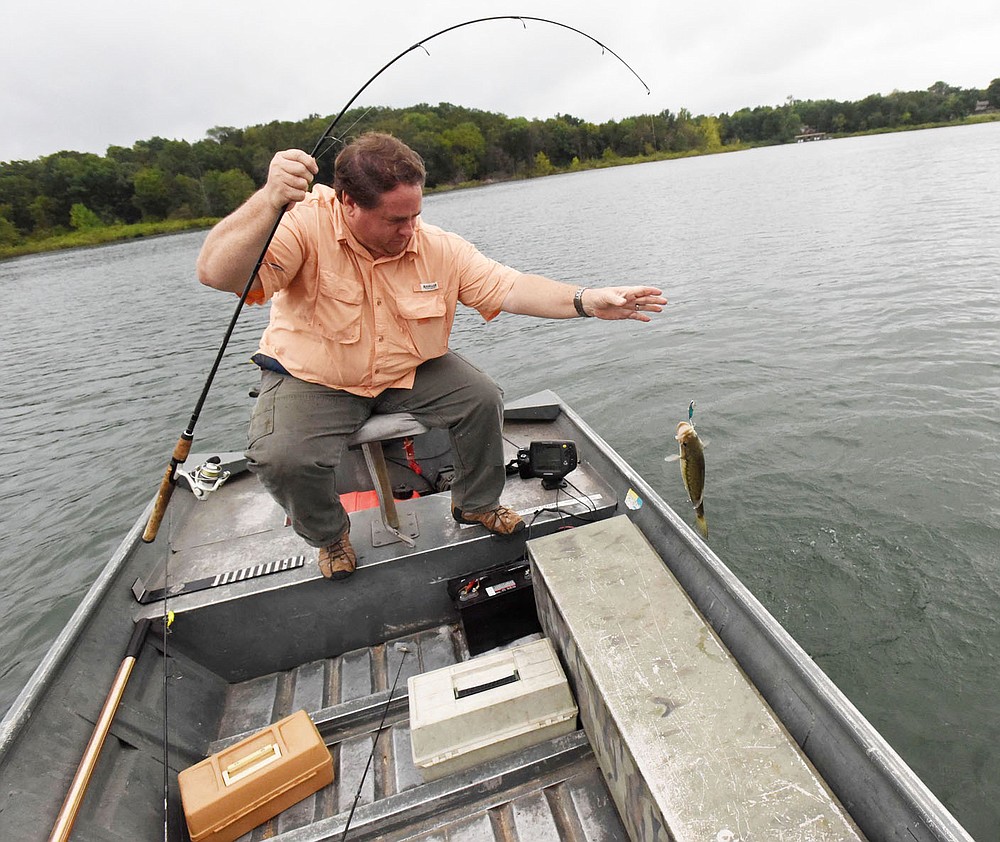 Alan Bland welcomes a largemouth bass aboard July 31 2020 to add to the species count. A catch of 25 to 30 fish on a rainy morning came be jigging blade baits near the bottom 25 to 30 feet deep. (NWA Democrat-Gazette/Flip Putthoff)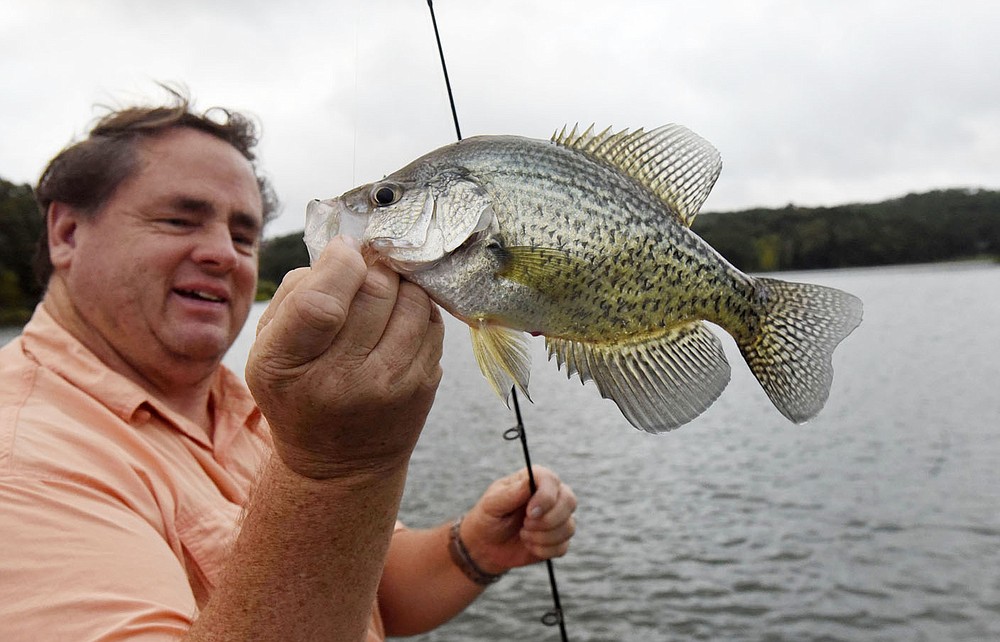 The morning's catch include some nice-sized crappie, such as this one Bland caught July 31 2020 while jigging a blade bait. (NWA Democrat-Gazette)
Blade baits jigged vertically near the bottom 25 to 30 feet deep worked to catch 10 species of fish July 31 2020 at Beaver Lake. (NWA Democrat-Gazette/Flip Putthoff)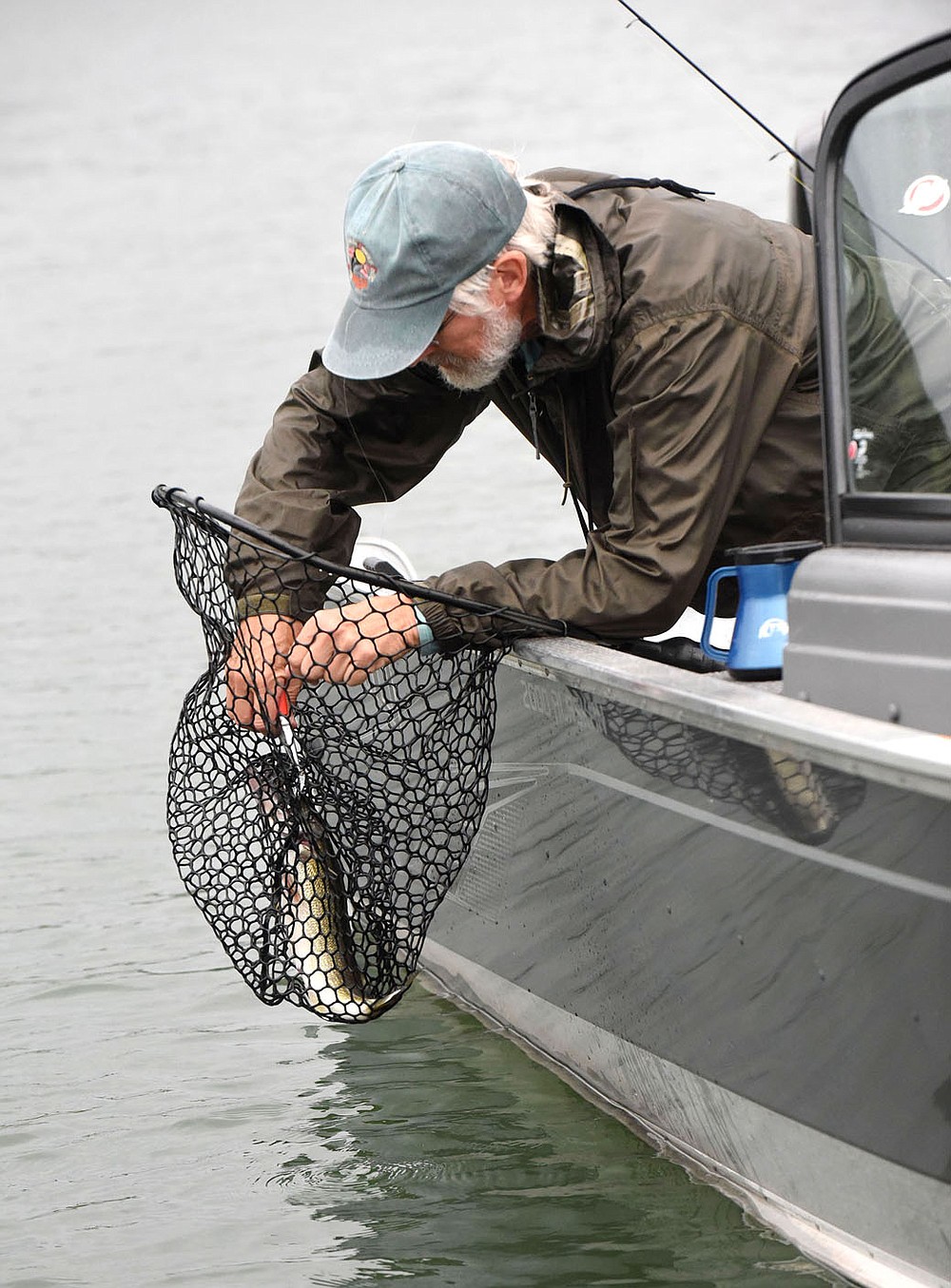 Darr releases a walleye July 31 2020 that hit a blade bait worked near the bottom 30 feet deep. (NWA Democrat-Gazette/Flip Putthoff)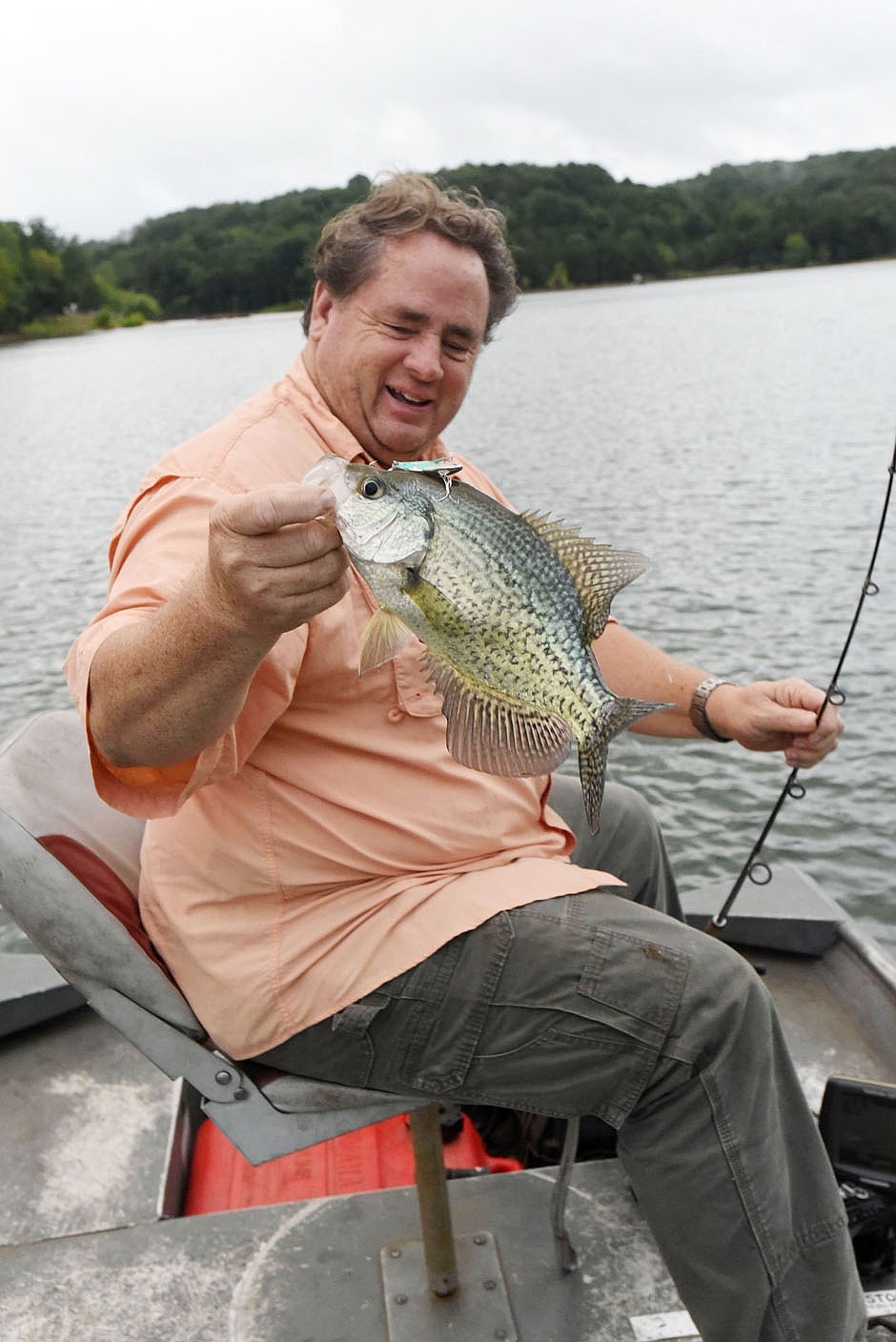 Alan Bland welcomed some large crappie aboard July 31 2020 while jigging blade baits off the bottom. (NWA Democrat-Gazette/Flip Putthoff)
More News
Catch and keep
When all kinds of fish are biting, it's a good opportunity to put some filets in the freezer. Be sure to know the daily limits, and also length limits that apply to certain species, as set by the Arkansas Game and Fish Commission.
At Beaver Lake, the daily limit of black bass is six. Black bass include largemouth, spotted and smallmouth bass. Largemouth and smallmouth bass must be 15 inches or longer to keep. Spotted bass of any size may be kept.
The daily limit on walleye is four, and walleye must be 18 inches or longer to keep. Crappie daily limit is 15, and they must be 10 inches or longer to keep. There is no daily limit or size limit on white bass.
Source: Arkansas Game and Fish Commission
Sponsor Content