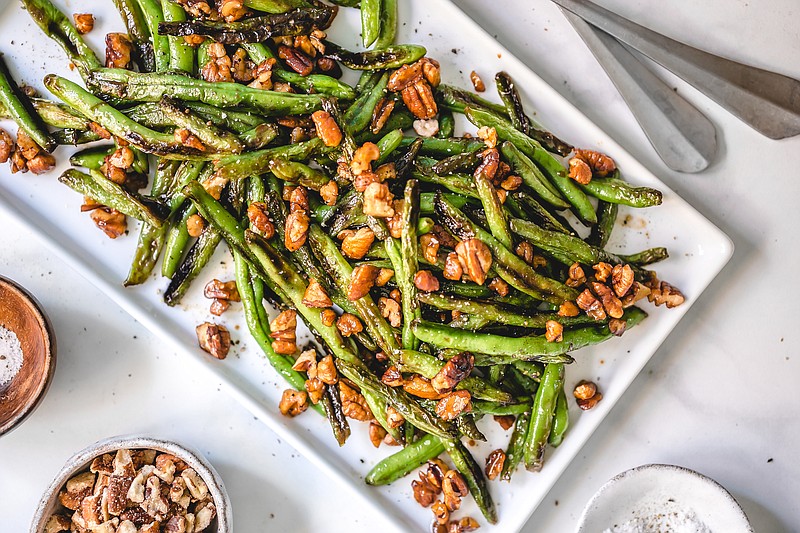 Charred Sesame Pecan Green Beans (Courtesy of American Pecans)
A week's worth of quick, healthful meals for budget-minded families
SUNDAY: Gather the family for Herb-Crusted Mediterranean Pork Tenderloin. Place 1 (1-pound) pork tenderloin on a large piece of plastic wrap. Rub with olive oil; sprinkle 2 teaspoons dried oregano and ¾ teaspoon lemon pepper seasoning evenly over surface. Cover tightly in plastic wrap; refrigerate for 2 hours to overnight. When ready to cook, heat grill to medium. Unwrap pork. Make lengthwise cut down center of pork, cutting deeply, but not all the way through. Open, so pork lies flat. Spread 3 tablespoons mixed olive tapenade on half of pork. Sprinkle with 3 tablespoons crumbled feta cheese. Fold other half of pork over to form original shape. Tie pork with twine at 2-inch intervals. Grill, uncovered, 20 minutes or until internal temperature reaches 145 degrees; turn halfway. Remove pork to cutting board; cover loosely with foil and let stand 5 to 10 minutes. To serve, remove twine and slice. Serve with asparagus, orzo and dinner rolls. Finish with Peach Shortcake (sliced pound cake topped with fresh peaches and whipped cream).
Plan ahead: Grill an extra (plain) pork tenderloin and save enough peaches for Monday.
MONDAY: No cooking is necessary when you use the leftover pork in this Pork-Apple Summer Salad (see recipe). Just add crusty bread on the side. Leftover peaches are a simple dessert.
TUESDAY: The kids won't be late for Pizza Macaroni — two of their favorite "food groups." In a large skillet, cook 1 pound lean ground beef until no longer pink; drain, wipe pan with paper towel and return meat to pan. Stir in 1 cup pizza sauce, ¼ teaspoon coarse salt and ¼ teaspoon pepper, and cook 3 minutes on medium. Add 2 cups hot cooked elbow macaroni; cook 3 minutes or until hot. Sprinkle each serving with 1 tablespoon shredded cheddar cheese. Serve with chopped lettuce salad and soft bread sticks. Fresh pineapple chunks are good for dessert.
WEDNESDAY: Here's a modern twist on an old favorite of mine: BLT&G (bacon, lettuce, tomato and guacamole) Wraps — the tomatoes are in the salsa. Spread 4 (8-inch) flour tortillas with 4 ounces cream cheese; top with some salsa and shredded lettuce; spread evenly. Place 2 slices cooked bacon on each tortilla; top each with 2 tablespoons guacamole. Roll and serve immediately. Add baked chips, pickles and celery sticks. For dessert, lemon sherbet is cool.
Plan ahead: Save enough sherbet for Friday.
THURSDAY: I confess that I ate almost the entire batch of this Vegetable Stew (see recipe) myself! I thinned what little was left over for soup. Serve with deli egg salad sandwiches on whole-grain bread with lettuce. Pop fresh cherries into your mouth for dessert.
FRIDAY: Canned tuna is a guaranteed cost-cutter, and Tuna and White Bean Salad has guaranteed good flavor. Combine 1 medium cucumber (peeled, seeded and diced), ½ cup chopped fresh flatleaf parsley, 1 medium red onion (thinly sliced), juice of 2 lemons, 2 tablespoons extra-virgin olive oil, 1 teaspoon coarse salt, ½ teaspoon pepper, 2 (15-ounce) cans cannellini beans (rinsed), 3 (6-ounce) cans water-packed albacore tuna (drained and flaked), and 1 (2-ounce) jar diced pimentos (drained) in a large bowl; toss to coat and let stand 15 minutes to blend flavors (if time permits). Arrange 8 cups mixed greens on a serving platter, top with tuna mixture and serve with Italian bread. Leftover sherbet is an easy dessert.
SATURDAY: No one will be able to resist your Shrimp and Peppers Over Polenta. In a large nonstick skillet on medium, cook ½ cup chopped Canadian bacon 3 minutes or until lightly browned; stir frequently. Add 1 large green bell pepper (cut into strips), 1 large red bell pepper, (cut into strips), 1 (10-ounce) can diced tomatoes and green chiles, drained; cook 5 minutes. Add 1 ½ pounds medium shrimp, peeled and deveined; cook 3 minutes or until shrimp are pink and opaque throughout. Stir in ½ cup sliced green onions. Meanwhile, slice and heat 1 (16-ounce) package refrigerated cheese polenta according to package directions. Serve shrimp and peppers over polenta. Alongside, add Charred Sesame Pecan Green Beans (see recipe), a bibb lettuce salad and garlic bread. For dessert, Turtle Terrine is only slightly decadent. Line a 9-by-5-inch loaf pan with foil; spread with 1 pint softened chocolate-chocolate chip ice cream. Drizzle with ¼ cup caramel sauce; top with 1 pint softened butter pecan ice cream. Repeat layers once. Freeze until hardened. Remove from freezer, turn upside-down, peel off foil and let stand a few minutes. Slice and top with light whipped cream and toasted pecans.
THE RECIPES
Pork-Apple Summer Salad
1 to 1 ½ pounds cooked pork tenderloin, diced
2 ribs celery, chopped
½ medium red onion, chopped
1 medium red bell pepper, chopped
½ medium Granny Smith apple, diced
2 tablespoons fresh chopped basil (or 2 teaspoons dried)
1 teaspoon less-sodium seasoned salt
1 tablespoon apple cider vinegar
5 tablespoons sour cream
¼ cup mayonnaise
2 teaspoons sugar
1 teaspoon minced garlic
Coarse salt and ground black pepper to taste
6 cups salad greens
¼ cup toasted walnut halves, for garnish
In a large serving bowl, mix together pork, celery, onion, bell pepper, apple, basil and seasoned salt.
In a separate bowl, mix together vinegar, sour cream, mayonnaise, sugar, garlic, salt and pepper. Pour dressing over pork mixture and toss to coat. Arrange greens on 4 individual plates; top with pork mixture. Garnish with walnuts and serve.
Makes 4 servings.
Nutrition information: Each serving (prepared with reduced-fat sour cream and low-fat mayonnaise) contains approximately 320 calories, 34 g protein, 13 g fat, 18 g carbohydrate, 93 mg cholesterol, 496 mg sodium and 4 g fiber.
Carbohydrate choices: 1.
Vegetable Stew
1 tablespoon canola oil
2 cups diced baking potatoes
2 cups chopped onions
2 cups sliced zucchini
1 (15-ounce) can no-salt-added diced tomatoes with liquid
1 cup unsalted vegetable broth
1 teaspoon Italian seasoning
In a deep skillet, heat canola oil on medium-high. Add potatoes and onions; cook 6 to 8 minutes or until the potatoes are golden and onions are softened. Add zucchini, tomatoes, broth and Italian seasoning. Bring to a boil; reduce heat, cover and simmer 10 minutes on low or until zucchini is tender. Serve hot.
Makes 6 servings.
Nutrition information: Each serving contains approximately 107 calories, 3 g protein, 3 g fat, 19 g carbohydrate, no cholesterol, 50 mg sodium and 3 g fiber.
Carbohydrate choices: 1.5.
Charred Sesame Pecan Green Beans
1 tablespoon PLUS 1 teaspoon soy sauce
2 teaspoons toasted sesame oil
2 teaspoons pure maple syrup
12 ounces trimmed fresh green beans
1 tablespoon canola oil
5 tablespoons chopped pecans
In a small bowl, stir together soy sauce, sesame oil and syrup.
In a large microwave-safe bowl, combine the beans and ¼ cup water. Cover; microwave on 100% power for 5 minutes or until just tender. Drain; pat dry with paper towel.
In a large skillet, heat canola oil on medium-high. Add beans and cook, without stirring, 3 minutes, until charred on one side. Stir; continue cooking 3 more minutes or until lightly charred all over. Remove skillet from heat; add the sauce mixture and pecans, tossing repeatedly to coat.
Makes 4 servings.
Nutrition information: Each serving contains approximately 155 calories, 3 g protein, 13 g fat, 10 g carbohydrate, no cholesterol, 133 mg sodium and 3 g fiber.
Carbohydrate choices: 0.5.
Susan Nicholson is an Atlanta-based cookbook author and registered dietitian. She can be reached by email:
susan@7daymenu.com
Sponsor Content