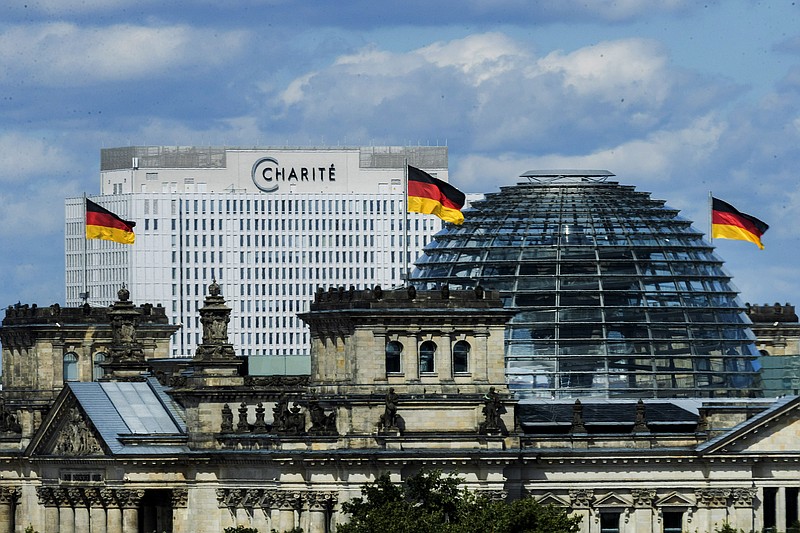 The bed skyscraper of the Berliner Charite can be seen behind the Reichstag building in Berlin, Germany, Tuesday, Aug.25, 2020.. In the clinic the Russian oppositional Nawalny is treated. Doctors of the Berliner Charite assume that the Kremlin critic was poisoned. (Christoph Soeder/dpa via AP)
MOSCOW -- The Kremlin said Wednesday that it doesn't want the condition of sickened opposition leader Alexei Navalny to affect Russia's relations with the West as international pressure mounted on Moscow to investigate what caused the Russian politician to fall into a coma almost a week ago.
The Kremlin statement was made two days after doctors at the Berlin hospital where the 44-year-old Navalny is being treated for suspected poisoning and minutes before British Prime Minister Boris Johnson joined other Western officials in demanding a transparent investigation.
"The poisoning of [Alexei] Navalny shocked the world," Johnson tweeted. "The perpetrators must be held accountable, [and] the UK will join international efforts to ensure justice is done."
Kremlin spokesman Dmitry Peskov reiterated Wednesday that Moscow "categorically" disagreed with "hasty" conclusions that Navalny was a victim of an intentional poisoning, and said Moscow doesn't want the situation to affect its ties with the West.
"Of course, we wouldn't want that ... Secondly, there is no reason whatsoever for it," Peskov told reporters. "We are absolutely, no less than others, interested in understanding what led to a coma."
Navalny, a political party leader and corruption investigator who is one of Putin's fiercest critics, fell ill on a flight back to Moscow from Siberia last Thursday and was taken to a hospital in the Siberian city of Omsk after the plane made an emergency landing.
Over the weekend, he was transferred to the Charite hospital in Berlin, where doctors found indications of "cholinesterase inhibitors" in his system.
His allies say the Kremlin is behind the illness of its most prominent critic, accusations that officials denounced as "empty noise."
The poisoning evidence identified in Germany contradicted statements by the doctors in Siberia who treated Navalny before he was flown to Germany at his wife's request last week.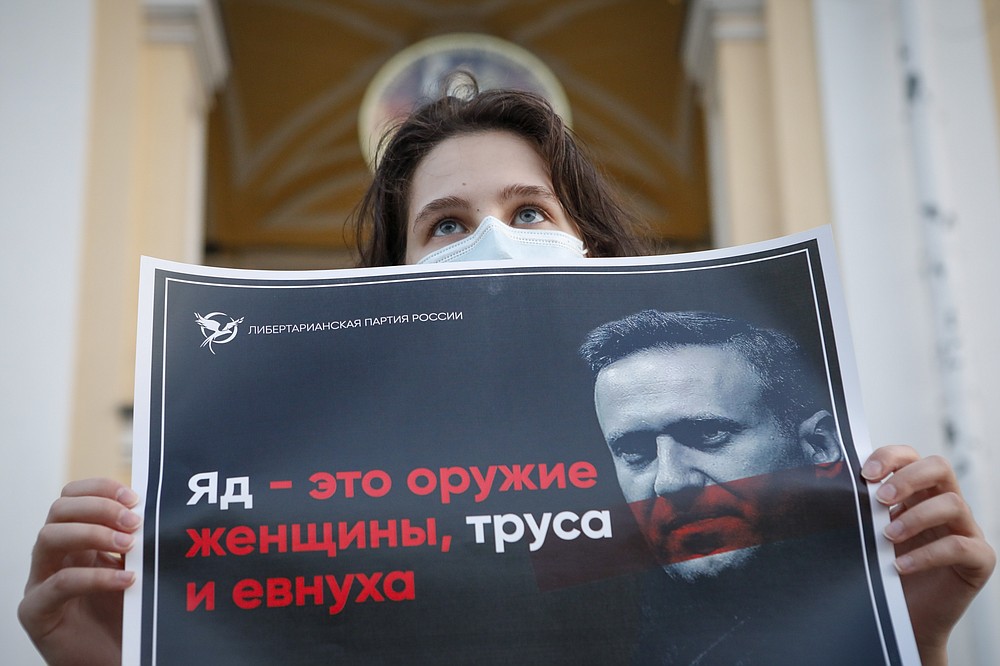 FILE - In this Thursday, Aug. 20, 2020 file photo, a protester stands holds a poster reads "poison is the weapon of a woman, a coward and a eunuch!" during a picket in support of Russian opposition leader Alexei Navalny in the center of St. Petersburg, Russia. The German hospital treating Navalny says tests indicate that he was poisoned. The Charité hospital said in a statement Monday, Aug. 24, 2020 that the team of doctors who have been examining Navalny since he was admitted Saturday have found the presence of "cholinesterase inhibitors" in his system. Cholinesterase inhibitors are a broad range of substances that are found in several drugs, but also pesticides and nerve agents. (AP Photo/Elena Ignatyeva, File)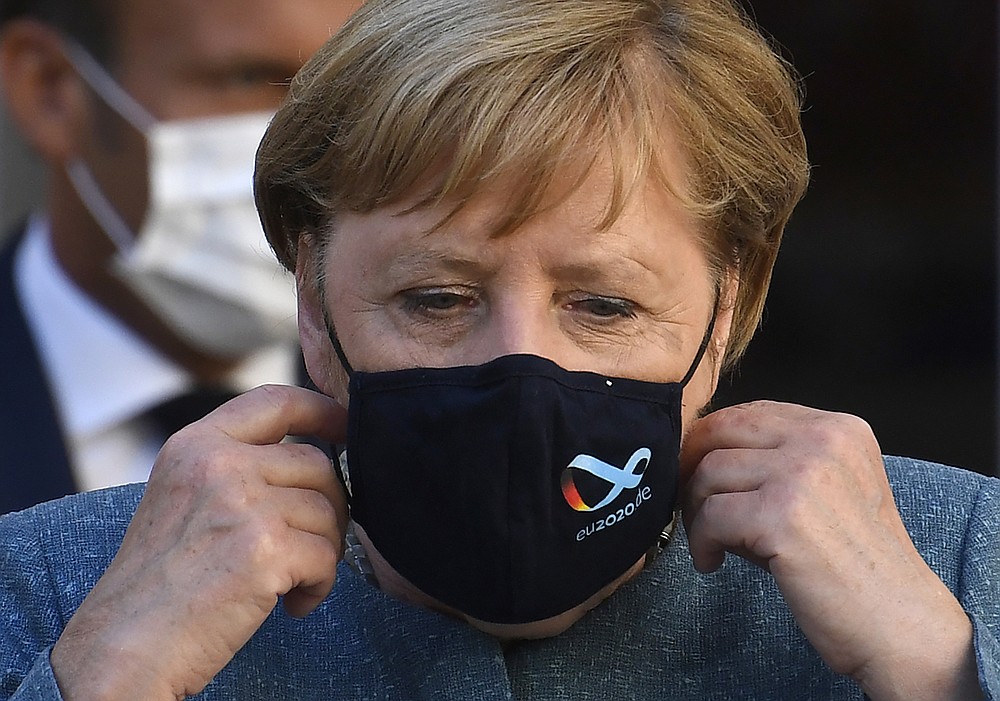 FILE - In this file photo dated Thursday, Aug. 20, 2020, German Chancellor Angela Merkel takes her mask off as she arrives for a press conference at the Fort de Bregancon, southern France. Merkel said Monday Aug. 24, 2020, that in view of Alexei Navalny's prominent role in Russia's political opposition, that Russian authorities should conduct a full investigation of the alleged poisoning of the dissident, and to bring those responsible to justice. (Christophe Simon/Pool FILE via AP)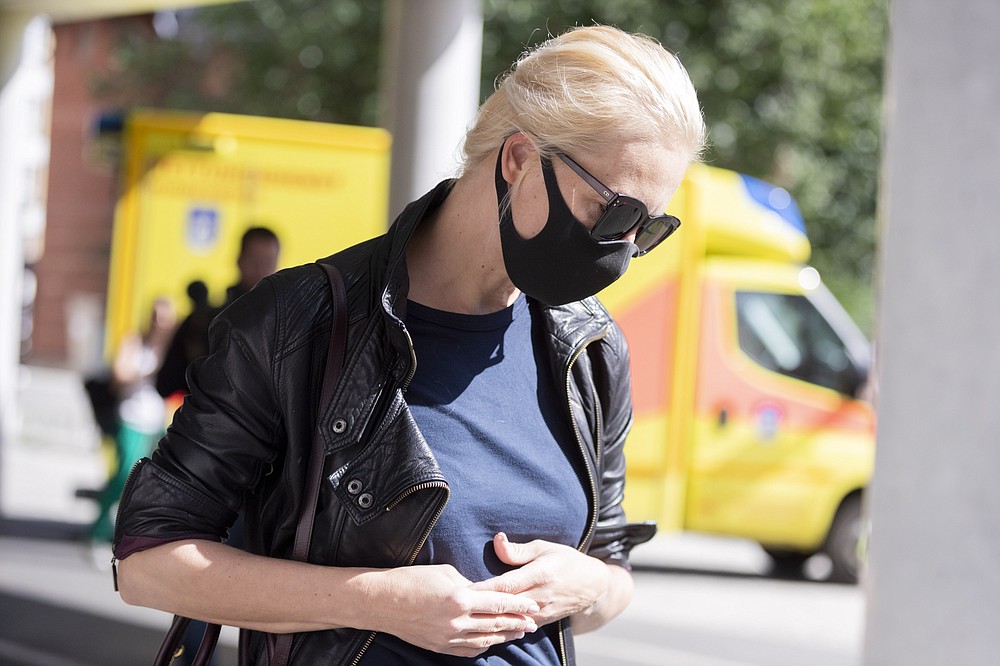 The wife of the Russian oppositional Alexei Navalny, Julia, arrives at the Berlin Charite Tuesday, Aug.25, 2020. The Russian oppositional Navalny is treated in the clinic. Doctors at the Berlin Charité Hospital assume that the Kremlin critic has been poisoned. (Christoph Soeder/dpa via AP)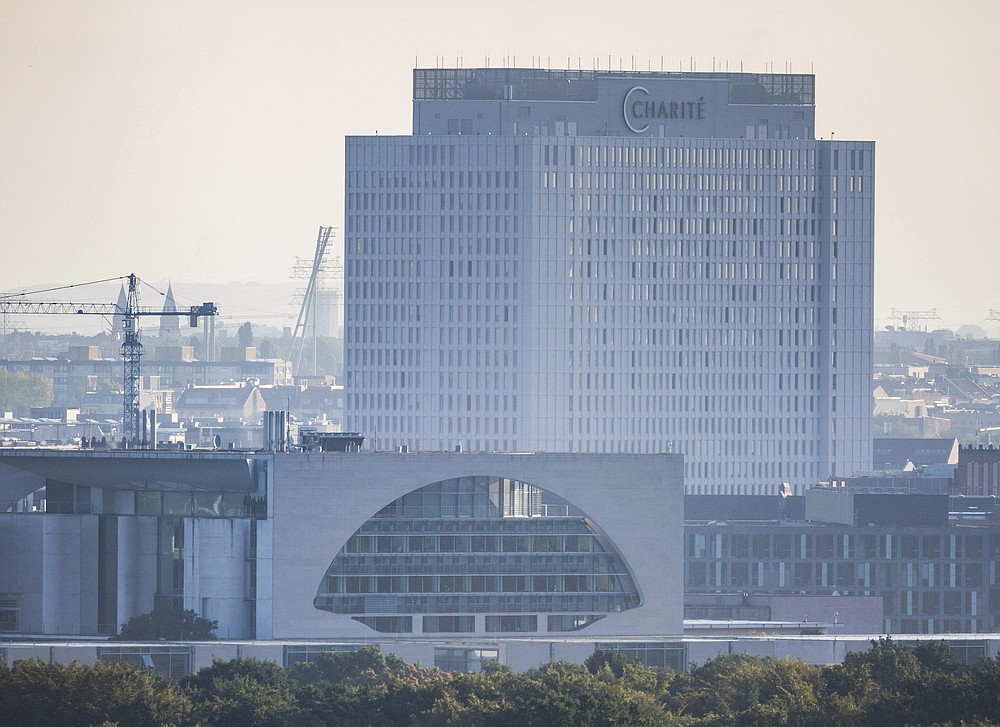 The central building of Charite hospital where Russian dissident Alexei Navalny is treating, seen behind the Chancellery in Berlin, Tuesday, Aug. 25, 2020. German Chancellor Angela Merkel is calling on Russian authorities to conduct a full investigation of the poisoning of dissident Alexei Navalny and to bring those responsible to justice. (Christoph Soeder/dpa via AP)
Sponsor Content