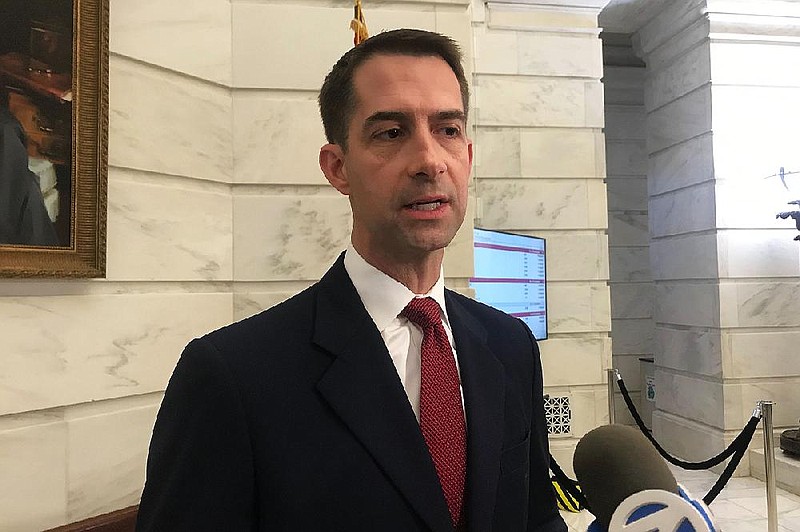 U.S. Sen. Tom Cotton is shown in this file photo.
WASHINGTON -- Democratic presidential nominee Joe Biden has been bungling major foreign policy decisions for nearly a half-century, U.S. Sen. Tom Cotton, R-Ark., said Thursday.
Speaking on the final night of the Republican National Convention, Cotton accused President Barack Obama's vice president of being soft on Communism, weak on Islamic radicalism and otherwise inept.
President Donald Trump "puts America first. That's why America is safer now than four years ago. But Joe Biden would return us to a weak and dangerous past," Cotton said, according to the written version of his speech.
"Joe Biden slashed defense spending again and again. President Trump rebuilt our military -- and added the Space Force. Joe Biden let ISIS terrorists rampage across the Middle East. President Trump eliminated ISIS's leader -- and destroyed its caliphate. Joe Biden opposed the mission to kill Osama bin Laden. President Trump avenged the murder of hundreds of Americans by killing Iran's terrorist mastermind, Qassim Soleimani," Cotton said. "Joe Biden sent pallets of cash to the ayatollahs. President Trump ripped up the dangerous Iran nuclear deal."
Much of the speech criticized Biden's China policies.
"Joe Biden aided and abetted China's rise for 50 years with terrible trade deals that closed our factories and laid off our workers. President Trump stands up to China's cheating, and stealing, and lying," Cotton said.
[Video not showing up above? Click here to view » https://www.youtube.com/watch?v=UUnK1rKeGew]
Arkansas' junior senator's 4-minute address was recorded at the Andrew W. Mellon Auditorium on Sunday and was scheduled to air Thursday during the 8 p.m. hour, a spokesman said.
In an interview Thursday, Cotton said Biden's positions on China have been bad for Americans.
"Donald Trump has worked to reverse the damage from terrible trade deals and acquiescence to Chinese Communist party ambitions and aggression that Joe Biden enabled for 47 years," he said.
Asked about the many times Trump has praised Chinese Communist Party General Secretary Xi Jinping, Cotton portrayed the comments as smart diplomacy.
"It is one thing to recognize that as head of state, you have to maintain a working relationship with an adversarial head of state just like Ronald Reagan did with the leaders of the Soviet Union," Cotton said. "It is another thing to continually give away the store to our chief geopolitical rival, which is again what Joe Biden had done."
"Joe Biden led the charge to give China most favored nation status. He led the charge to admit them to the World Trade Organization. He turned a blind eye to their cheating after he had given them those concessions," Cotton said. "President Trump, by contrast, put tariffs on China, and struck a trade deal with China that helped Americans as opposed to send our jobs to China."
Questions about Biden's judgment have even been raised by Obama's original secretary of defense, Cotton noted.
In his 2014 memoir, "Duty: Memoirs of a Secretary at War," Robert Gates criticized Biden's judgment, writing, "I think he has been wrong on nearly every major foreign policy and national security issue over the past four decades."
In a June interview with NPR, Gates echoed that assessment but also praised Biden's character.
"I wrote on the same page, though, that I regarded Joe Biden as a man of great integrity, a very decent human being. ... So although I've got a lot of policy disagreements with the former vice president, he is a decent person," Gates said. "I think what the country needs is somebody who will try to bring us together."
Trump hasn't been a uniter, Gates told NPR.
"It's hard to disagree that this president is a divider," he said.
With Trump in the White House, "I think that we are in a weaker position in the world today than we were three years ago," he said.
Cotton, who also spoke at the 2016 Republican National Convention in Cleveland, was not scheduled to attend Trump's acceptance speech Thursday at the White House.
"I will watch it on TV, and I know the president's going to do a great job," he said.
Sponsor Content