Gov. Asa Hutchinson announced Thursday that 700 additional slots would be made available for Arkansans with developmental disabilities to receive home- and community-based services through a state Medicaid waiver program.
The additional slots take a chunk out of a waitlist for the program that the state for years has tried to reduce to zero. As of Thursday, the developmental disability waiting list stood at about 3,500 people, the governor said.
The waiver program itself serves about 4,800 Arkansans, Hutchinson added.
"These are our most vulnerable Arkansans with disabilities that require special services and assistance," Hutchinson said. "The waiver sets the number of individuals that can be served, and the goal of the services is to allow them to live in the community rather than in an institutional setting."
The funding for the 700 additional slots comes from Act 775 passed by the Legislature in 2017, Hutchinson said. The law allowed the state Medicaid program to hire managed-care companies to provide services for the mentally ill and developmentally disabled, and diverted half of a tax on insurance premiums to provide revenue to reduce the waitlist.
That tax has since grown to provide about $15 million in available funds that will be used to create the additional slots, Hutchinson said.
"Our goal obviously is to decrease it further to make more progress, but for the first time we actually have the hope that we can be successful there because we have the source of revenue that can be utilized to reduce that waiting list," the governor said.
Rep. Aaron Pilkington, R-Clarksville, sponsored Act 775 in the House and hailed Thursday's announcement as "exactly what we were hoping for."
"People initially said, 'That's great, let's see that the money's there to make that happen,' and it shows that the money is there," Pilkington said.
Of the 3,500 people on the waitlist, 2,000 receive some Medicaid-funded services, including through managed-care companies, according to a spokeswoman for the state Department of Human Services. The remainder are ineligible for Medicaid, Hutchinson said.
The 700 newly funded slots on the waiver program will be made available to people on the waitlist starting Dec. 1, said Melissa Stone, the director of the Department of Human Services' Division of Developmental Disability Services.
The new slots come on the back of other efforts the state has made to reduce the waiting list for waiver services.
Also in 2017, the Legislature passed a bill to use $8.5 million in annual tobacco settlement funds to take about 500 people off of the list, when it stood at about 3,000.
Two years later, with the waitlist at 3,137, the Legislature voted to impose a three-year deadline for the Department of Human Services to provide services to everyone who was on the waitlist at that time.
Information for this article was contributed by Andy Davis of the Arkansas Democrat-Gazette.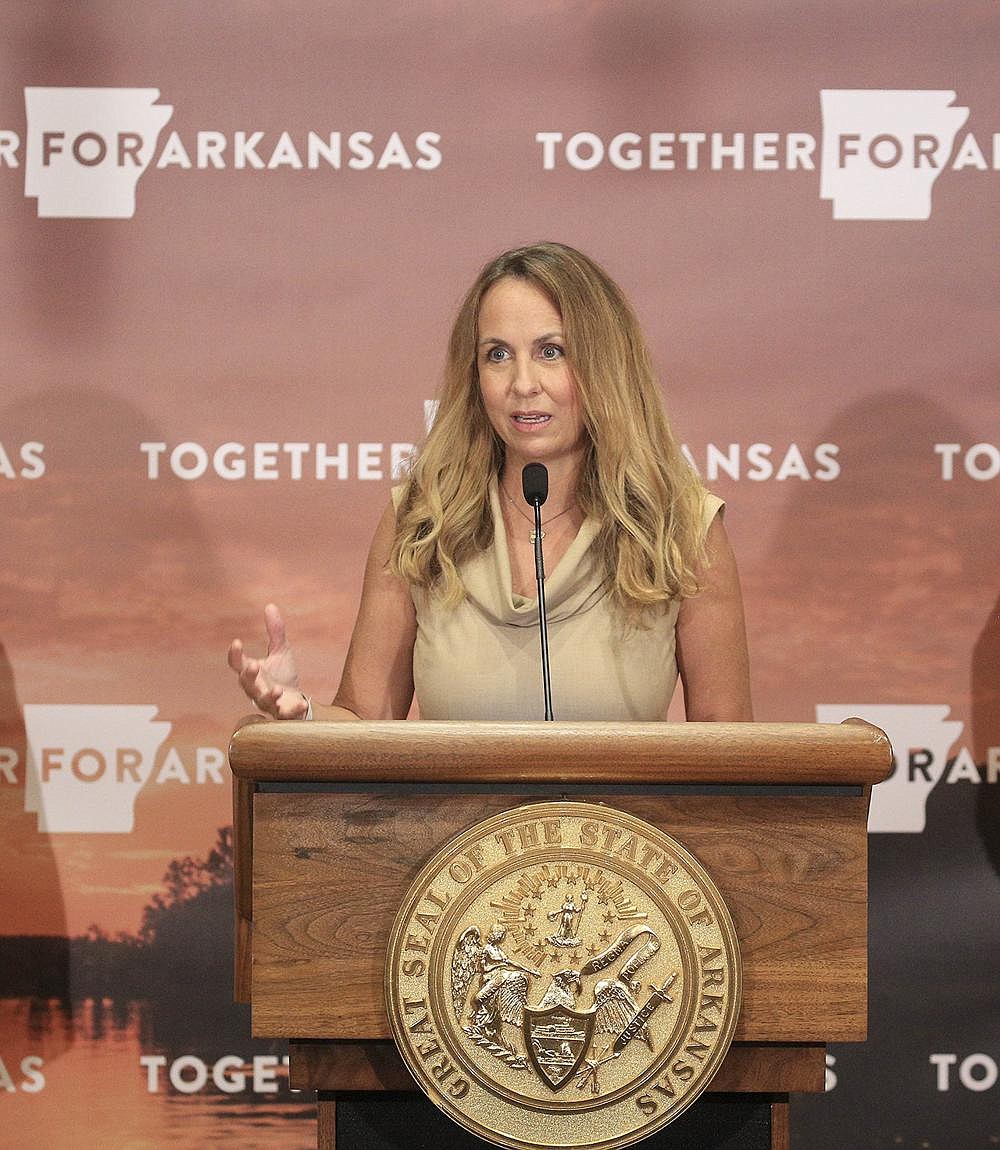 State Sen. Missy Irvin, R-Mountain View, speaks Thursday in Little Rock during a news conference at the state Capitol where Gov. Asa Hutchinson announced that the state is moving 700 families off the wait list for disabilities services. (Arkansas Democrat-Gazette/Staton Breidenthal)