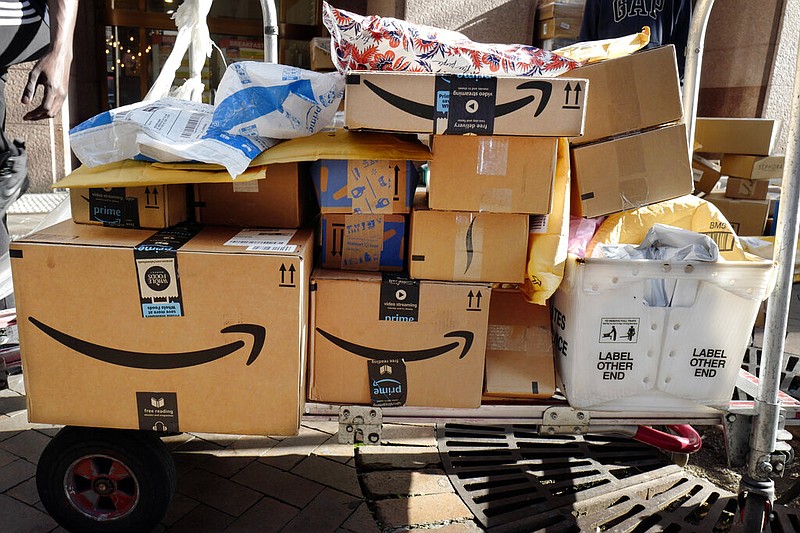 Amazon Prime boxes are loaded on a cart for delivery in New York in this Oct. 10, 2018, file photo. (AP / Mark Lennihan )
The 5-year-old warehouse in Maumelle that once housed a trampoline park and a coffee manufacturer is the latest place Amazon.com is using to build out what it calls its "fulfillment network" in Central Arkansas.
The facility appears to be part of a shift in tactics by the global online retailer and technology company. Amazon dropped its old strategy of basing its huge fulfillment centers in tax-friendly low-cost states to offer speedy shipping to its customers in major population centers, according to MWPVL International, a logistics and supply chain consulting firm.
The new strategy, by contrast, aims for the "fastest level of order turnaround time ... for all major cities within the United States," according to MWPVL.
Including, it appears, the Little Rock metropolitan area.
That strategy began manifesting itself in the region two years ago when Amazon opened a delivery station in North Little Rock. Housed in a 16,000-square-foot tentlike structure, it was a modest beginning.
Less than two years later, Amazon began work to upgrade a warehouse near Interstate 30 in Little Rock and word soon leaked that it was building what MWPVL describes as a "small sortable 5-floor fulfillment center" with a footprint totaling 826,000 square feet on an 80-acre site at the Port of Little Rock.
Amazon has 607 facilities in the United States, including 187 fulfillment centers and 263 delivery centers, according to MWPVL. Amazon has 197.9 million square feet of operating warehouse space.
The company has another 242 facilities totaling 96.2 million square feet planned, MWPVL said. They include 83 additional fulfillment centers and 147 delivery stations.
Capital spending for Amazon was $9 billion in April, May and June as it continues to "increase customer capacity closer to their homes," according to The Wall Street Journal.
Judy Keller, the economic development director for Maumelle, said the identity of the company looking at the warehouse wasn't immediately evident. The city initially fielded emailed questions from an architect about developer John Burkhalter's warehouse property that Burkhalter said was built about five years ago.
"The city answered some things," Keller recalled. "But we were not told at that time who it was. We were surprised. I think everybody is. But we're pleased. We're happy to see that."
Once Amazon opens the Maumelle facility -- before the end of the year, Keller said -- it will join more than two dozen other companies in Maumelle Industrial Park. Together those companies employ about 3,000 people, according to Keller.
Burkhalter's development already boasts distribution facilities for Medline Industries Inc. of Mundelein, Ill., a privately held manufacturer and distributor of medical and surgical supplies; and Fresenium Medical Care, a German health care company that specializes in kidney dialysis equipment and supplies; and a Scholastic Book Fairs warehouse.
Amazon "is a great addition to the park," he said. "I believe we have the best warehouses in the market and I believe that's why Amazon came to us."
Burkhalter declined to say much else about the arrangement other than it is "long-term" and the company is using about 25,000 square feet of space.
The contractor, HITT Inc. of Church Falls, Va., has been at the site for about one month, working under a building permit for work valued at $200,000. HITT is the same contractor working on Amazon's I-30 site.
Burkhalter also said he is doing some site work to accommodate the bigger vehicles that will be using the facility for deliveries.
Given Little Rock's central location with its concentration of interstates, a major railroad line as well as a port, he thinks Amazon's latest foray bodes well for Central Arkansas.
"This needs to be major hub," Burkhalter said. "Their vision is this part of the country, this location, this city is set for growth. I think we won't recognize Central Arkansas in 15 years."
If Amazon plans to open any more facilities in Arkansas, it won't say, as has been the company's custom.
"Amazon is constantly investigating new locations to support the growth and increase the flexibility of its North American fulfillment network to address customers' needs, however, the company is not commenting on any additional operations plans in Arkansas," a company spokesman said.
Sponsor Content