• President Donald Trump pardoned Alice Marie Johnson on Friday, a day after she appeared as a featured speaker on the final night of the Republican National Convention. Johnson, who praised Trump as a compassionate leader, had spent more than two decades serving life without parole for a nonviolent drug offense. She was convicted in 1996 on eight criminal counts related to a Memphis-based cocaine trafficking operation. Trump commuted her life sentence in 2018 at the urging of celebrity Kim Kardashian West, allowing her early release. A commutation shortens or eliminates a sentence; the pardon signifies forgiveness and restores certain civil rights. Johnson spoke at the convention about the power of redemption and praised Trump. While saying that what she did was wrong, she said sentences need to be fair and just. "Truth is, there are thousands of people just like me, who deserve the opportunity to come home," Johnson told convention viewers. At the White House on Friday, Trump said that Johnson had done an "incredible job" since her release, identifying additional prisoners who also could be eligible for early release. "We're very proud of Alice and the job you've done and what you represent," Trump said. Johnson was clearly emotional when Trump handed her the pardon document. She clutched it close, then bowed her head during a prayer.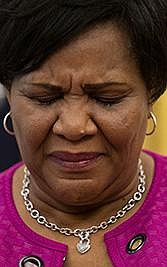 Alice Johnson prays after President Donald Trump signed a full pardon for a non-violent drug offense, in the Oval Office of the White House, Friday, Aug. 28, 2020, in Washington. (AP Photo/Evan Vucci)
• Harry Potter author J.K. Rowling says she is returning an award from a human-rights group linked to the Kennedy family after the president of the organization criticized her comments about transgender issues. In December, the Robert F. Kennedy Human Rights group named Rowling one of its Ripple of Hope laureates for her founding of Lumos, which works to get children worldwide out of orphanages and into families. Rowling's decision comes after Kerry Kennedy, the group's president and the late senator's daughter, published a statement expressing her "profound disappointment" with the author's comments in a series of tweets in June where Rowling said she supported trans rights but did not believe in "erasing" the concept of biological sex. Rowling said she refused to "bow down" to a movement seeking "to erode 'woman' as a political and biological class and offering cover to predators like few before it." Kennedy's statement "incorrectly implied that I was transphobic, and that I am responsible for harm to trans people," Rowling said on her website. "As a longstanding donor to LGBT charities and a supporter of trans people's right to live free of persecution, I absolutely refute the accusation that I hate trans people or wish them ill, or that standing up for the rights of women is wrong, discriminatory, or incites harm or violence to the trans community."
Sponsor Content